Carm Capriotto – 2020 – The Year You DO! [FTR 078]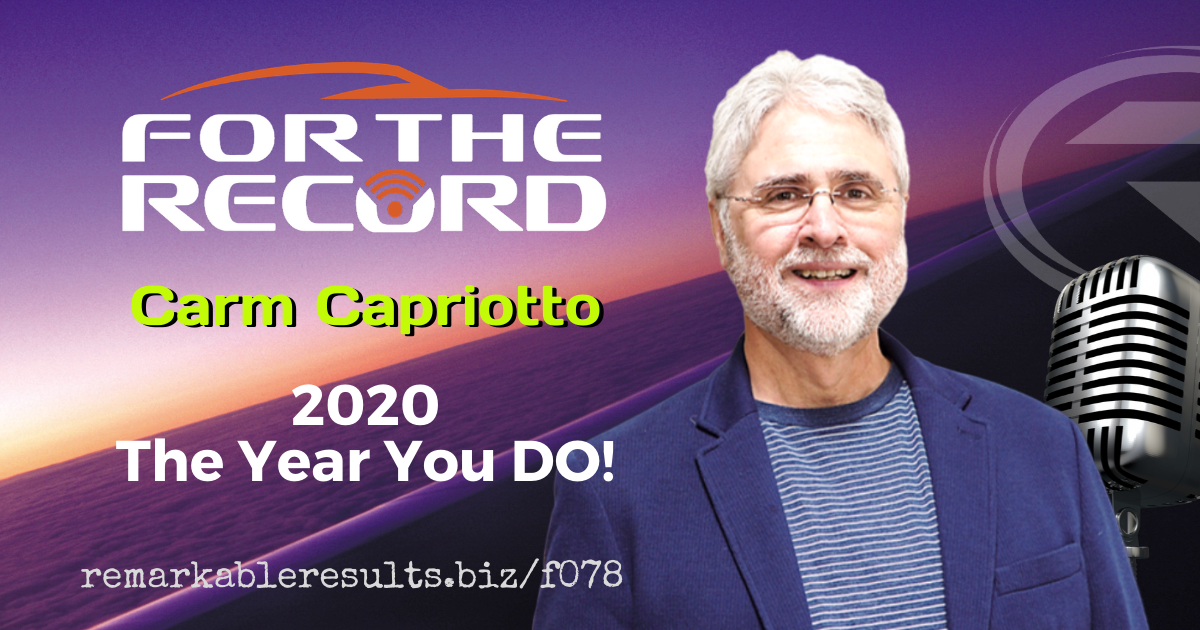 Carm Capriotto, AAP, is a career automotive aftermarket professional. He hosts and produces the automotive aftermarket's premier podcasts. They include Remarkable Results Radio, the Town Hall Academy and For The Record.
Carm is an influencer and connector of people and speaks to the industry about what he learns each day from the essential voices of the aftermarket.
Talking Points
Let 2020 be your breakout year
Be a business person and not a fix-it person
The 'Knowing-Doing Gap' is real. Stop talking and start doing
"If you aren't sitting on the edge then you are taking up too much room"
You have big responsibilities to your team and your customers. But most importantly to you and your family. You've invested heavily in time and money and need to start showing something for it
Check our a Harvard Business Review IdeaCast titled 'The Art of Asking For and Getting Help" http://bit.ly/2EU6ont It is their episode 714
Start off the new year by reading Mitch Schneiders book MISFIRE: What to Do When Things Aren't Running on All Cylinders
Implement Profit First. Find episodes HERE. Fix your cash management
Review your labor rate
Want to retire and sell the business? Tough task and you may not get anywhere near what you expect and worked so hard for. Start here and listen to the many episodes that discuss succession planning HERE.
Purposely plan for the new year and involve your team.Assign responsibilities (tasks) to individuals and a due date
Monitor the accomplishments.
Engage, and delegate


Be socially involved and in touch with the show:
Facebook Twitter Linked In Email Events Instagram Speaking
Subscribe to a free mobile listening app HERE.


This episode is brought to you by FlexCheck Auto Digital Vehicle Inspection Software.
Savvy shop owners use vehicle inspections to find additional work on a vehicle that the vehicle owner may not know is needed. The most successful shop owners fully inspect every car, every time. It benefits the vehicle owner more than the shop because most vehicle

owners want their autos to be reliable.
FlexCheck Auto takes the power of a shop's inspection process and puts it in the palm of your technician's hand so that pictures, video, and vehicle-specific notes about a vehicle's condition can be shared quickly with vehicle owners. It improves technician efficiency in the bays, service writer efficiency at the counter, increases average repair order and builds trust with vehicle owners.
Today's vehicle owners want to receive their vehicle's health status electronically, this makes FlexCheck Auto the most transparent way to do sell auto repair. Try it for free for 30 days! Go to FlexCheckAuto.com to learn more.