The Value of a Strong Banking Relationship [THA 175]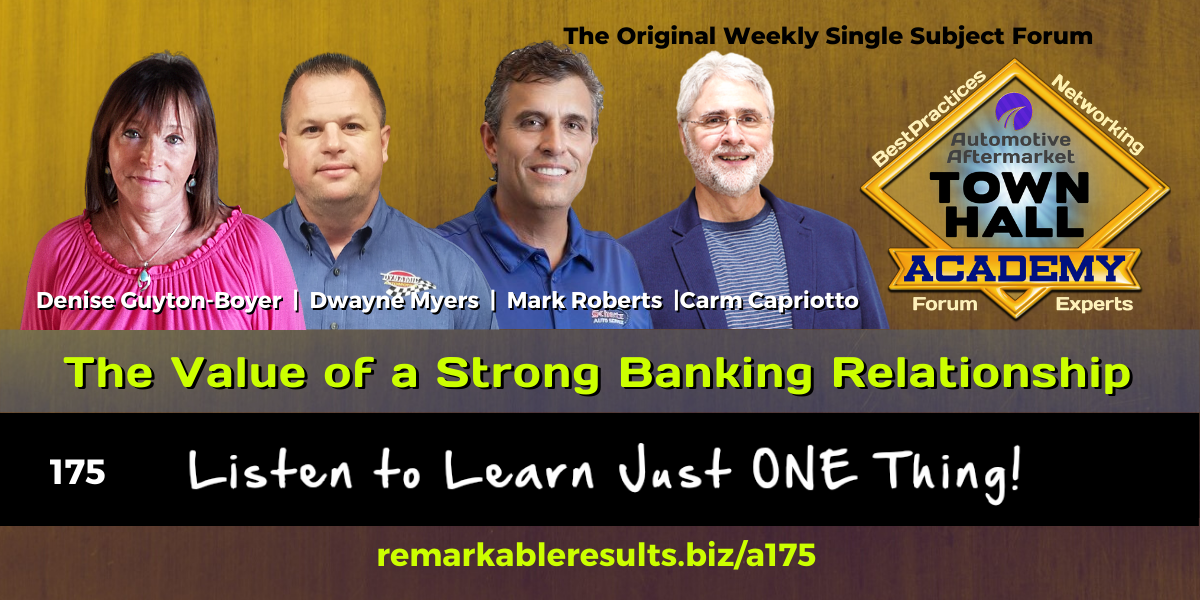 The Panel:
Denise Guyton-Boyer, SVP Commercial Lending, FCB a Division of ACNB Bank. Denise's banking career has included branch management, consumer and residential lending and commercial lending. She attended Community College, University of Maryland School of Banking, Xerox University of Commercial Lending.
Mark Roberts is the owner of Roberts Properties, Inc, Managing Partner of Total True Automotive dba Schertz Auto Service, Craftsman Building and Renovation LLC. He is also partnered with a Local Custom Homebuilder. Mark is also the former owner of Auto Collision Works. He grew up in Schertz and has been a resident since 1969.
Mark also serves on the Board at Shertz Community Bank, is a Board of Director of Guadalupe Valley Electric Cooperative, Guadalupe Valley Home Services Corporation, and the Guadalupe Valley Economic Development Corporation. Listen to Mark's previous episodes HERE.
Dwayne Myers, Dynamic Automotive 4 Stores Frederick, MDShop Owner. Dwayne invests time in the industry with the Auto Care Association and serves on the education committee with CCPN (Car Care Professional Network). Dwayne was recently honored as one of only 17 outstanding individuals that qualified for the prestigious 2017 World Class Technician Award presented by The Auto Care Association and ASE. He is very passionate about hiring and sustaining a strong and engaged team. Listen to Dwayne's previous episodes HERE.
Key Talking Points
Dwayne's banker, Denise Guyton-Boyer is his friend first and banker secondTrust is what the relationship is about
It is good to have a strong relationship to help get through tough times
The banks in your time should be calling on you even if you don't do business with them
Both Mark and Dwayne believe in the value of community banks vs. the big corporate (national) banksMore personalized and involved with your business
As Covid-19 proved the relationship with your banker helped navigate the PPP loans with SBA.
You do not want a transactional relationship. No matter the situation you want personal service
Keep in touch with your banker. Talk to them about your business and our industry
Your personal financial statement is very important to gain commercial loans. This helps the bank realize their risk with a personal guarantee.
If you are looking for bank support you will need to provideBackground on your business
Three years of tax returns
Three years of personal tax returns
A debt schedule and payments
Financial statements
Purpose of the loan
Collateral for the loan
Cash flow statement
Mission statement
Cash is king.
Your banker can help mentor you to financial success to get you to the point where you can borrow money and we a risk they are willing to takeThe banker should work with you hand in hand to process and secure loans.
Will help you consider SBA loans if you do not have enough cash or collateral
Credit Unions are an option
Mark has learned a lot since being on a banks board of directors and on the loan committee.He has seen all kinds of personal financial statements that tell all
Dwayne says to always be truthful with your banker. A good month or bad share it all.Their bank did a video of Dynamic automotive. Watch it here: https://bit.ly/3dH9vim
Denise gave Dynamic a second chance at lifeShe saw something in the business to help them
In five years they have grown to four stores
A business plan is important for a banker to know where the business is goingCash flow projections
Work with your accountant. Your Accountant is part of your advisor family
Have a solid relationship with your branch manager and their team
Banks can offer:Credit cards
Construction loans
Mortgages
Rehab loans
Many businesses do not want to pay taxes and their Financial statement reflects that. If you want to borrow money your statement should reflect the correct net profit
Having a credit line can be an important facility to have to support your businessUse for cash flow
Short term purchases if cash wasn't available
It is a short term loan and must be paid back
Can be used during a crisis as we had with the pandemic
Resources:
Facebook Twitter Linked In Email
Join the Ecosystem – Subscribe to the INSIDER NEWSLETTER HERE.

This episode is brought to you by Shop-Ware Shop Management. It's time to run your business at its fullest potential with the industry's leading technology. Shop-Ware Shop Management will increase your efficiency with lightning-fast workflows, help your staff capture more sales every day, and create very happy customers who promote your business. Shops running Shop-Ware have More Time and generate More Profit—join them! Schedule a free live demonstration and find out how 30 minutes can transform your shop at getshopware.com