Embracing Change with David Martin [RR 543]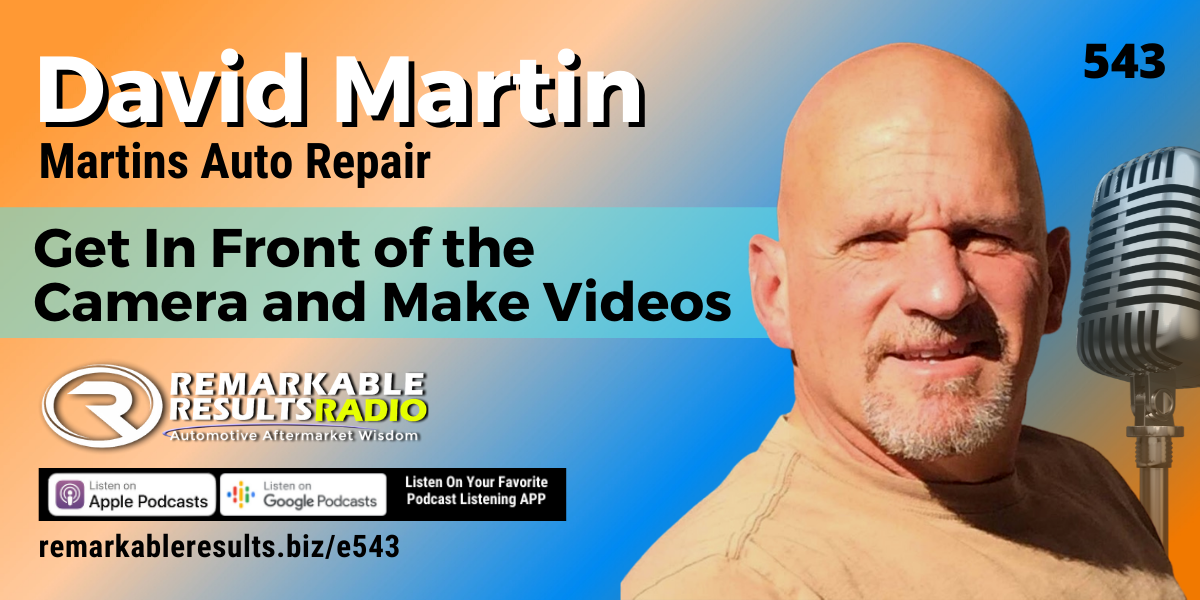 Dave Martin is the Owner and President of Martin's Auto Repair in Phoenix, AZ. His automotive career began pulling weeds on the shop property then as he got older Dave moved into a station helper and gas attendant. Dave then became the shop manager before taking over the family business from his father in 2006.
Dave has worked to bring the business into the technology world communicating with customers at their level with digital inspections, email and texting. Dave also knows a key to a successful business is having a team that has strengths he does not. One example is his decision to hire an in-house marketing director back in 2010 (no shops were doing this then). Having a person in the shop who gets to know you and the entire team along with day to day processes brought a bigger success in marketing than imagined. When the person marketing your business knows you, they can then take on your personality which adds the personal touch many businesses were lacking. The shop is well known through the website, social media and fun videos Dave has been "persuaded" to do. (He loves doing them). The shop added the ability to email and text these videos to customers which has been a big hit. Customers and followers now look forward to the videos with the fun and creativity he gives.
Dave married his wife Bo in 1992 and they have an adult daughter, Qamree. Dave bowls, plays over the line baseball, and is a passionate football fan, proudly supporting his lifelong favorite team, The Dallas Cowboys.
Dave was born with Spina Bifida and wants to help others affected and increase public awareness. Elected as Chairman of the Board for the Spina Bifida Association of Arizona in 2012 and has been involved of in its growth through events and fundraisers. Dave also volunteers as a speaker to community organizations and young adults showing how he doesn't let Spina Bifida keep him from his goals.
Key Talking Points:
Culture change was keyCulture wasn't necessary 10-20 years ago- a different generation now, businesses have to change and adapt
Empowered employees to make decisions
Keeping up with technology and training
Embrace change and be apart of "team" atmosphere
Get in front of the camera- make videos for your customers to watch
Younger team of techniciansHard to find seasoned technicians to replace technicians leaving
Owner and manager decided to hire "grow your own" younger technicians and started to train them
Weekly meetings- each employee tells team a learning moment they had that week so everyone can benefit from it
Smartest hiring decision was hiring marketing manager in 2010- she was able to understand the culture of company and owner's personality and portrays it on all social media and advertising platforms
3 life lessons from fatherNo free lunches, you have to work for everything you get, nothing good comes out of you getting something for free
Succession planningThe average age of owner is 55+
Important to have open discussions with owner and buyer- communication is key and both parties knowing what each other's expectations are
Community supportChairman of board for Arizona's Spina Bifida Association- Dave was born with Spina Bifida
Encourages those affected to never let Spina Bifida stop you from pursuing your goals
Dave Martin's 5 Key TakeawaysYou must have a strong foundation of work ethic
Communication ensures everyone works towards the same goals
If you learn to think outside the box you'll become a great problem solver
Always be ready to embrace change
It's a marathon- stay consistent and never give up
Resources:
Thanks to David Martin for his contribution to the aftermarket's premier podcast.
Link to the 'BOOKS' page highlighting all books discussed in the podcast library HERE. Leaders are readers.
Listen for free on Apple Podcasts, Google Podcasts, Spreaker, iHeart Radio, Spotify, Podchaser and many more. Mobile Listening APP's HERE
Find every podcast episode HERE.
Every episode segmented by Series HERE.
Key Word Search HERE.
Love what we do? Buy Carm a cup of coffee HERE.
Be socially involved and in touch with the show:
Facebook Twitter Linked In Email
Join the Ecosystem – Subscribe to the INSIDER NEWSLETTER HERE.

As a member of the NAPA family, AutoCare Center owners can take advantage of the NAPA National Health Program from the NAPA Insurance Center. This "NAPA only" program gives you and your employees access to national "large group" rates on medical insurance with premiums discounted up to 30 percent. These rates are based on the collective purchasing potential of 22,500 NAPA locations including both NAPA AUTO PARTS stores and NAPA AutoCare Centers.
The NAPA Insurance Center can help you with a variety of other insurance benefits too. For more information about The NAPA National Health Benefits program as well as all of the insurance benefits available to your AutoCare Center and your employees, visit the NAPA Benefits Center, at www.napabenefitscenter.com or call the NAPA Benefits Center at 844-627-2123.
Learn more about NAPA Insurance Center, and the hundreds of other benefits the NAPA family has to offer. Talk with your servicing NAPA store or visit www.NAPAAutoCare.com