Labor Rates: A Function of the Business Not the Market [THA 187]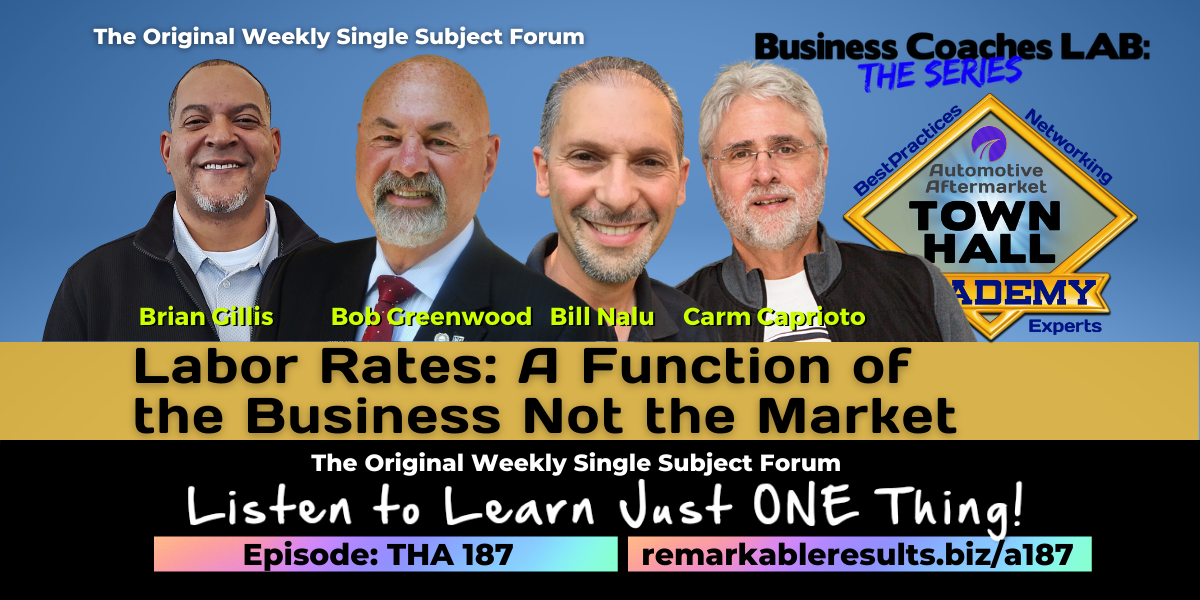 Brian Gillis is the Chief You Net Results Strategist, with 25+ years experience in auto shop operations, hiring, recruiting, systems, processes, multi-store experience, and employee training.
More about Brian Gillis…
25+ Years owning and operating auto repair shops in Texas, Georgia and Colorado, multi-unit stores
Hired and Trained over 2000 staff members
Budgeting and Profits Brian's Specialty
Smooth as silk with customers
Brian's previous episodes are HERE.
Bob Greenwood is one of 150 Worldwide AMI approved instructors. He has created Business Management development courses for aftermarket shop employers/managers, Jobbers and Jobber Sales representatives which are recognized as being the most comprehensive, industry-specific courses of their kind in North America. His courses address the creation of measurable bottom-line profitability and not just developing activity to keep busy, by covering the very detailed nuts and bolts issues that are required to be clearly understood by every level of the industry if an independent shop is going to financially prosper and enjoy a professional future. Bob's previous episodes are HERE.
Link to Automotive Aftermarket E-Learning Centre Ltd. (AAEC) HERE.
Key Talking Points:
Must know your true cost of doing business to set your labor rate.
Know your numbers. Always review them.
Multiple labor rates are needed today. One catch-all labor rate will not support the sustained profits necessary to survive
Minimally you need three labor rates:Maintenance Rate
Diagnostic Rate
Re-Flash Rate
Additional to consider Fluid Installation Rate
Tire Inflation Rate
Do not look down the street to set yours. Understand your business
A formula is necessary. See below slidesCost Per Billed Hour Formula (CPBH)
Bob. Technicians wages need to be expensed not put into the cost of goods for his formulas to work
You may have a productivity problem, and the formula will help you determine that
The only way you can lower your cost per billed hour is to increase the number of hours you bill.The industry is stuck on sales and activity but should be measuring productivity
You may have big sales gains, but have little profit to show as a percent of sales
Labor rates on diesel and fleets should be different
Rethinking labor rates are critical because when parts are not sold in conjunction with labor you will be making less money at your standard labor rate
See slide on show notes page: Setting Your Door Rate for the three basic rates. Below shows two different formulas to discover your three labor ratesMaintenance Door Rate4.5 Times Top Technicians Basic Hourly Wage
85% times your CPBH
Diagnostic Door Rate5.35 Times Top Technicians Basic Hourly Wage
125% Times Your CPBH
ReFlash Door Rate6 Times Top Technician-Basic Hourly Wage
135% Times your CPBH
We are in a knowledge base business, and we must be paid to cover your costs to obtain and sustain that knowledge
The Cost Per Billed Hour (CPBH) reflects your efficiencyIf you are inefficient, your cost per billed hour is going to be higher
If you are efficient, your cost per billed hour is going to be lower
You've got to understand your numbers inside and out today
Bob recommends twice a year review of labor rates and CPBH
Your labor rate should respect the competency of your team
You also need to understand the average billed hours per Repair Order (RO)It helps you see how easy it would be to raise your labor rate
How many diag hours should we bill vs maintenance hoursMeasure this.
Bob suggests today: 25% of your maintenance hours should be diag hoursIf you bill 100 hours of maintenance, you should also have 25 hours of diag billing
Diag hours are when you interpret or analyze informationTest driving you are analyzing
Scope time is analyzing
Consider using a labor matrix on your shop management system
Bill decided years ago to be the cheapest shop in town that has the highest prices. Job was done right the first time
He tasks his technicians to recommend the labor time it is going to take to do the job right
We need to be courageous enough to charge what we are worth and have a conversation with your customers: why.
We work on one of most complicated vehicles that man has ever created
Labor is the future focus. Your labor rate reflects the value proposition you bring to the tableSafe, reliable, and efficient is what you do for your customer. It requires skills that you need to keep up on.
Calibration Labor Rate will need to be calculated as an additional rate necessary as you consider doing calibrations.
We are a knowledge-based business. The trade days are gone this is a profession. Bob Greenwood
Once you know CPBH, you can calculate your gross margin on every RO
If you have a pure labor job you quote the job. Take the cost per billed hours times 20%
Become client-focused; use quality parts.Your labor rates will reflect your quality
Always consider the investment you must be making, which will require monies; therefore you need to be paid for what you do at the rate that allows you to invest.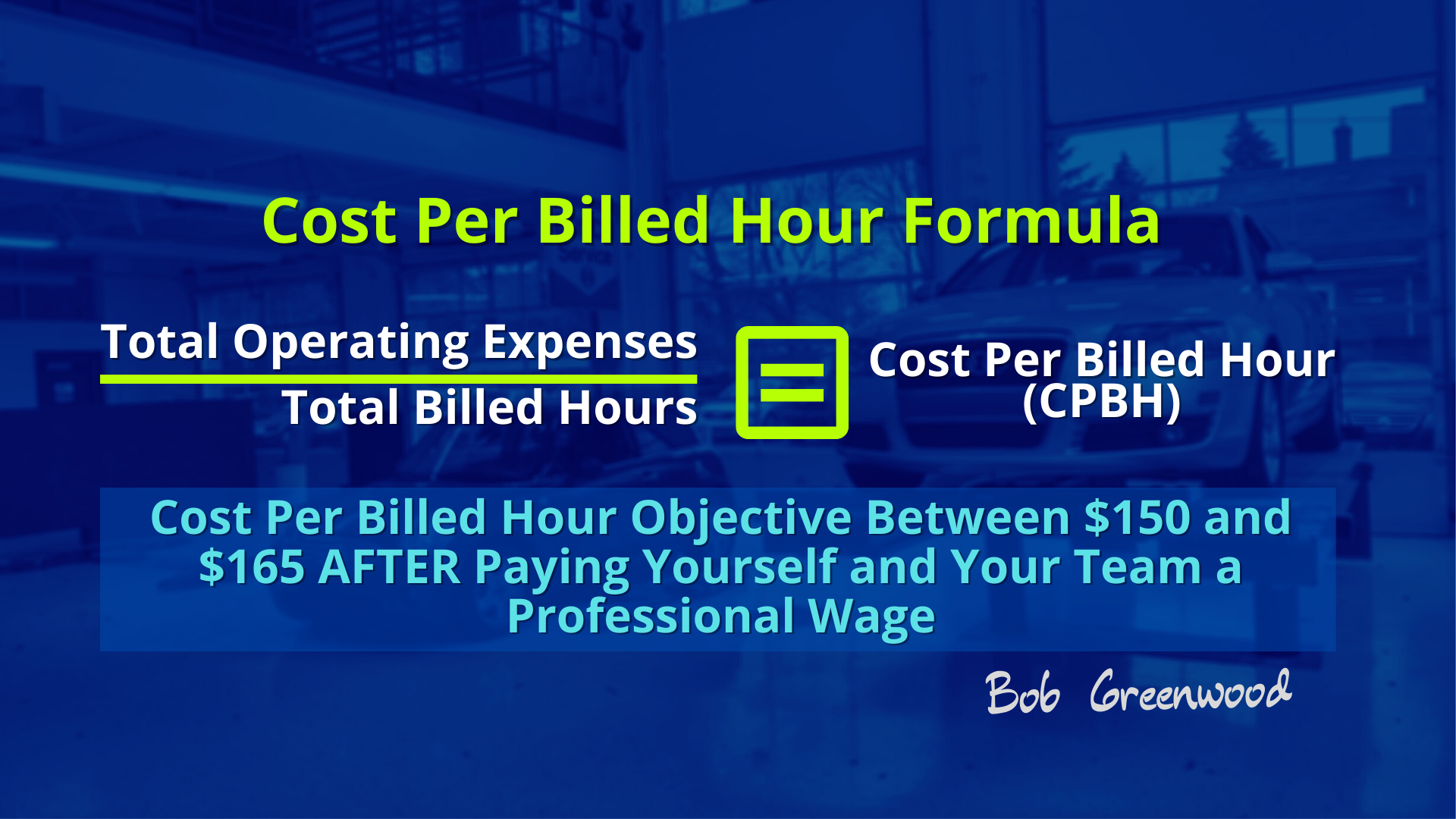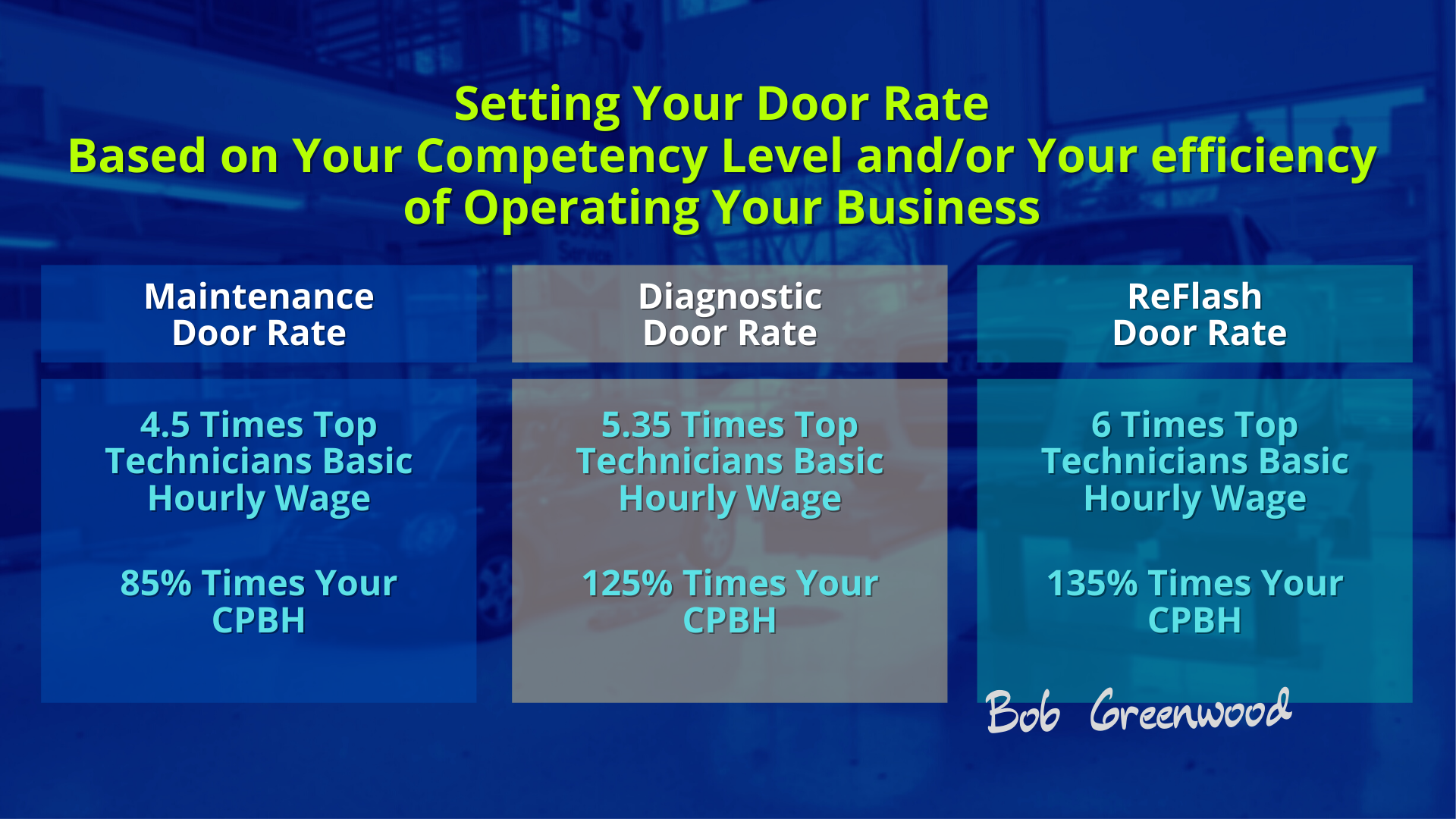 Resources:
Facebook Twitter Linked In Email
Join the Ecosystem – Subscribe to the INSIDER NEWSLETTER HERE.

This episode is brought to you by Shop-Ware Shop Management. It's time to run your business at its fullest potential with the industry's leading technology. Shop-Ware Shop Management will increase your efficiency with lightning-fast workflows, help your staff capture more sales every day, and create very happy customers who promote your business. Shops running Shop-Ware have More Time and generate More Profit—join them! Schedule a free live demonstration and find out how 30 minutes can transform your shop at getshopware.com

This episode is brought to you buy Shop Marketing Pros. Your guides are Kim and Brian Walker with a rich history as shop owners and industry veterans. When someone searches for a shop, who are they finding? Your competitors? It should be you! The good people over at Shop Marketing Pros know how to drive website traffic and make Google work for you! www.shopmarketingpros.com