Four Corner – Four Wall Shop Inspection [THA 198]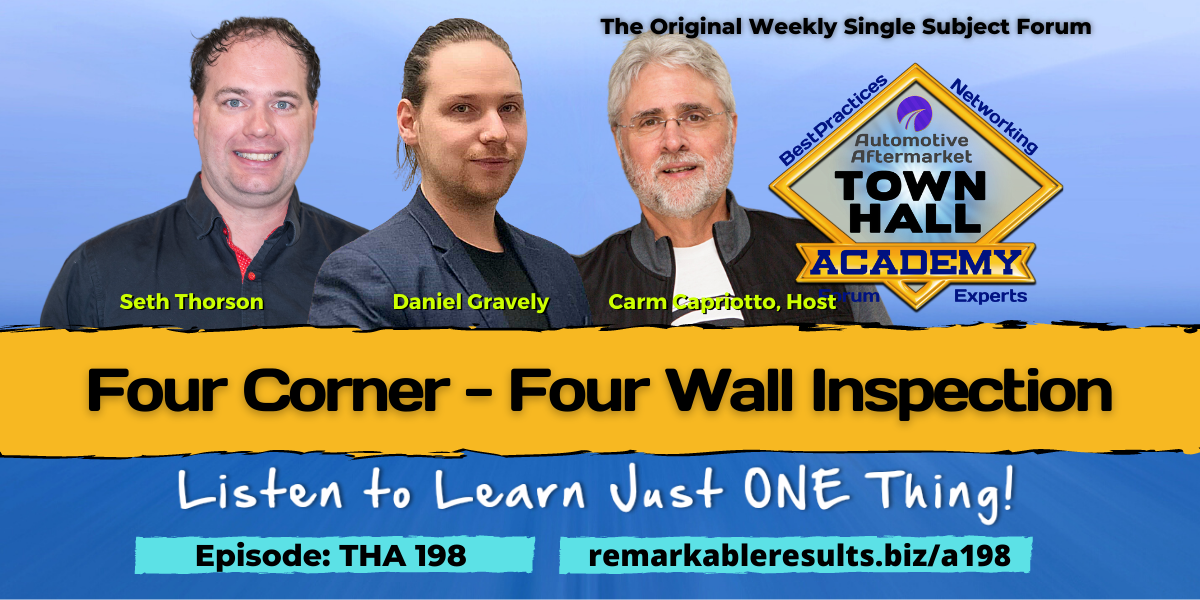 Seth Thorson has specialized in the service of European automobiles since 1999. First, in Michigan and now at his current location in New Brighton, MN. He just started to build a brand new shop and experts to be in by June 2021.
Seth was educated at a UTI in Chicago, where he was at the top of his class. He then went to BMW Step to finish the master's program. Thorson was hired in at a BMW dealership in Bloomfield Hills, Michigan. From there he moved to an independent shop in Waterford Michigan and learned VW Audi. Seth's passion remained with BMW and he was offered a chance to buy an existing shop in New Brighton, Minnesota near where he grew up.
He is the owner of Eurotech, which specializes in BMW, Mercedes, and Audi cars. He is a firm believer in using factory tools to ensure proper repairs and coding. His team of highly trained and certified technicians is able to diagnose today's complex vehicle systems! His second location, Green Garage, works on all makes and models.
Seth also owns and runs a BMW tech support company called LMV Bavarian that provides support and programming to a growing network of over 200 shops via remote diagnostics. He also teaches national seminars on BMW diagnostics. Seth has also partnered with SSF auto parts in their unique 'hands-on' training program.
Seth belongs to AASP in MN, BIMRS as well as NASTEF. He is also a member of Cecil Bullards (Institute for Automotive Business Excellence) 20 group. He believes idea sharing and networking with other shop owners have helped grow his business. Listen to Seth's previous episodes HERE.
Daniel Gravely is the District Manager, EuroTech Auto Service. Check Daniel's Episode HERE.
Key Talking Points:
Four corners of the Property to the Four Walls of the buildingThe store is audited by another location
Monthly Leadership meeting
The devil is in the details
Why is this important from a customer perspective?Reviews, compliments, appearance, safety
Capital Improvements such as structural damage discovered
Audit Formto set a plan of improvements
budgeting for improvements
Deadlines
accountability
Four Corner Four Wall – it is more important to employees or customers?
How do you pick who goes to the Leadership Meetings?
The leadership team is shop foreman from each location
I wanna do this at my shop, how do I do this? Where do I start?what are you trying to accomplish
outline of plan
put a plan in place
No shortage of ideas, just a shortage of execution
Remember The Milk app to help with to-do lists (used by Daniel)
Final ThoughtsYour Four Corner Four Wall Inspection is a quick view from your leadership team
In-depth responsibility for each manager to conform to
Safe and clean place for customers and employees to come to
Be critical with a fresh set of eyes
Resources:
Facebook Twitter Linked In Email
Join the Ecosystem – Subscribe to the INSIDER NEWSLETTER HERE.

This episode is brought to you by Shop-Ware Shop Management. It's time to run your business at its fullest potential with the industry's leading technology. Shop-Ware Shop Management will increase your efficiency with lightning-fast workflows, help your staff capture more sales every day, and create very happy customers who promote your business. Shops running Shop-Ware have More Time and generate More Profit—join them! Schedule a free live demonstration and find out how 30 minutes can transform your shop at getshopware.com

This episode is brought to you buy Shop Marketing Pros. Your guides are Kim and Brian Walker with a rich history as shop owners and industry veterans. When someone searches for a shop, who are they finding? Your competitors? It should be you! The good people over at Shop Marketing Pros know how to drive website traffic and make Google work for you! www.shopmarketingpros.com