Coaching CEO's to Their Next Level [THA 249]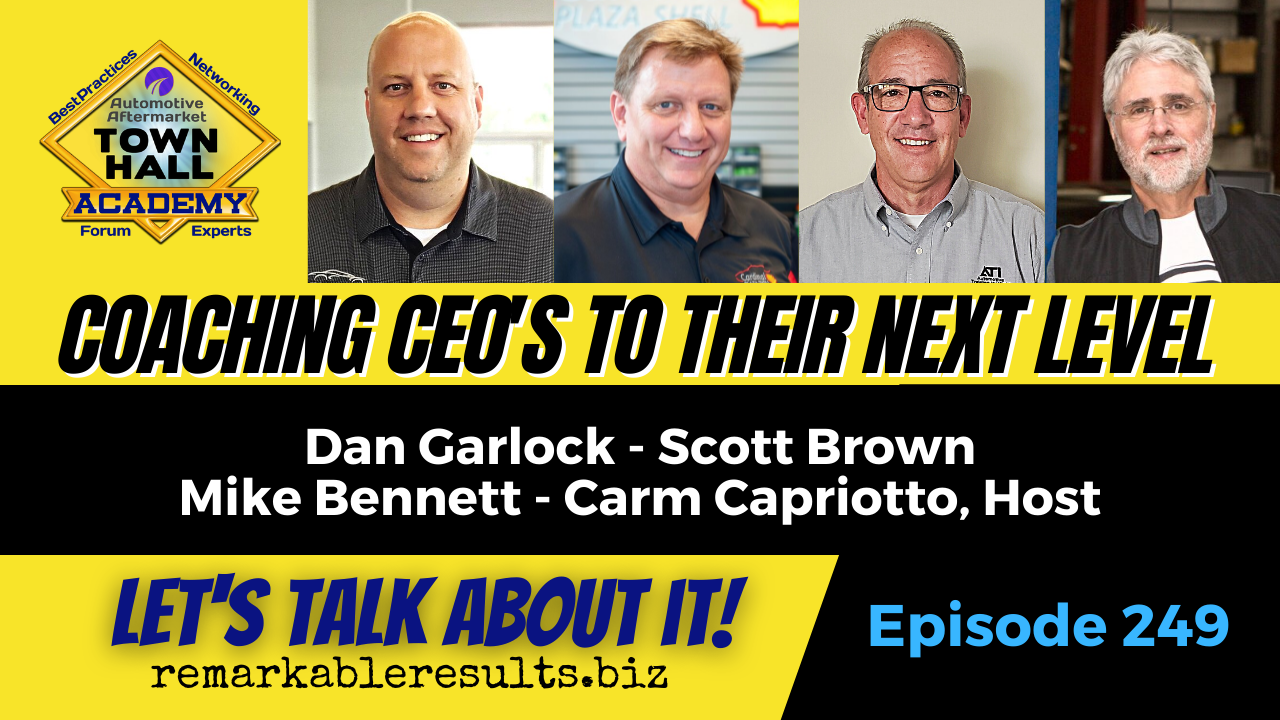 Dan Garlock, President, CEO, Silver Lake Auto, 4 locations, WI. As a second-generation owner of Silver Lake Auto & Tire Centers, Dan Garlock developed his love of the industry, working in his dad's repair shop from a young age. Today he serves as president and CEO, expanding the multi-shop company to 4 locations and $7 million in revenue alongside his brother Darren. Dan enjoys the challenges of evolving an established business and pushing the standards of success by investing in leading-edge technologies and great people. Dan also serves as the board of directors president for the Lutheran High School Association of Greater Milwaukee in his spare time.
Scott Brown, Cardinal Plaza Shell, Springfield, VA. The second-generation owner of Cardinal Plaza Shell, a 2,700 square feet, 5 bay independent repair shop and LEVEL 5 Solutions, an automotive technology company. Celebrated 50 years in business during 2019. Scott is a Member & Past President of Virginia Automotive Association, Member of Car Care Professional Network through the ACA. and founding partner of the Blue Ocean Buying Group for independent repair shops. Listen to Scott's previous episodes HERE
Mike Bennett has been in the industry since 1985. He is an ASE Master Tech who has worked for GM as Technician, Shop Foreman, Service Manager and Service Director for 2 locations. Mike bought his current shop, Mike's Kars, in Gettysburg, PA in 1999. It is a a four-bay shop with 3 technicians. In 2011, he became a full-time coach with Automotive Training Institute helping shop owner's to re-engineer and grow their businesses. Mike Bennett's previous episodes HERE.
Key Talking Points
The difference with CEO Group- elevate to different space/language, knowledge, understanding the role of CEO, dynamic with other CEO's in same and different industries. Create more diversity and build and learn about yourself.  Seeing possibilities and tailoring them to your business. Committed to concepts you learn.
Curiosity and willingness to learn- understand impact places in your business
Self-awareness of weaknesses and strengths- how do you see yourself? How does your team view you?
Former Pepsi CEO "The distance between number 1 and number 2 is always constant. If you want to improve the organization, you have to improve yourself. By default, the organization gets pulled up with you."
Being more vulnerable- ask feedback about yourself from your team, what do they want as well?
Avoid "Make it say uncle" strong-arm approach to initiatives
CEO and COO- has developed operation leader. Developing strategy, tactics, and execution.
COO group- align what the CEO is working on and execute (separate meetings with COO and CEO)
Connect with the show:
Check out today's partners:

This episode is brought to you by Shop-Ware Shop Management. It's time to run your business at its fullest potential with the industry's leading technology. Shop-Ware Shop Management will increase your efficiency with lightning-fast workflows, help your staff capture more sales every day, and create very happy customers who promote your business. Shops running Shop-Ware have More Time and generate More Profit—join them! Schedule a free live demonstration and find out how 30 minutes can transform your shop at getshopware.com

Are you seeing auto shops in your area get hundreds of 5-star Google reviews and are you feeling left behind because your shop only has a few?
Hey look, Broadly is your answer to getting more online reviews. With more reviews, your business will rank higher in search results — and that means more customers coming into your shop every day.
Broadly helps you automatically request reviews so that your customers can promote your business with just one click. When you immediately ask for a review after service, when the experience is still fresh in their mind, you're more likely to get a 5-star positive review. Plus, asking for feedback makes your customer feel valued and more connected to your business. Isn't that what you want a connected customer? See how Broadly can help grow your auto shop.  Visit www.getbroadly.com/chat to learn more.