Rethink Your Compensation Plans – Darrin Barney [RR 691]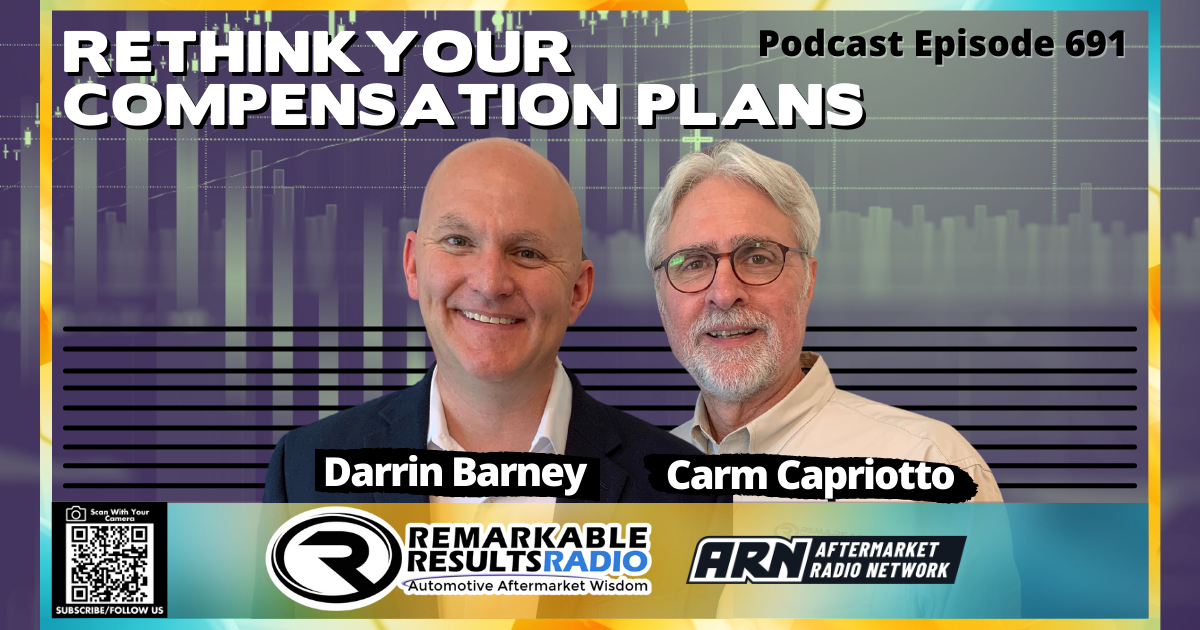 Darrin Barney, Barney Brother's Off Road and Repair, Grand Junction CO. Darrin's automotive journey began as a child working with his father on repairing and maintaining cars at the family garage. But the big turning point came when he turned 14 and his parents got him his first jeep. It was then that he realized that to keep it running he had to maintain it and take care of it. In 2003, he started his own auto repair and 4X4 business with the core business philosophy of treating every customer like a personal friend and creating the best customer experience possible. Darrin's shop has grown to one of the biggest independently owned auto repair facilities in the state of Colorado. Darrin also has a passion for continuing education. In 2017 he was one of the first classes to graduate with his AMAM (Accredited Master Automotive Management) from the AMI. He is a current Board Member for ASA Colorado and recently became responsible for bringing the customer service piece of automotive training to his hometown in Grand Junction, Colorado. He is active in the aftermarket accessory industry and is a member of the LTAA (Light Truck Accessory Alliance), APPEX and SEMA. Darrin is a Certified High Performance Coach and enjoys helping others find success and happiness in their lives. 
Key Talking Points
Superstars interview YOU- they don't want a job, they want a career/opportunity. They should ask you: what is your 5-year plan? 10? Succession plan? 

Your A tech is probably working somewhere else. They will leave for a better opportunity, it's not all about money. 

People leave people not companies

Getting close to your employees- don't be a sniper manager, be involved and interact. 

"50, 25, 25"- 50% the owner interviews employee, 25% the employee will review company, 25% the employee will interview the owner

Most shop owners are technicians that think they could do better- but they are still a technician at heart. Growing from a technician to a business owner is crucial and often missed. 

Do you know where your company is going? Dream and rewrite your mission statement. 

Guiding principals- all the pieces that get the mission statement done. Get your team involved.

Compensation plans- competitive wages, opportunistic income (above the base pay), take-home benefits (health insurance, retirement), continuing training

Employee retention- live your mission statement, 10-minute team huddles to create unity and teamwork, never start your day on a sour note (no complaining)
Connect with the show:
Check out today's partner:

NAPA AutoCare's PROimage program makes it easy for you to make the most of the NAPA brand. A PROimage upgrade lets you maintain your shop's identity as a reliable, locally-owned business while letting your customers and potential customers know you're partnering with NAPA, the most recognized and trusted name in the automotive aftermarket. AutoCare Centers that have completed a PROimage exterior upgrade enjoy an average 23 percent sales increase during the first year. You can also choose to go PROimage on the interior and transform your customer waiting area from merely utilitarian to warm and welcoming. You can even get a free look by visiting www.NAPAAutoCare.com and clicking on the NAPA PROimage link under the NAPA PROimage tab. Of course, the AutoCare site is also the place to go to find out about all the advantages being part of the NAPA family has to offer.