Under 30: Our Future is Bright [THA 253]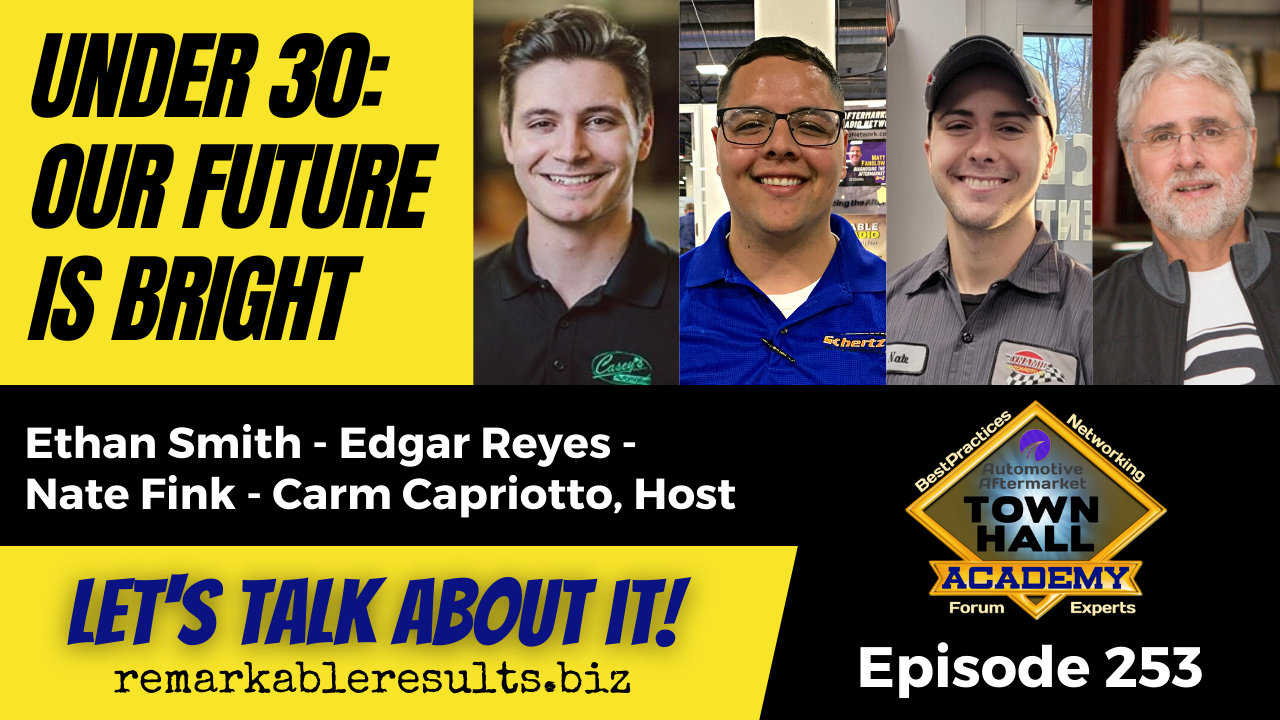 Key Talking Points
Ad from craigslist- felt the culture and environment

AAPEX attendees- impressed with the material and training, meet people from the industry, stay ahead of curve, energizing

Breaking stereotypes of the automotive industry- surrounded by knowledge and opportunity 

Gaining interest if have no interest in cars- requires an interest in wanting to do better, higher purpose, "today I helped a single mom whose car broke down." Providing perspective 

Passion vs purpose- passion can distract you, the purpose is a mental change and having an action

Customer service/community service- how can we pay it forward?

Business- like-minded individuals, excited to go to work, motivating each other 

Education and training- don't fall behind, stay current

Guidance- years of experience 

Goals- shop owner, the industry needs to encourage young shop owners to grow and create a youth movement

"Dealership is an alternative to us"

Communication- vital in day to day operations, crucial for the success of yourself (be open and communicate to the owner and managers), meet the goals you set

What industry do you want to be a part of? What industry changes?

"Most of the time people don't want to tell you what they want, they wait for you to tell them what you expect."
Connect with the show:
Check out today's partners:

This episode is brought to you by Shop-Ware Shop Management. It's time to run your business at its fullest potential with the industry's leading technology. Shop-Ware Shop Management will increase your efficiency with lightning-fast workflows, help your staff capture more sales every day, and create very happy customers who promote your business. Shops running Shop-Ware have More Time and generate More Profit—join them! Schedule a free live demonstration and find out how 30 minutes can transform your shop at getshopware.com

Are you seeing auto shops in your area get hundreds of 5-star Google reviews and are you feeling left behind because your shop only has a few?
Hey look, Broadly is your answer to getting more online reviews. With more reviews, your business will rank higher in search results — and that means more customers coming into your shop every day.
Broadly helps you automatically request reviews so that your customers can promote your business with just one click. When you immediately ask for a review after service, when the experience is still fresh in their mind, you're more likely to get a 5-star positive review. Plus, asking for feedback makes your customer feel valued and more connected to your business. Isn't that what you want a connected customer? See how Broadly can help grow your auto shop.  Visit www.getbroadly.com/chat to learn more.
The Panel
Ethan Smith, Service Advisor, Casey Automotive, Chantilly and Sterling, VA, 20 years old. Listen to Ethan's other episodes HERE
Edgar Reyes, Service Director, Schertz Auto Service, Schertz, TX, 26 years old.
Nate Fink, Technician, Dynamic Automotive, Frederick, MD, 23 years old