New Leadership Team at ASCCA [RR 699]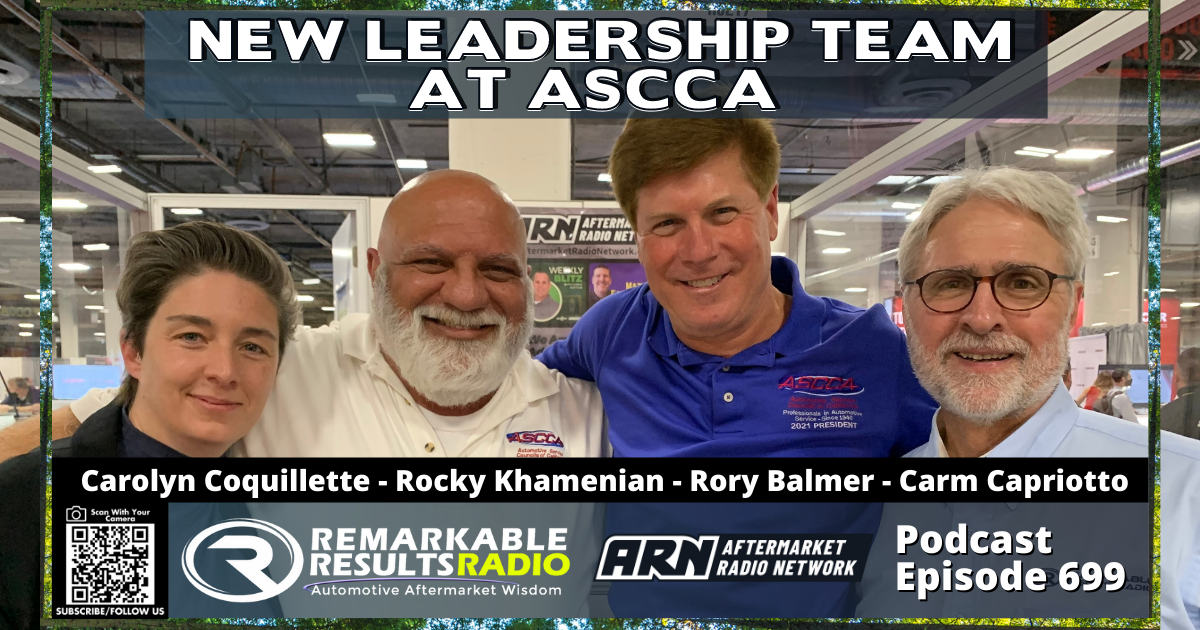 Key Talking Points
ASCCA- Celebrating 80 years

Joining associations- getting involved to make changes, unite shop owners and give them a voice. Elevate the industry together.  

Growing membership and advocacy- every business owner needs to be a participant. Simplify and clarify the message- sign up and be a part of the group. Attend 1 meeting and understand why virtual interaction will never replace the importance of live human interaction. 

Be cooperative instead of competitive with local businesses 

Retention of members- Future Freemium Membership to lower the barriers for people to participate for first-time members and retired members, value proposition, what do you do for the association, create more opportunity for yourself and others. 

Broaden your mind to career paths

Revamp the meetings- dinner at different shops. App for the future with news, chapter meeting information/address. 

Don't ask for too much right away- there are different levels of participation in association
Connect with the show:
Check out today's partner:

NAPA Autotech Training helps your technicians keep their skills sharp and their NAPA Know How up to date. It's the highest quality technical training that covers almost every vehicle system and every make and model. NAPA Autotech is presented by experienced instructors who are ASE master certified technicians. Even after a class is over, techs can access course information online with ClassPass. So when questions come up later they can get the answers. AutoCare Center owners who have taken advantage of Autotech Training say that well-trained technicians are helping to increase their shop's repair capability and raise bay productivity. That results in fewer comebacks, more satisfied shop customers, and reduced technician turnover.
Learn more about NAPA AutoCare and the benefits of being part of the NAPA family by visiting www.NAPAAutoCare.com.
The Panel
Carolyn Coquillette of Luscious Garage, San Francisco, CA is the new ASCCA President. She's also the Founder and CEO of Shop-Ware. Look for Carolyn's other episodes HERE.
Rocky Khamenian is the owner/operator of Bimmer & Benz Specialists in Costa Mesa, located in south Orange County, CA. He is an active member of Chapters 48 and 50 of the Automotive Service Councils of California. He has served on the Board of Directors for those chapters. He's achieved the status of Master Technician through ASE and he has completed a wide variety of technical classes on the repair and maintenance of BMW and Mercedes Benz vehicles through WTI. He is becoming certified as a Bosch Master Technician. Look for Rocky's other Episodes HERE.
Rory Balmer of Twin Peaks Auto Service in Twin Peaks is the outgoing ASCCA President. ASCCA Past President Mary Kemnitz says Rory is "One of the most effective committee members I have ever had the pleasure to work with. He has won the "One Member Can Campaign" twice. He has had a significant impact on the growth and energy within Chapter 14. Look for Rorry's other episodes HERE.