Recovering From a Wrong Service Advisor Hire [THA 256]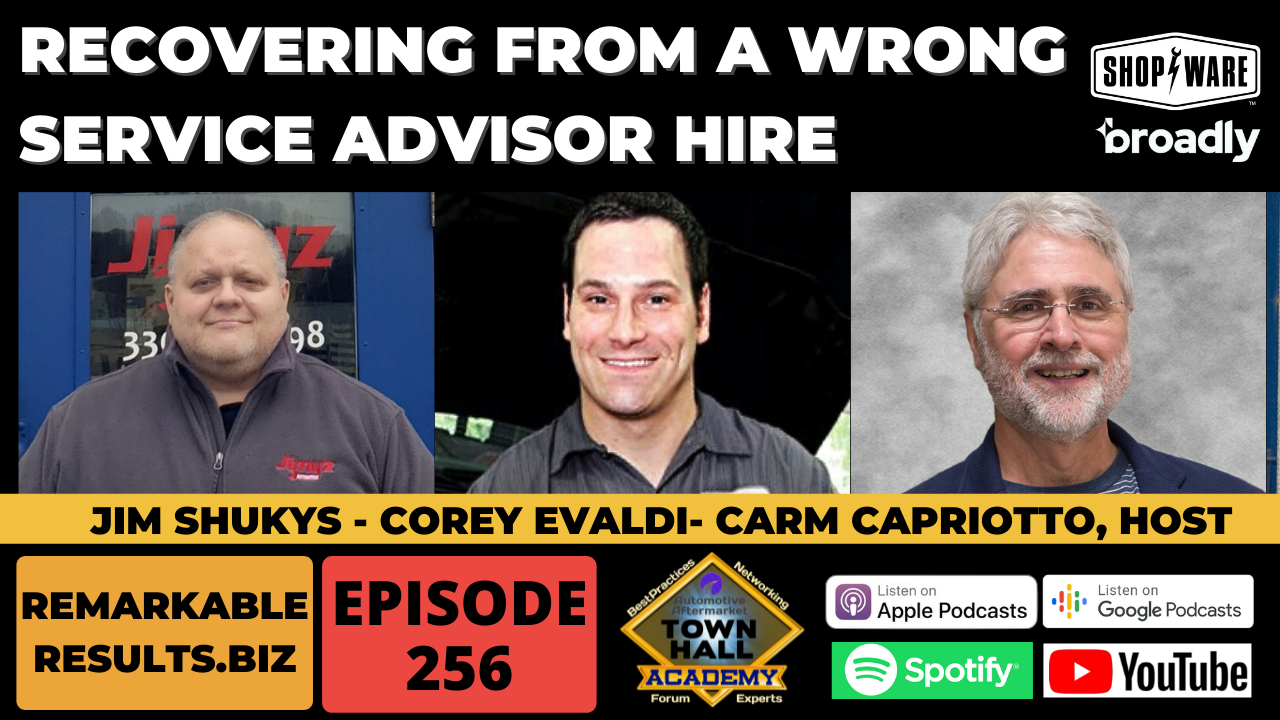 Key Talking Points
Processes can set you free- processes don't fail, people do

Have faith in your team

Never underestimate what a negative individual can do to your culture- do you allow/support negative behavior? Sometimes you won't notice it until you remove the negative attitude. "It's about time."

If it brings you stress at home, change was needed a long time ago

Listen to the indicators-

Hiring process- more filters

Do you feel like you're walking on eggshells?

Understand most customers do not feel comfortable giving negative feedback

Jim noticed the female customers did not like the service writer 

Never take for granted your customers will always be happy

"It's not that I don't care, it's just that I don't care."
Connect with the show:
Check out today's partners:

This episode is brought to you by Shop-Ware Shop Management. It's time to run your business at its fullest potential with the industry's leading technology. Shop-Ware Shop Management will increase your efficiency with lightning-fast workflows, help your staff capture more sales every day, and create very happy customers who promote your business. Shops running Shop-Ware have More Time and generate More Profit—join them! Schedule a free live demonstration and find out how 30 minutes can transform your shop at getshopware.com

Are you seeing auto shops in your area get hundreds of 5-star Google reviews and are you feeling left behind because your shop only has a few?
Hey look, Broadly is your answer to getting more online reviews. With more reviews, your business will rank higher in search results — and that means more customers coming into your shop every day.
Broadly helps you automatically request reviews so that your customers can promote your business with just one click. When you immediately ask for a review after service, when the experience is still fresh in their mind, you're more likely to get a 5-star positive review. Plus, asking for feedback makes your customer feel valued and more connected to your business. Isn't that what you want a connected customer? See how Broadly can help grow your auto shop.  Visit www.getbroadly.com/chat to learn more.
The Panel
Jim Shukys, Jimyz Automotive, Streetsboro, OH
Corey Evaldi, Olmstead Auto Care, Olstead Falls, OH. Corey Evaldi grew up in Buffalo, NY (Lackawanna). He owns Olmstead Auto Care, Olmstead Falls, OH.  His dad had his own auto repair shop before Corey was even born. In 1988, he built the shop that is still in business today. He started to enjoy the electronics and troubleshooting of vehicles really young. During his junior and senior year of high school, He went to Potter Road Career and Technical Center and took the Automotive programs. His senior year had an automotive competition at ECC, local community college. In 2015 he returned and was overwhelmed with the responsibilities of running a shop. he was a technician, service writer, accountant, clean up person, the fireman that extinguished fires all over. He could not keep doing what he was doing. He produced 40% of the billed hours out of 4 techs. He looked for help. Found a coaching firm that really showed him what a business owner looks like. After implementing the changes, there was extreme pushback from the existing crew. After standing firm on most things, change over was inevitable. Listen to Corey's Episodes HERE.