Training Workshops: Develop Your Culture and Leadership [RR 705]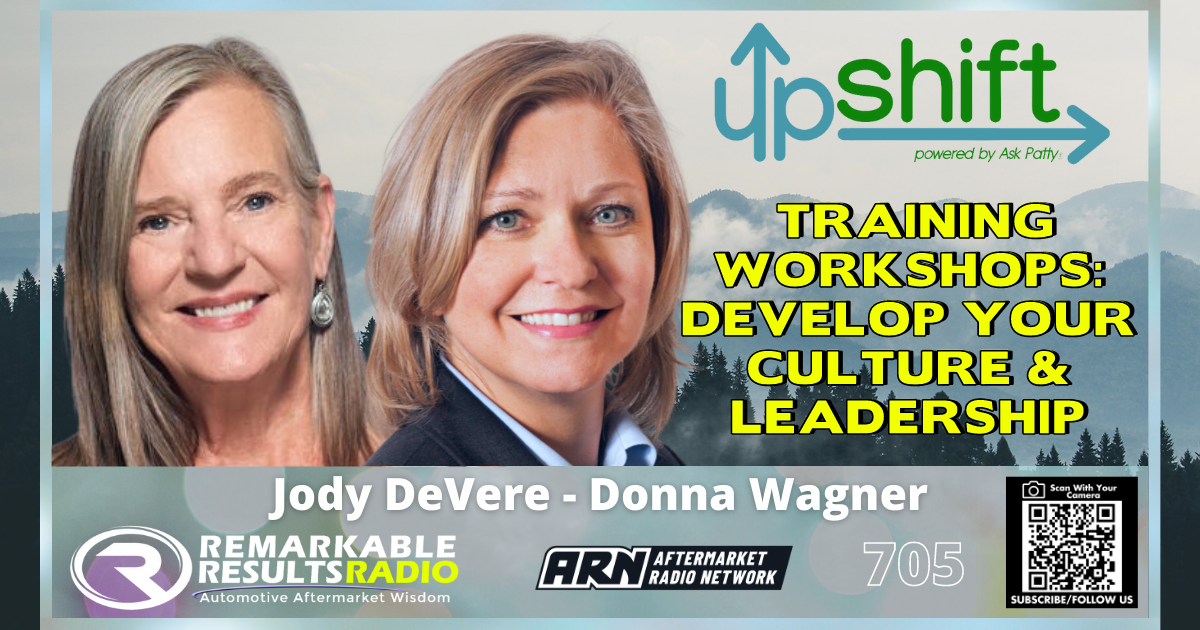 Key Talking Points
The complex multilevel market for women- but it's only a piece of the entire market in the automotive industry

Upshift- create more in-depth training and coaching for businesses and individuals focused on culture, leadership skills, diversity inclusion (including women), developing the workforce. Developed during COVID. Ask Patty has 4 certifications. Grow your knowledge base and see things from different perspectives. Upshift is in piloting mode until 12/31/2021. 

Why do people change jobs? No career path, no training, not feeling appreciated

Certifications- workforce, culture, leadership. 4 workshops per certification, once completed you earn the certification. 

Training needs to start earlier than millennials- are GEN Z's prepared to be managers? The workforce is consistently getting younger as boomer's retire. 

Hiring technicians and retaining them- develop relationships, react fast

Being the top shop- invest time and money in training and leadership. 

Unconscious bias- being open and welcoming, changing your dialogue and being inclusive 

Are you taking advantage of the total available market? Do you see every opportunity available to you? 

Ask Patty- women are the tip of the iceberg for the entire market
Connect with the show:
Check out today's partner:

The NAPA Smart Sign, previously known as Digital Menu Board, gives your shop a professional, state-of-the-art look and feel. It's a great way to educate and inform your customers about needed repairs and service, plus increase awareness of your current promotions. NAPA AutoCare Center that have installed a Digital Menu Board found one out of five consumers ask for a repair or service they've seen on the board. Targeted promotions resulted in double-digit increases. You choose the content from a library of auto care service and repair topics. The latest NAPA national promotions are downloaded to you automatically. And with the Digital Menu Board it's easy to change your services, prices, and video content anytime you'd like. Talk to your servicing NAPA store to find out more. www.napaautocare.com 
Jody DeVere, CEO, AskPatty.com, Inc.
is an internationally recognized speaker, trainer, often quoted industry pundit and spokesperson for the automotive industry on the women's market.  She is a champion for women in the automotive industry and in her role as marketing to women expert her goal is to educate the automotive industry at large and promote, mentor and support careers for women in the automotive industry. Her company AskPatty.com, Inc. serves as the first point of contact for many women who are seeking the very best experience to buy a car and service by visiting Certified Female Friendly® automotive retail locations across the United States and Canada. Jody DeVere Previous Episodes 
HERE
.
Donna M Wagner, MBA/MAAP
Donna's 30-year career in the automotive industry has focused on progress. She has a talent for observing, identifying solutions, communicating and connecting people and organizations together for better results. Donna's career spans marketing/PR, category management, sales, process improvement and training. She has a passion for cultivating talent for the automotive industry. As such, she founded Car Care Council Women's Board (now Women in Auto Care) and as a university department chair, developed an understanding of younger generations and how employers can connect with this group. Likewise, Donna also understands the employer perspective and has coached many on managing the workplace. Donna's Previous Episodes
HERE