Preventing Employee Apathy [THA 258]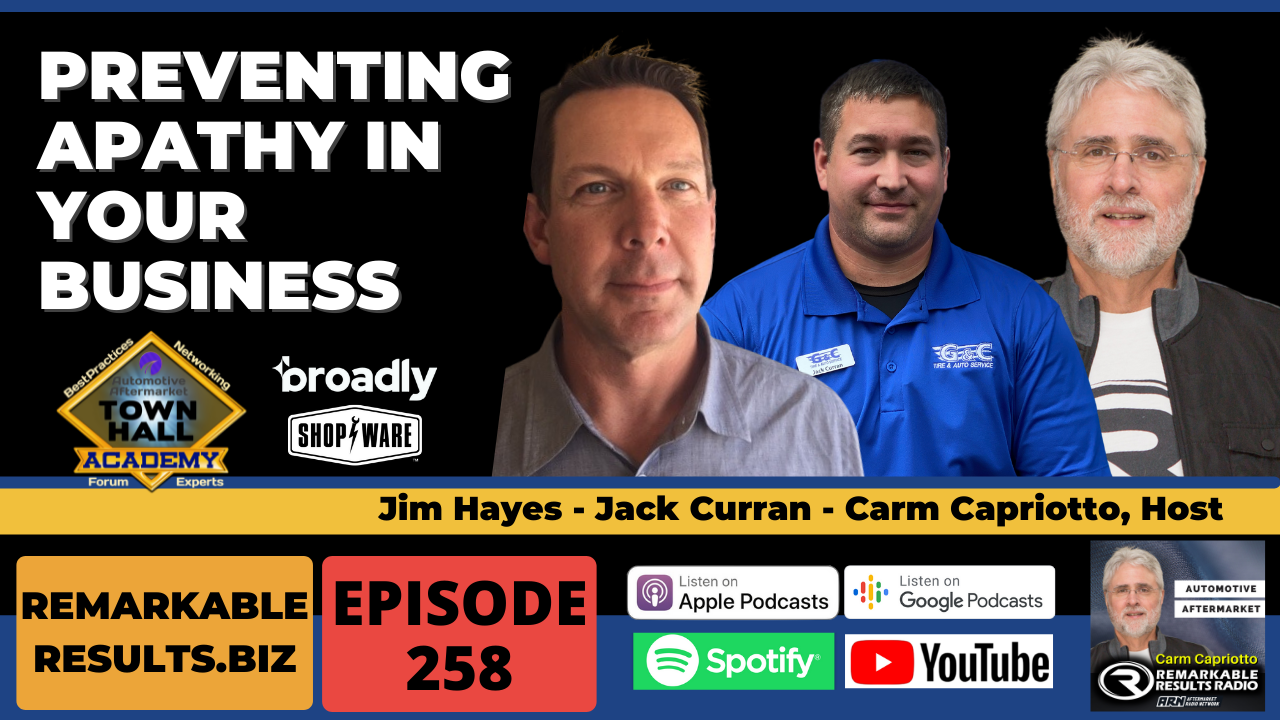 Key Talking Points
Team apathy- Is the owner being disengaged or having burnout?

Maya Angelou quote –

 

"I've learned that people will forget what you said, people will forget what you did, but people will never forget how you made them feel." If we don't care how the other person feels, we have failed. 

 

Showing you care with customers and employees

Leadership role- make the people your passion

Engagement survey- is there someone at work that encourages my development? Does my supervisor care about me as a person?

Think about the last time you had an engaged server at a restaurant- how did that make you feel?

What are your employee roadblocks? How can you remove that roadblock for them?

How are you doing? How are we doing? How is the company doing?

Performance management instead of reviews

High priority interrupts- addressing and correcting issues immediately

Hiring process-12 step process, 3-6 weeks, meetings, writing assignments, discussions. Are you passionate about customers? How have you wowed a customer? How did you make an upset customer, happy? DISC assessment.
Connect with the show:
Check out today's partners:

This episode is brought to you by Shop-Ware Shop Management. It's time to run your business at its fullest potential with the industry's leading technology. Shop-Ware Shop Management will increase your efficiency with lightning-fast workflows, help your staff capture more sales every day, and create very happy customers who promote your business. Shops running Shop-Ware have More Time and generate More Profit—join them! Schedule a free live demonstration and find out how 30 minutes can transform your shop at getshopware.com

Are you seeing auto shops in your area get hundreds of 5-star Google reviews and are you feeling left behind because your shop only has a few?
Hey look, Broadly is your answer to getting more online reviews. With more reviews, your business will rank higher in search results — and that means more customers coming into your shop every day.
Broadly helps you automatically request reviews so that your customers can promote your business with just one click. When you immediately ask for a review after service, when the experience is still fresh in their mind, you're more likely to get a 5-star positive review. Plus, asking for feedback makes your customer feel valued and more connected to your business. Isn't that what you want a connected customer? See how Broadly can help grow your auto shop.  Visit www.getbroadly.com/chat to learn more.
The Panel
Jack Curran, G & C Tire and Auto Service, two locations, Chantilly and Manassas, VA. Listen to Jack's previous episode HERE
Jim Hayes joined the United States Army after High School where he served with elements of the Intelligence and Special Forces communities. After completing his goals in the Army, he moved to the Monterey Peninsula, where he turned his focus toward becoming a golf professional. As a member of the PGA, Jim held the title of Manager of Instruction for the Pebble Beach Golf Academy, where he taught golf to individuals from around the world. True to form, after achieving what he set out to accomplish in the world of golf, Jim transitioned to the automotive industry, where he currently serves as General Manager of Pacific Motor Service. Listen to Jim's previous episodes HERE