Workplace Motivation [THA 260]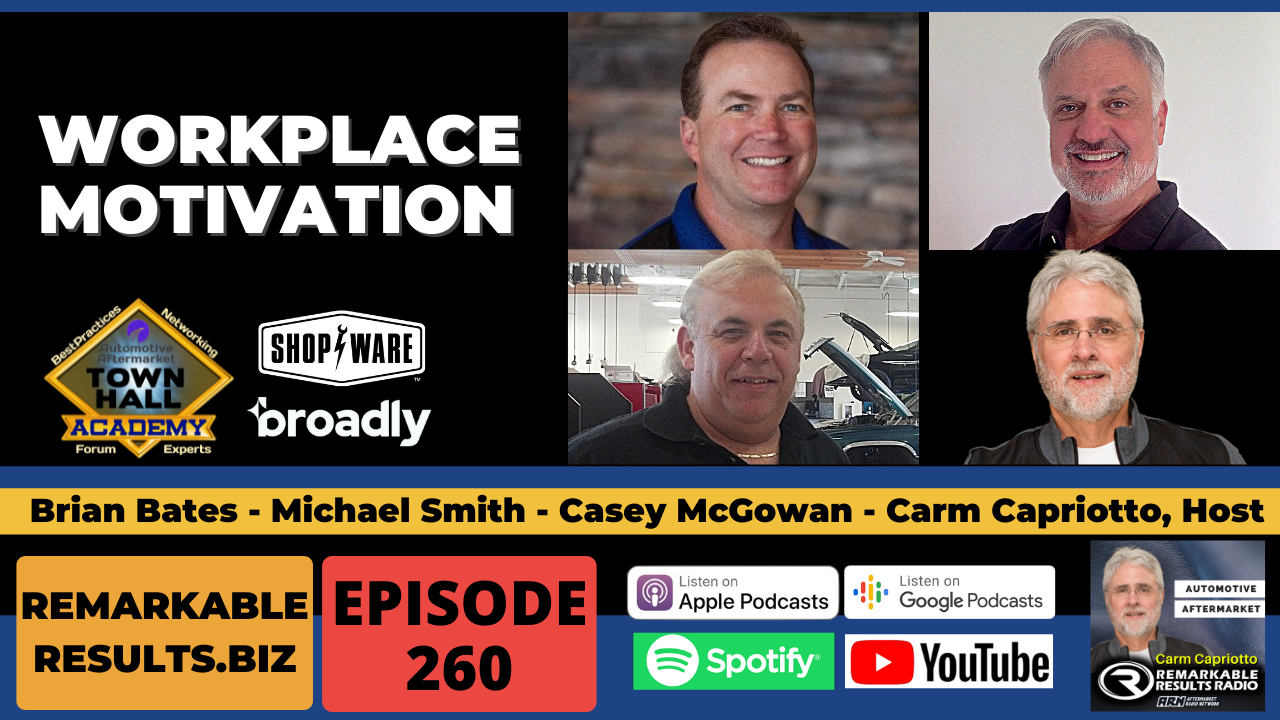 It's easy to discuss culture and workplace motivation, everyone understands people want to work in a positive environment. But did you ever stop to think about what truly motivates people? Guess what, it is unique to each person. Do you understand the tangible goals for each individual in your business based on what motivates them personally? Spoiler alert, money isn't the main motivator for people.
Watch Episode on YouTube
Brian Bates, Eagle Automotive, Based in Littleton, CO, MSO 4 shops
Michael Smith, Managing Partner, Herzberg Smith and Co
Casey McGowan, Casey's Independent, Vancouver, WA
Key Talking Points
Not just about the pay- ask during the interview, what is your end goal? What is their vision? Is it aligned with your vision?

Setting achievable goals & staying focused on the results- baby step goals, don't dangle a carrot and keep moving it

People leave jobs because of the environment

Hungry, humble, and smart- hunger is either innate or note

Career pathing with people on your team is highly motivational and a good way for them to stay centered

Humans are

only truly motivated intrinsically

(from within). Motivation- defined as

the internal energy to make a change or achieve a goal, it

 does

not

come from external factors, influences or forces. What are the needs of the individual? And what motivates them?

3 stages everyone innately yearns for physical needs, psychological (belonging to the group, team environment, self-esteem), self-fulfillment (finding meaning in what you do). Salary only covers physical needs.

These truths begin to reveal the reasons

why incentive pay plans, performance bonuses, perks, increased status, etc. are only marginally-effective

human influencers. Bonus programs don't change behaviors. 

Apprentice, journeyman, master- each needs different goals

Discovering motivation- "How are you? How are we? How am I?"

"The Power of the Other" 4 corners of communication- disconnected, false sense, toxic level, celebrate victories/challenge you/console/ask how they can help.
Connect with the show:
Check out today's partners:

More Time. More Profit. Shop-Ware Shop Management getshopware.com

See how Broadly can help YOU grow your auto shop. getbroadly.com/chat