Handling A Toxic Employee with Dr. Dave Weiman [RR 713]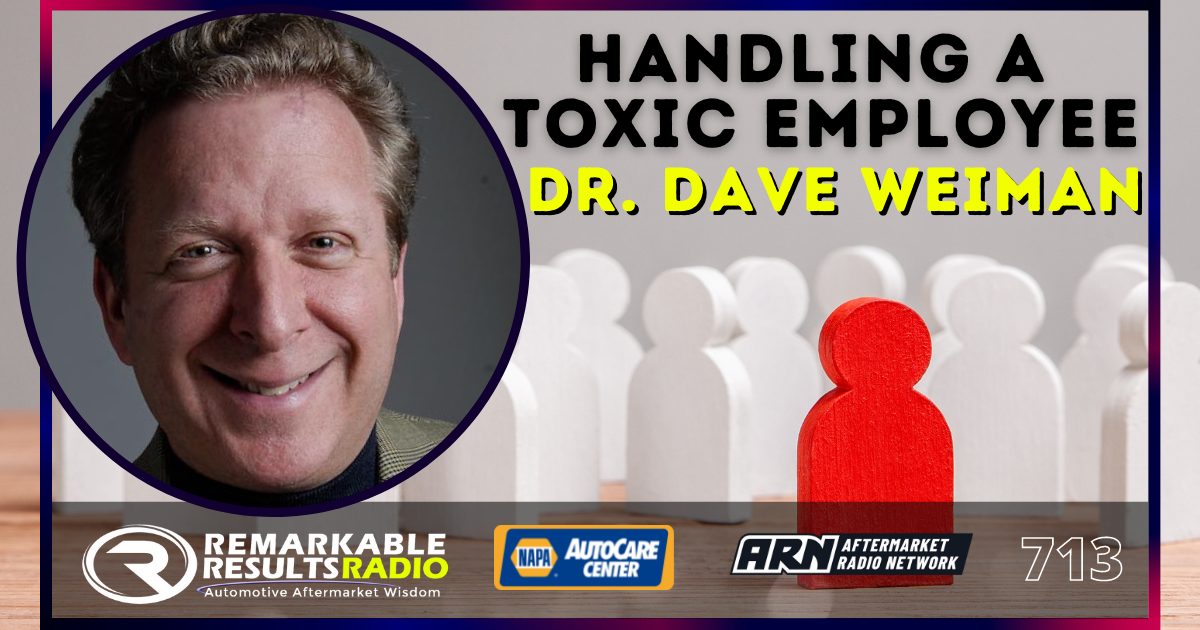 How do we handle a toxic employee? How long have we noticed their behavior and never addressed it? Is it hard for owners to let someone go that they hired and thought would be a great fit for the team? Dr. Dave Weiman, psychologist, and owner of Weiman Consulting explain the behavioral background of a toxic employee. Every business owner needs to listen to this episode!
Key Talking Points
Toxic employees- they know other people will pick up their slack and don't care. It is almost impossible to change toxic behavior, but you can almost always change the production level on a positive team player employee. Toxic people have excuses for their behavior

Red flags during hiring- behavioral questions, not following instructions in process.  "Tell me about a recent success that you were directly involved in, what happened and why was it successful?" "Can you tell me about a recent professional disappoint and why it didn't go well?" Do they only give themselves credit for success? Do they blame others for disappointment? 

You risk other employees leaving because you as an owner, are tolerating toxic behavior

20% at top of business- follow all the rules, self-motivated. 20% at the bottom- unhappy wherever they are, complain, "problem children," 60% in middle that can be drawn up or down

What are people doing outside of work? What do they value?

"How do you pick the guys that go on Seal Team Six? Because they're the best of the best of the best." Graph: On one side (y-axis) is performance. On the other side (x-axis) is trust. A high performance & low trust person is a toxic leader and a toxic team member.

Coachability- take in feedback and change, are they giving excuses? Are they missing the impact of the behavior? Do they not think they're the problem? 

Are they motivated to change? Be clear about your values, what are the other employees doing to demonstrate those values?

It can be hard to let someone go- you picked that person and hired him/her

Address issues/concerns immediately- learn why it happened, what can WE do to improve this?
Connect with the show:
Dr. David Weiman is the president of Weiman Consulting, a leadership consulting firm in Philadelphia PA. He is also an adjunct Assistant Professor at Widener University's Institute for Graduate Clinical Psychology, and he is a Certified Performance Coach through Johnson & Johnson's Human Performance Institute. Dr. Weiman has been quoted in BusinessWeek, the Los Angeles Times, Men's Health, Entrepreneur, and many other publications. He has also been a guest on Fox News Philadelphia, Money Matters TV, and numerous podcasts, where he shares insights about the psychology of success, motivation, and more. You can check David's other episodes HERE.
Check out today's partner:

As a member of the NAPA family, AutoCare Center owners can take advantage of the NAPA National Health Program from the NAPA Insurance Center. This "NAPA only" program gives you and your employees access to national "large group" rates on medical insurance with premiums discounted up to 30 percent. These rates are based on the collective purchasing potential of 22,500 NAPA locations including both NAPA AUTO PARTS stores and NAPA AutoCare Centers. The NAPA Insurance Center can help you with a variety of other insurance benefits too. For more information about The NAPA National Health Benefits program as well as all of the insurance benefits available to your AutoCare Center and your employees, visit the NAPA Benefits Center, at www.napabenefitscenter.com or call the NAPA Benefits Center at 844-627-2123.