Next Best Improvement: Lean [THA 266]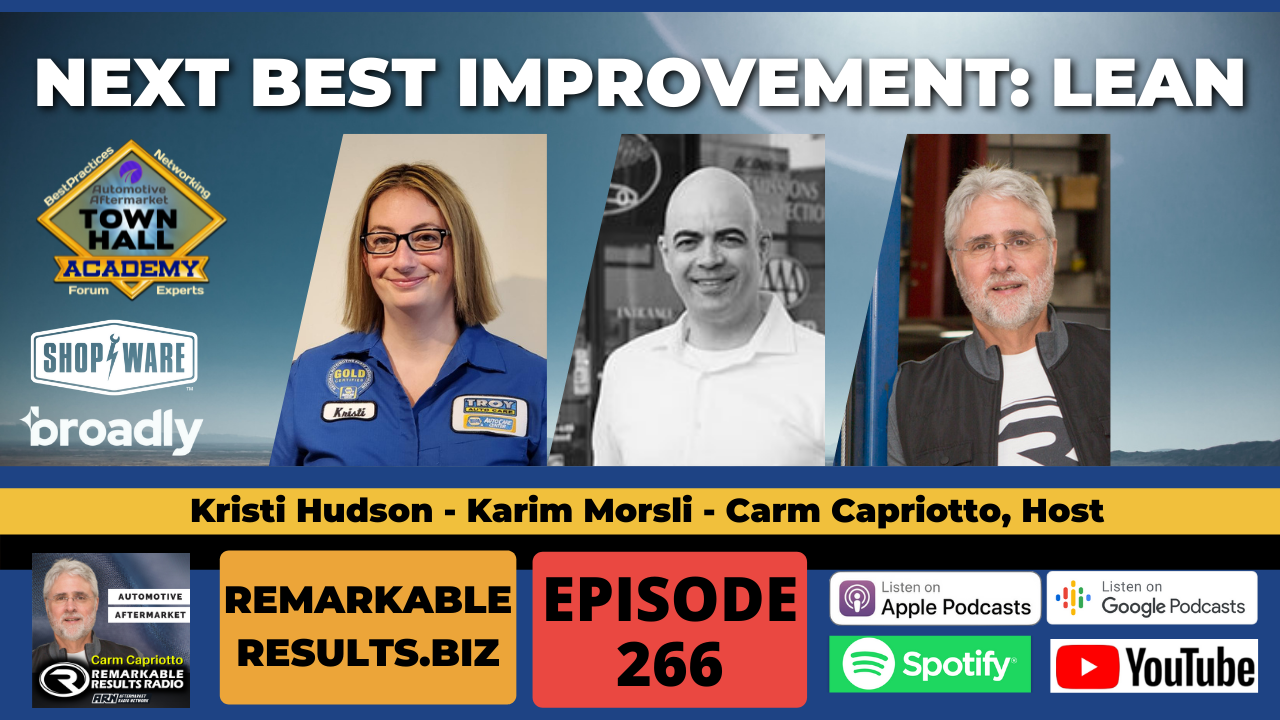 How do you calculate the common phrase "work smarter, not harder?" This episode is all about getting lean in your shop. Are you tracking the steps it takes to do something simple like an oil change? Are your parts and supplies not only organized but purposefully placed in areas for efficiency? My panel discusses simple ways to get started with Lean Six Sigma. 1 simple change can save you time and money.
Watch Episode on YouTube
Kristi Hudson, Troy Auto Care, Troy, MI. Visit Kristi's shop HERE 
Karim Morsli, Winkler Automotive Service, Gaithersburg, MD. Visit Karim's shop HERE
Key Talking Points
Oil change- consistent results for every customer, supplies are together

It's easy to start- start with your most repetitive processes. Graphic representation of your business (overview of the shop) spaghetti diagram (Karim used Sketchup App) is tracing every step of the process you do with numbered steps and how much time it takes. What is your critical path? 

Every job is pre, during, and post. Clean as you go

The leadership of the business needs to invest in

Time=money

Using data- how many jobs do you do? How many hours does it take? How much stock do you have? What is more profitable?

Get your team involved- everyone has to be a part of it for lean to work. Less stress looking for tools/scanners etc. Holds everyone accountable. Once team members see how much easier and less stressful their jobs are they will be excited about it and want to help improve it even more

Lean is ongoing and will continue to improve

Be careful, lean will follow you home!
Connect with the Podcast
Check out today's partners:

More Time. More Profit. Shop-Ware Shop Management getshopware.com

See how Broadly can help YOU grow your auto shop. getbroadly.com/chat