Brought His 14 Team Members to Vision – Travis Troy [RR 726]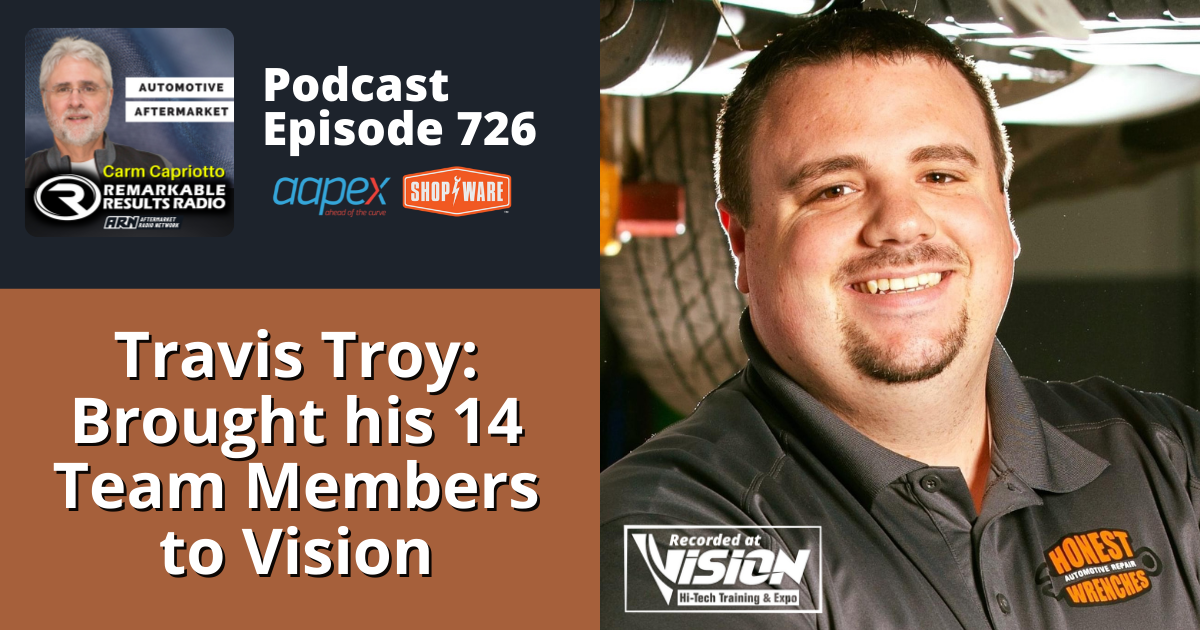 I asked Travis Troy, point-blank, what did it cost him to take his entire team to Vision this year. I talked to so many shop owners at Vision KC 2022 that closed their shops to take their entire team for some of the best training and networking both Technician, Service and Management. I stopped counting at 30 the number of shop owners who closed their shops there had to be 100 or more based on my simple survey results. Some strategies were to uplift and cross training their people into leadership roles by selecting that type of training. Travis and his partner Josh know they'll get a huge return on their training investment. The message: get out of your comfort zone.
Travis Troy, Honest Wrenches, Akeny and Des Moines, IA. Listen to Travis' other episodes HERE
Key Talking Points
30 years old, opened in 2011 with a partner,  2 locations

Under 2 hours, over 150 registration 1st morning 

"Little Engine that Could" power, will, and passion working in 2 car garage to the opening 1st location with 1 lift with no service advisor (used a Bluetooth headset and notepad in shirt). The second location is 13 miles away as a lease, previously evicted shop- 8 bay shop that was left a mess. Took 3 months to clean out and update. Took time to build but kept patience. 

Capacity to want to grow and be better than the previous day- you'll always face challenges, start every day fresh

Met partner Josh in automotive electrical class in college- started working together on weekends repairing cars, the city shut them down. Travis worked 18 hour days for 6 years straight.

Introduced to Vision by Tim Davidson- Tim came to shop with BG sales rep. Has been to Vision every year since. 

Closes shop to come to Vision- don't look at it from a money aspect, you can't afford not to come. Shop owners come back to shop invigorated and refreshed, but what about your team? It's time to have the whole shop on board and set up for the rest of the year.

Average $20,000 investment to bring the whole team of 14 total including Travis and Josh. 

Holding everyone accountable as 2-way street

Breaking and rebuilding process constantly- continue to grow, never be afraid to try

Advice- stay humble, tomorrow isn't guaranteed, stay humble, have defined roles, never compare yourself to others because you'll never be equal. Get involved in an association AND coaching company. Succession plan preparation.

Started business not just for them (Travis and Josh) but for their families and their client's families 

Tale of Two Cities- located on the property of 2 cities, google sets their address depending on where the customer is located. They are able to capitalize on 2 cities at once.
Connect with the Podcast:
Check out today's partners:

Set your sights on Las Vegas in 2022. Mark your calendar now … November 1-3, 2022, AAPEX – Now more than ever.

More Time. More Profit. Transform your shop at getshopware.com/carm