Paying Attention to Inflation [THA 269]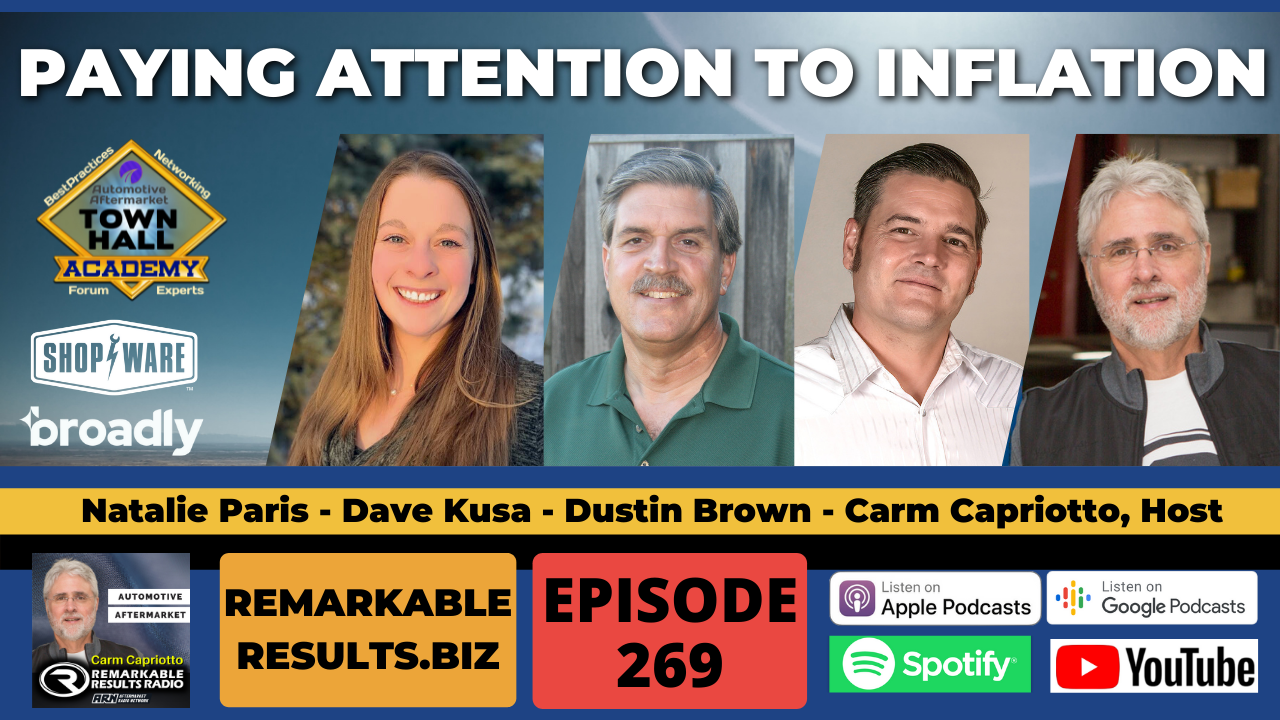 We've all heard inflation is up 8%, as of this broadcast, but when you walk through the grocery stores and sit at a restaurant, it sure seems like it's a lot higher …  don't you agree? As prices continue to jump, what are we doing as an industry to adjust? And why are so many shop owners worried to raise their labor rates? My panel includes 2 shop owners and an auto shop bookkeeper with a wide-open discussion about labor rates, parts pricing, and even employee retention in the age of rampant inflation.
Watch the Episode on YouTube
Natalie Paris, Three Rivers Bookkeeping, Profit Strategist. Listen to Natalie's previous episodes HERE 
Dave Kusa, owner of AutoTrend Diagnostics in Campbell, CA. Listen to Dave's other episodes HERE.
Dustin Brown, Brown Auto Experts, 3 Locations in New Mexico, Albuquerque, Village of Los Ranchos and Rio Rancho. Listen to Dustin's other episodes HERE
Key Talking Points
Parts – While parts costs are rising, our parts GP should take care of itself if we are using an effective parts matrix. 55-60%

Unfounded fear for charging correct amount for parts

Expenses – Expenses, in general, will jump up.  We need to monitor our expenses and possibly shop them to get the best value.

Labor Rate Increases: Shop your competitors and monitor how the labor rates in your town are adjusting for inflation. 

The dealership suggested retail isn't always what they're selling to their customers

"Don't trip over dollars to make dimes." when it comes to expenses 

Employee Retention- This year all office staff received a raise and some of our technicians. We did not give raises to techs that have been with us for less than 6 months. With raising the labor rate, shops should be able to afford to increase technician pay. A recent Gallup study shows that 50% of all employees are thinking about changing jobs. Do not think your shop will be different. "The great reset" instead of "The great recession" Staying on top of retention to prevent turnover is very important in our current labor market. Wages are not the #1 cause of employees changing jobs, but it is a factor to keep in mind with the rising cost of everything. 

The workforce has 5 generations of people working- how you manage each generation is different

Other ways that can make employees feel appreciated and help with retention would include fringe benefits or low monetary benefits. Things like more paid time off, tool purchases match, Friday (or once a month) shop paid for lunch or training opportunities to help them advance their careers can be huge.  Another great way is to ask the employees if they have ideas on non-monetary or lower monetary benefits that they would appreciate around the shop.  

Be careful of 'profit leakage' and be transparent with your employees when you do raise your labor rates

Pay bills with gross profit dollars, not a percentage
Connect with the Podcast
Check out today's partners:

More Time. More Profit. Shop-Ware Shop Management getshopware.com

See how Broadly can help YOU grow your auto shop. getbroadly.com/chat