There Can Be Change Without Progress, But No Progress without Change – Chris Cloutier [RR 731]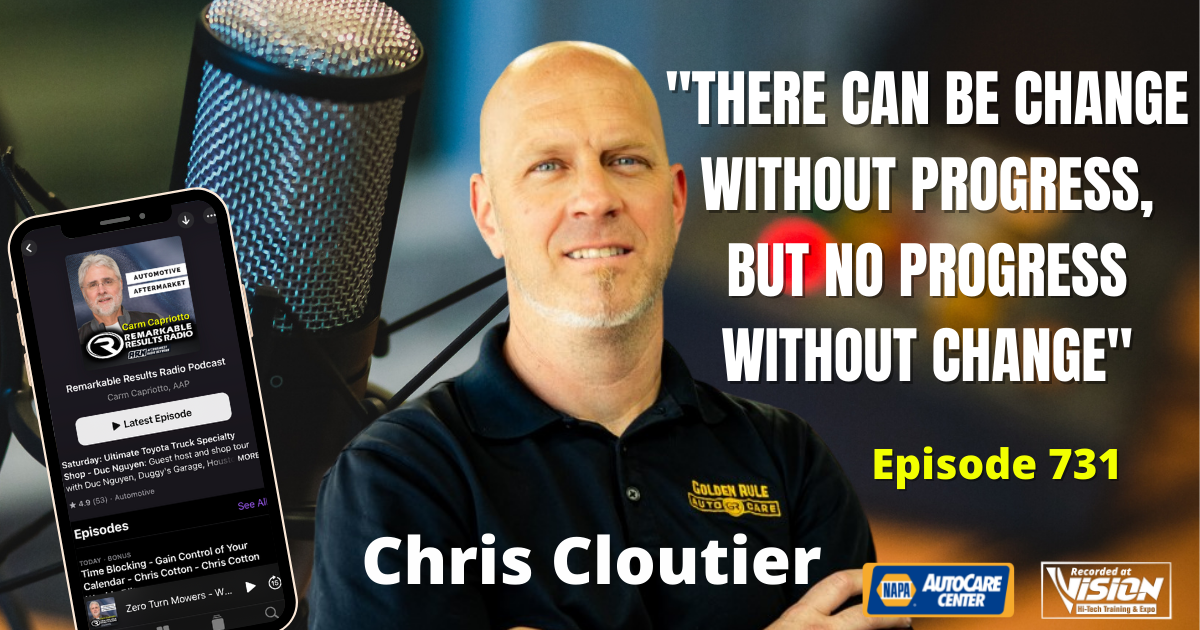 Did you know you're 27% smarter when you're positive? It makes sense, doesn't it? Having a positive attitude can change everything if you let it. I'm with Chris Cloutier at Vision 2022. We didn't have an agenda or talking points. He came in, sat down, and in classic Chris fashion, I was on the edge of my seat listening to him. Find your positivity and get smarter.
Chris Cloutier is co-owner of Golden Rule Auto Care in Dallas Texas and CEO of Auto Tex Me. Listen to Chris's previous episodes HERE. 
Key Talking Points
 Managing Change class- changes are constant, 

"Change or Die" relate, repeat, refrain 

Who are you hanging out with if you want to change?

"I want to lose weight with diet and exercise" but do you have a trainer?

Ego is the Enemy Episode 717– fine line between confidence and hubris 

Software- managing the change of the shop, "adoption of a new process," technology improves the process but doesn't fix the problem if you don't have a process

"Who Not How" 

It takes 66 days to create a habit 

Failure isn't final, do you have grit?

"Split the difference" is positive

Takes a few months to create a habit- repeating excellence is hard

"Eternal optimists with the glass half full" while battling with "pessimistic and glass half empty"

"You can only apologize and blow off steam so many times before it becomes yourself"

Are you a wartime CEO or peacetime CEO?

Startup life- being the visionary and integrator at the same time

Are you showing your children your failures/struggles? Eliminate preconceived notions you're "not good at that" before you've tried

Instead of change or die, it should be change and thrive

Are you afraid to stretch yourself because you don't know something?
Connect with the Podcast:
Check out today's partner:

Learn more about NAPA AutoCare and the benefits of being part of the NAPA family by visiting www.NAPAAutoCare.com