Training Think Tank [RR 732]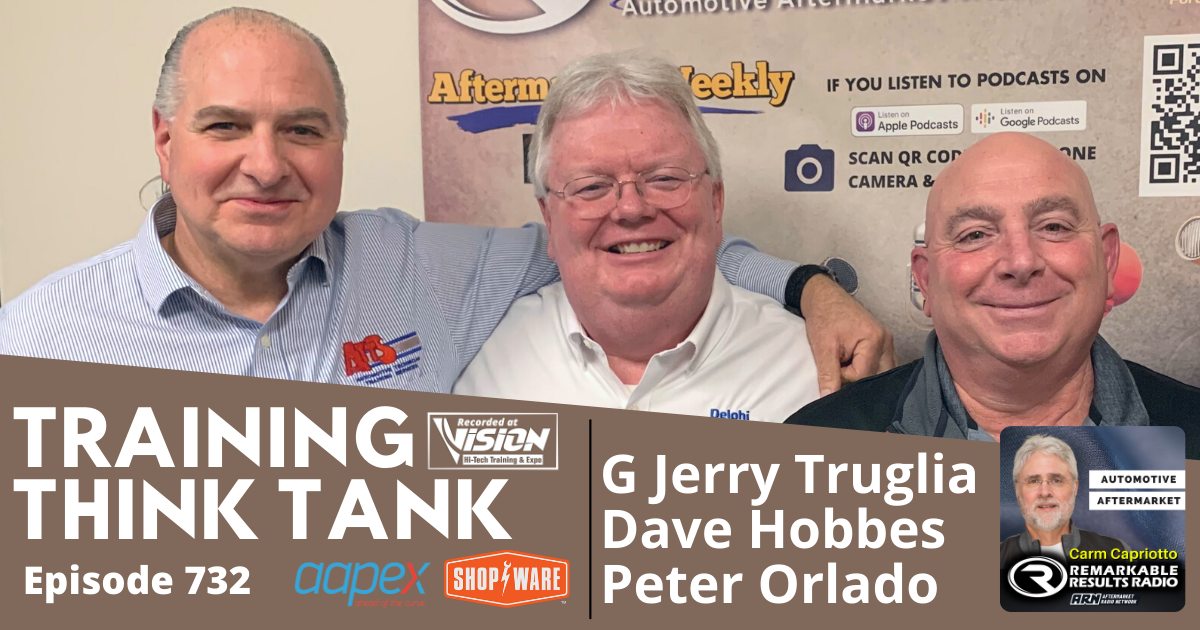 What's better than having 3 trainers sit down with me at Vision 2022 and record their very candid conversation. Be a fly on the wall as we discuss hybrid training, student assessments and breakout teams. My panel shares their experiences and together we push the boundaries of training in our industry.
G Jerry Truglia, ATTS: Automotive Technician Training Services. G Jerry Truglia Previous Episodes HERE.
Dave Hobbs, senior technical trainer and curriculum developer for Delphi Technologies Aftermarket at BorgWarner Inc. Dave's previous episodes HERE.
Peter Orlando, Sr. Curriculum Developer/Technical Instructor at Advance Auto Parts Carquest Technical Institute. Peter's previous episodes HERE
Key Talking Points
Hybrid training- pre-production ahead of time for online training, put videos in your PowerPoint to break up the monotonous voice, avoid internet problems, and have capabilities to pause the video when questions are asked 

Paying attention to inflation, higher wages in other industries

Audience assessments with QR codes- gauges your audience and gives trainer direction, while giving the audience anonymously, gets the audience involved

Don't shut down wrong answers 

Early engagement- ask to raise hands, make it fun by giving away free T-shirts and hats for right answers, consider breakout rooms during training when you have a tight group of 20-30 people, especially in service advisor classes, using handouts that can be filled out and passed to each other in class, have students look at each other if you are able to have set up, the trainer can be moderator/facilitator and allow attendees to interact with each other 

How are attendees able to download/follow PDF of class during virtual if they only have 1 monitor?
Connect with the Podcast:
Check out today's partners:

Set your sights on Las Vegas in 2022. Mark your calendar now … November 1-3, 2022, AAPEX – Now more than ever.

More Time. More Profit. Transform your shop at getshopware.com/carm