Plan For Slow Times [THA 275]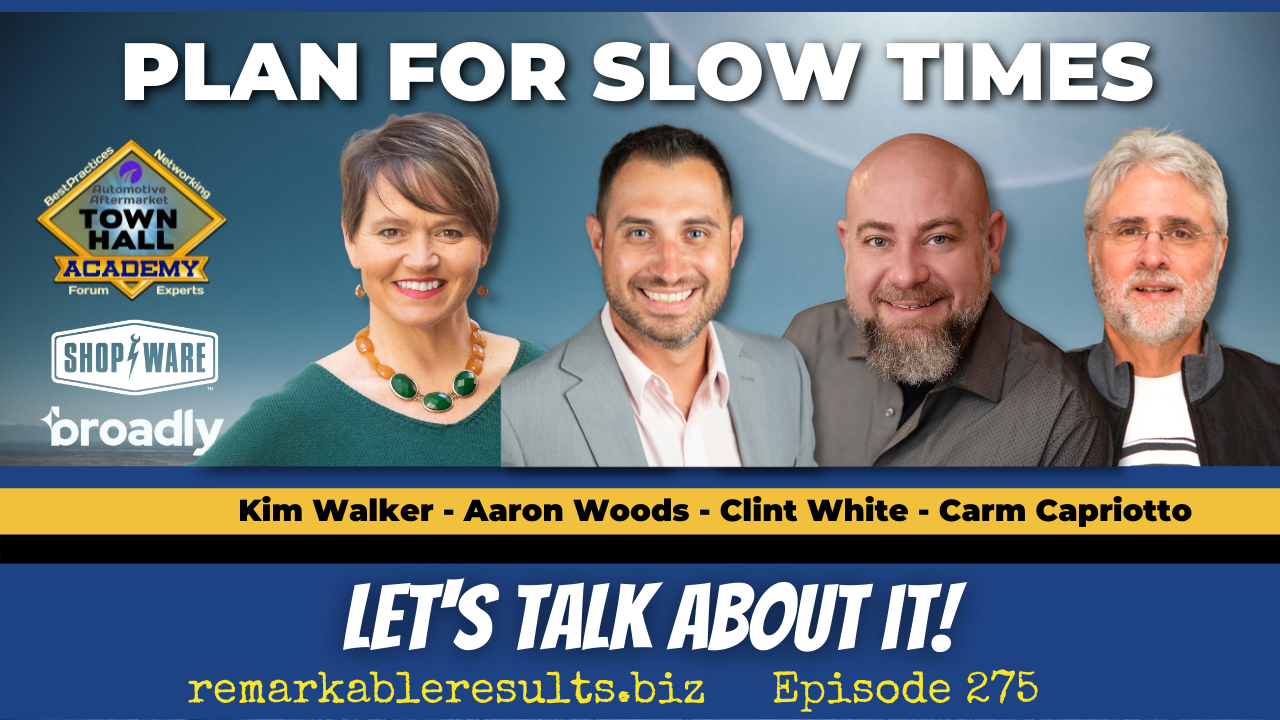 The aftermarket is blazing busy. We may think that boomtown will continue without an end in sight. But what are your 'slow day action plans?' Some who have not been doing things 'right' are feeling the ebb and flow of typical cycle times, holidays, back to school, vacations, weather, and travel. Let this episode help you re-think how you prop up your business. Stop stopping.
Watch the Episode on YouTube
Kim Walker, Shop Marketing Pros, Listen to Kim's other episodes HERE.
Aaron Woods, X-tra Mile Auto Care, Stillwater, OK. Listen to Aaron's previous episodes HERE
Clint White, Service Advisor Coach & Shop Consultant with CWI and currently holds multiple ASE certifications. Listen to Clint's previous episodes HERE
Key Talking Points
Staying ahead of the curve. What we do today, is what we have tomorrow. 

An effective SDAP (Slow Day Action Plan) isn't something you pull out of a drawer or your SOP binder on days when the phone isn't ringing and there are no cars in the bays.

The most important slow-day tool is already in your toolbox. You just need to know how to use it- be proactive, not reactive. Shop management platforms (tracking and analytics), CRM programs (managing the analytics), brand awareness, appointment reminders


Tire pressure checks- touchpoint opportunity

Service advisors- create urgency and can maintain urgency through booking future appointments. Customers will match your urgency.

Strengthen your relationship with customers

How involved are you with your community?

"Stop Stopping"

"If you're not growing, you're dying"

Assessment- how do you look from an outside perspective? Reviews? Social media presence? Website? Financial scrub of dollars going out?

Social posts: new equipment, 'unboxing' which attracts new customers and technicians

Actively participate in Follow-up and Marketing- 

when

are you reaching out after the sale?

3 Days?  30 Days? How

are you reaching out after the sale? It is critical that we honor our customer's PMOC (preferred method of contact)
Connect with the Podcast
Check out today's partners:

More Time. More Profit. Shop-Ware Shop Management getshopware.com

See how Broadly can help YOU grow your auto shop. getbroadly.com/chat