Are You Selling Customer Experience or Price? [THA 284]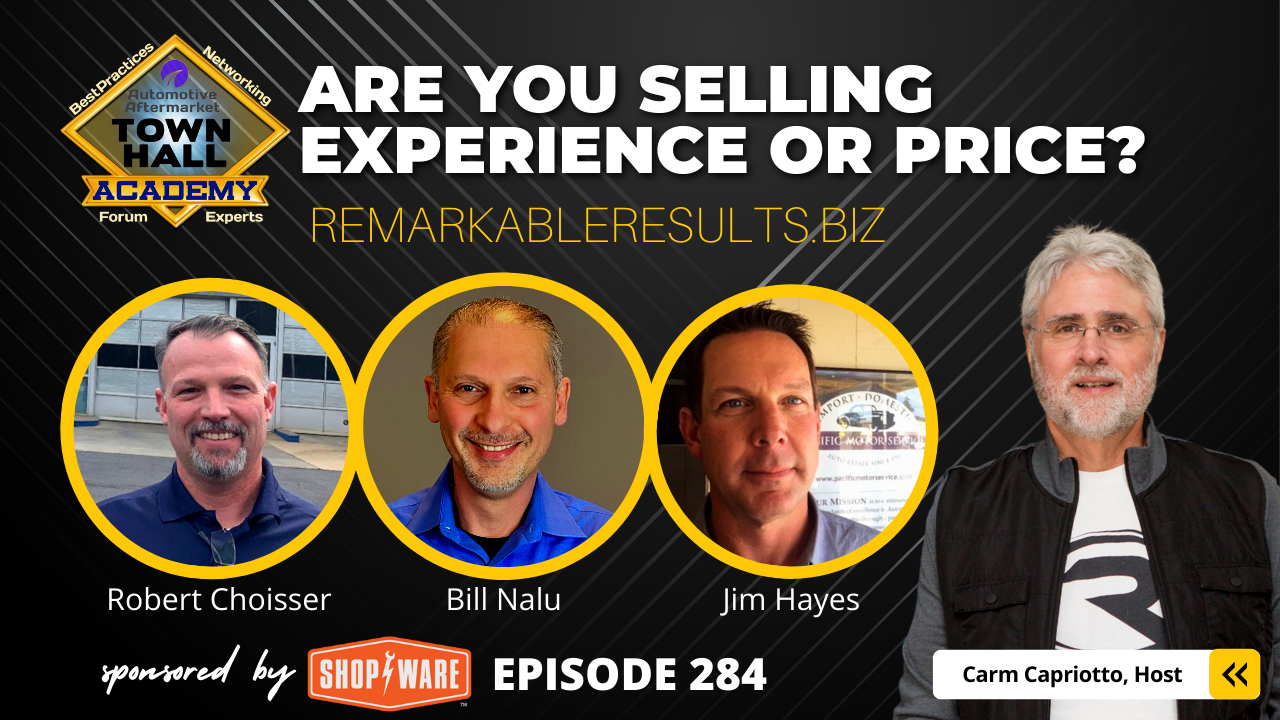 Price, price, price…our lives seem tied to it. And when it comes to customers, sometimes the price is the only question they feel they can ask. Instead of chalking them up as 'price shoppers,' are you using it as an opportunity to build a relationship and educate them on the value of your services? Many struggle with this. My panel discusses ways to make price irrelevant. Stay tuned and shift your perspective on price.
Watch the Episode on YouTube
Rob Choisser, Choisser Automotive Services, Davidsonville, MD. Listen to Rob's previous episodes HERE
Jim Hayes, General Manager of Pacific Motor Service, CA, Listen to Jim's previous episodes HERE
Bill Nalu, Interstate Auto Care, Madison Heights, MI. Listen to Bill's previous episodes HERE.
Key Talking Points
"Who is running this ship?" Is it the customer or is it you? Your answer to this question may just be the most important lesson you'll ever learn as a shop owner. 

We are the experts" Customers will be taken care of at a high level

Experience- p

roviding the feel of the hospitality industry.

"…exceed the expectations of every guest, every time." –Pebble Beach Mission 

The consumer is a price checker, the customer understands the value of repair, and clients leave credit cards and keys

Never compromise trust and integrity by diverting your processes and procedures

Are you mentoring your customers that build trust?

Why can doing /not doing these promote loss vs gain? People often avoid the potential of losing more than they pursue the hope of gaining.

What are the desired outcomes of owning a vehicle? Sell these – They are PRICELESS. When a customer loses one of their desired outcomes they come to you.

Freedom,

Efficiency,

Excitement,

Recognition,

Safety,

Utility,

Exploration
Connect with the Podcast
Check out today's partners:

More Time. More Profit. Shop-Ware Shop Management getshopware.com