Update: Training/Future of Hybrids and Ev's with Craig Van Batenburg [RR 762]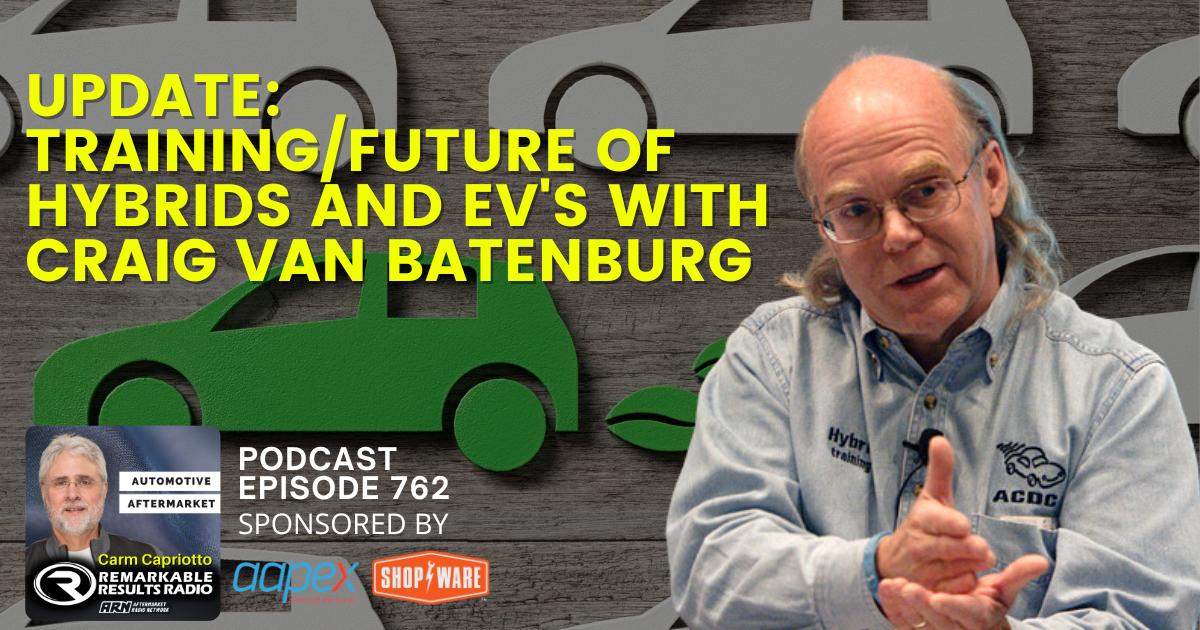 I'm sitting with Craig Van Batenburg, CEO of Automotive Career Development Center [ACDC] and a former repair shop owner, with an update on the pulse of the industry and his business. Is it possible ACDC is the last existing brick and mortar building that operates strictly for training technicians Monday-Friday? Take a seat next to me and tune into our lively discussion about everything Hybrid and EV.
Craig Van Batenburg, AMAM, Automotive Career Development Center [ACDC]. Craig's previous episodes HERE
Key Talking Points
30 years in the future-

90%t of the cars are battery electric, repair shops are like a car wash, little preventive maintenance, the car-to-tech ratio is 10,000 cars per tech. There will be fewer techs

What new? Expanding facility, New ACDC trainer in Sydney, Australia

Getting the right people in place  

Shut down for Covid for 18 months- focused on ESP (Education Support Program)

Buying Tesla to learn from- Tesla has allowed the aftermarket to get a scan tool

New

HEV – EV – FCEV eBook

that was

5 years in the making. 

"Technicians are scientists." 

You have to invest in people

Traveling 24/7 is never healthy

Craig's

"Break Out Box"

was just sold to Harley Davidson Research and Design Center in Arizona

New committee- working with the state of Virginia to get high school students trained to fix DC charging stations, 38% of chargers don't work
Connect with the Podcast:
Check out today's partners:

Set your sights on Las Vegas in 2022. Mark your calendar now … November 1-3, 2022, AAPEX – Now more than ever. And don't miss the next free AAPEX webinar. Register now at AAPEXSHOW.COM/WEBINAR.

More Time. More Profit. Transform your shop at getshopware.com/carm