Right to Repair Update and a Trip to Washington [THA 294]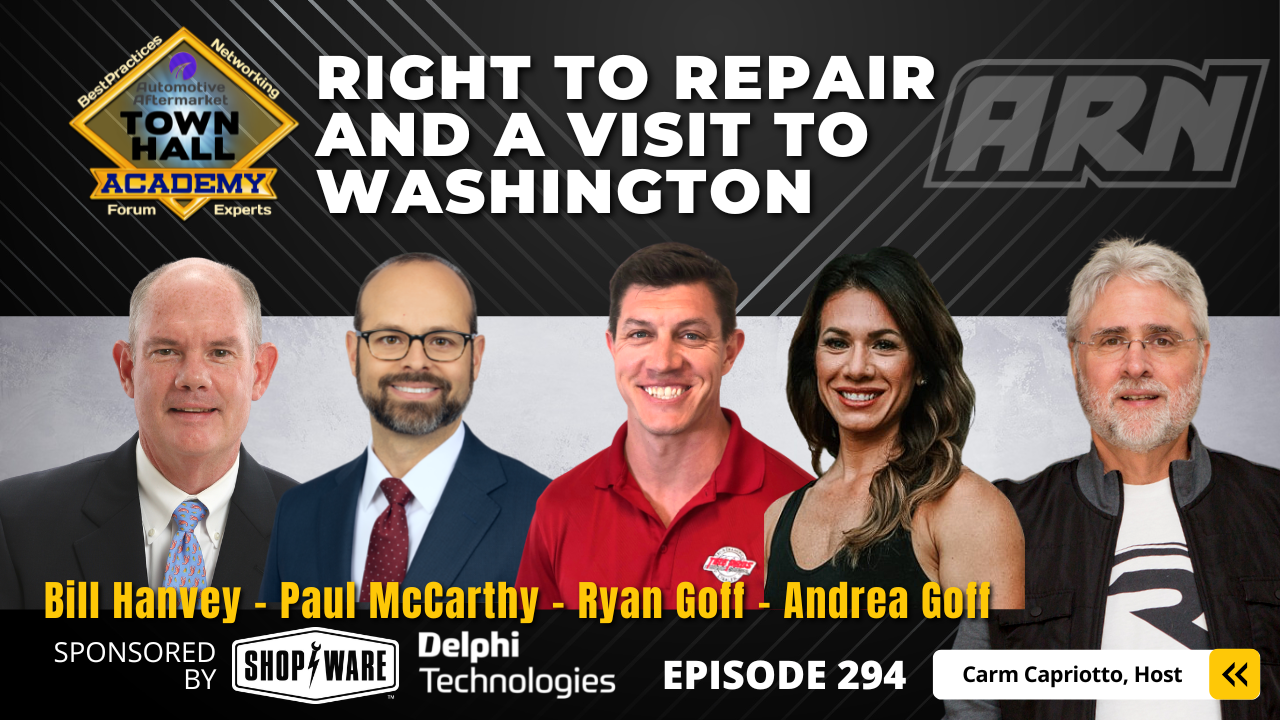 As one of the top 10 industries in America, we need to advocate consumer choice in a competitive market, and if we don't do what is pro-consumer and pro-aftermarket, the dealers will get all the business. I'm with Bill Hanvey, CEO of the AutoCare Association, Paul McCarthy, CEO of the Automotive Aftermarket Suppliers Association (AASA), and Ryan and Andrea Goff, shop owners that went to Washington to speak to their representative and to show support for the Right To Repair initiative.  Have you signed the petition? Go to RepairAct.com so easy to tell your congressperson you support the Right to Repair.  Stay tuned for an important episode that affects ALL OF US.
Watch the Episode on YouTube
Bill Hanvey, President and CEO of the Auto Care Association. Find Bill's other episodes HERE.
Paul McCarthy, AASA President. Find Paul's other episodes HERE.
Ryan and Andrea Goff, Rogers Tire Pros and Auto Care
Key Talking Points
Massachusetts helped set the tone two years ago, but it is embroiled in a fight between the OEs and the voters and a judge who has yet to make a ruling. There are recent discussions that 75% to 25% of voters approved overwhelmingly

"The right to repair is alluring in its simplicity. In theory, it seems obvious that if you do buy something, you own it, and you should have the freedom to do what you want with it," said U.S. Rep. Claudia Tenney (R-N.Y.), ranking member of the subcommittee. "The right to repair, if properly designed, can create a world of consumer choice, competitive pricing, and potential cost savings.

"However, when this issue is examined in full depth, it becomes substantially less black and white," she said. "Today, many machines are essentially sophisticated supercomputers… they perform seemingly miraculous feats thanks to delicate and complex electronic components integrated with highly specialized, proprietary software. Even with all the possible tools and resources at one's disposal, attempting to sell, fix, or modify products with electronic components could lead to disastrous results, such as product failure or, even worse, serious injury to the consumer. In addition, these alterations can put the privacy and security of the user at risk."

To industry: Do not abandon your interest in this initiative. Access to data is critical for the survival of our industry. This is anti-consumer because there isn't enough bays or technicians in the dealer network to service the repair and maintenance of our car park. It is also pro-consumer as it creates competition.

What can we do?

Right to repair needs to be on 20 and networking group agendas.

We must speak to our legislators

If you own a shop, you must make an appointment with your local congressperson's office and see your congressperson in person.

Don't be nervous to share with your customers- we are at the tip of the iceberg
By 2020- 4% had advanced connectivity that allowed for remote diagnostics. By 2025 almost every new vehicle will have that advanced connectivity
Right to Repair Info Graphic download https://bit.ly/3BOotBI
Right to Repair Media Kit for Graphics and postcards. https://bit.ly/3eZOi8Z
Connect with the Podcast
Check out today's partners:

Shop-Ware: More Time. More Profit. Shop-Ware Shop Management getshopware.com

Delphi Technologies: Keeping current on the latest vehicle systems and how to repair them is a must for today's technicians. DelphiAftermarket.com