Alignments! Rates, Numbers and ROI [THA 303]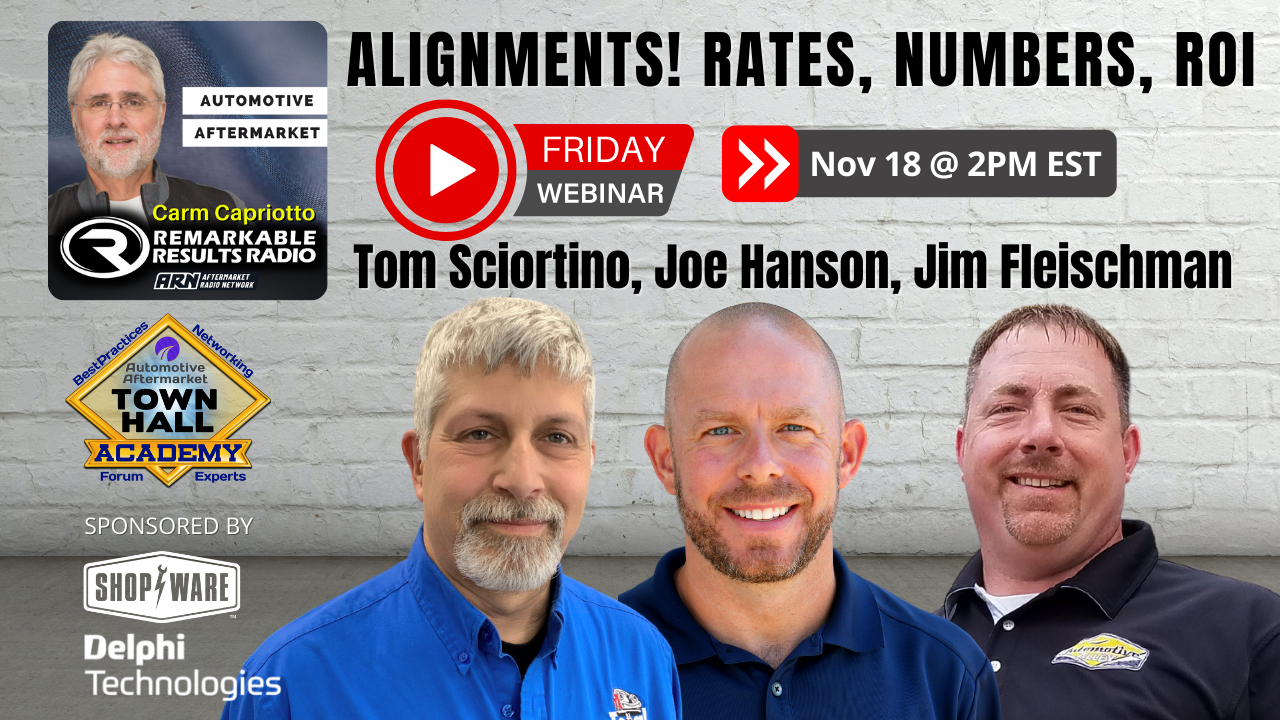 Take a deeper dive into alignments, the numbers being it, and the ROI. Multi-shop owner Joe Hanson has invested in the Hunter Quick Check Touchless Alignment equipment for his one shop, Tom Sciortino brings statistics on the effect alignments have on ADAS, and Jim Fleischman discusses the importance of asking your customers about their driving habits.
Watch the Episode on YouTube
Tom Sciortino, Total Automotive, Buffalo, NY. Tom's previous episodes HERE
Joe Hanson, Gordie's Garage, Roseville, MI. Listen to Joe's previous episodes HERE.
Jim Fleischman, Automotive Alley, Arcade, NY. Listen to Jim's previous episodes HERE.
Show Notes:
Supports the goal to give the customer an extraordinary experience, s

upports our core value of transparent communication, and s

upports goal for growth

Joe Hanson's ROI Plan of attack within 18 months to 2 years- 53K to purchase, Labor cost was $42, alignment possibilities 63% of cars need some sort of alignment. Moved from 1 a day to 4 a day

It's all about the alignment process- in September at Joe's shop, the numbers dropped, and Joe had a meeting with his team to discuss experience and core values.

October was a great month again!

Faster alignment checks- instant results and also records whole vehicle (dents)
It's more than an alignment check- precheck and presell with open communication and transparency with customers
Safety- 25mph if forward facing camera is 1 degree off, the emergency braking will be effected
"Green is good" your employees still need to be trained to learn the numbers instead of colors

Tom went to ADAS training, and a lot of info on how important alignments are- 5 different vendors rotated

Are we asking the proper questions to the client about how they drive their vehicle?

Are we setting up the vehicle for their driving needs, not for what the manufacturer put in for a generic setup for one size fits all alignment? 

What is the complaint; tire wear? Fuel economy? All are things that can be addressed with the right alignment. It's like going to the chiropractor…
Connect with the Podcast
Check out today's partners:

Shop-Ware: More Time. More Profit. Shop-Ware Shop Management getshopware.com

Delphi Technologies: Keeping current on the latest vehicle systems and how to repair them is a must for today's technicians. DelphiAftermarket.com