Future Shop: Sooner Than You Think [THA 318]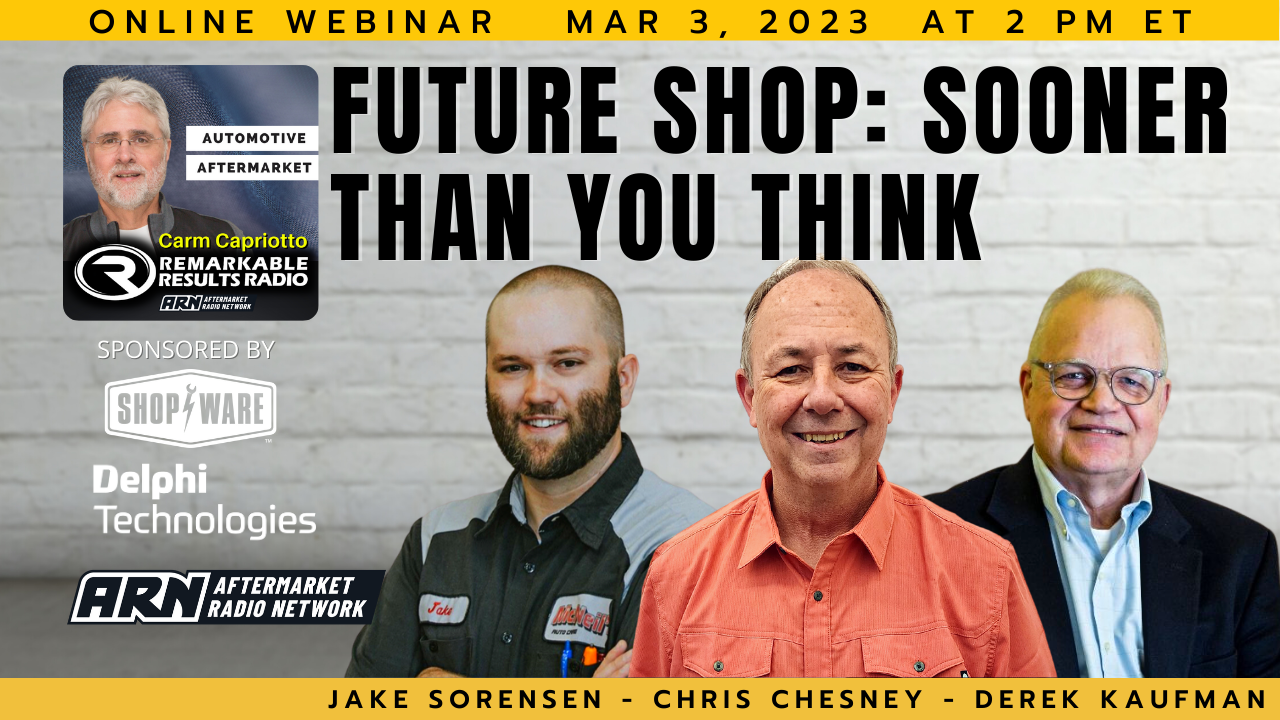 Will diagnostic work overtake remove and replace work? How will you position and present your shop as a technologically advanced repair center? What training will our employees need? How will artificial intelligence impact our industry? Will we be prepared? Join Jake Sorensen, Chris Chesney and Derek Kaufman as they discuss the shop of the future.
Watch Episode HERE
Jake Sorensen, 2019 NAPA ASE Technician of the Year and 2019 Ratchet + Wrench All-Star technician of the year. Shop manager and diagnostic technician at McNeil's Auto Care in Sandy, UT Listen to Jake's previous episodes HERE
Chris Chesney, Training and Organizational Development, Repairify. Chris' previous episodes HERE
Derek Kaufman, Managing Partner, Schwartz Advisors, President of C3 Network. Listen to Derek's previous episodes HERE
Show Notes:
Looking up and reading service procedures is already a must, but even more so as technology advances.

Example: ADAS systems now require calibrations when performing repairs like an alignment or bumper cover removal. If you change a headlight assembly that requires bumper R&R, you may need to perform a radar calibration. The only way to know for sure is to read service information.

Reading technical information/technical reading skills- much different than reading newspaper or Facebook posts, a book etc.

Evelyn Wood speed reading course- reading with purpose

An explosion of information- computing power for all industries 

2022 captures over a trillion data points that will be aggregated to provide insights

AI- mining data for trends

Diffusion of innovation curve- 17+ years for EV's

We have expected Technicians to be masters of everything.

 

Many better diagnostic technicians are inefficient at R&R and do not enjoy it.

Shift mindset to a technology industry

Even today, electric vehicles account for 18% of new vehicles sold, and those won't be in our bays tomorrow.

By 2030 the population of vehicles in operations, over 300 million, and only 8% will be electrified.

Get ready, or some other service industry will beat you to the punch

How are you presenting your shop to the public?

Thanks to our Partners Shop-Ware and Delphi Technologies
Shop-Ware: More Time. More Profit. Shop-Ware Shop Management getshopware.com
Delphi Technologies: Keeping current on the latest vehicle systems and how to repair them is a must for today's technicians. DelphiAftermarket.com
Connect with the Podcast
Support our partners: