Resilience in Your Commitment to Succeed [RR 829]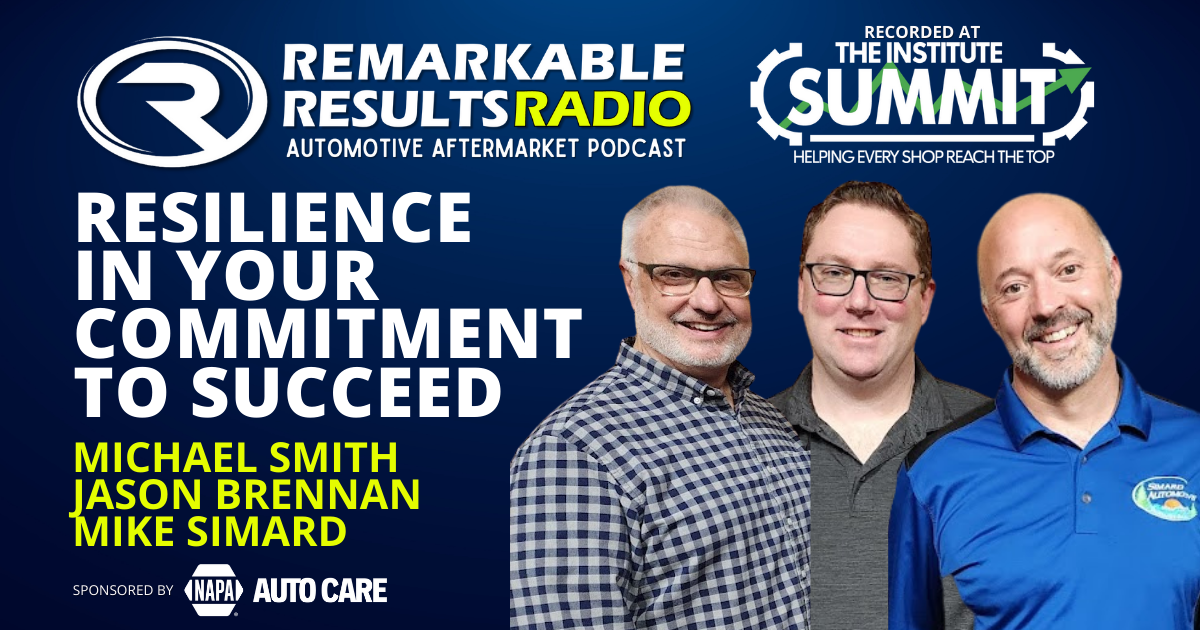 Recorded Live at the 2023 Institute Summit, Michael Smith, Jason Brennan and Mike Simard discuss leadership, growth, culture and the resilience needed to commit to succeed in your business.
Michael Smith, Managing Partner, Herzberg Smith and Co, Michael Smith's previous episodes HERE
Jason Brennan, Fine Tune Auto Service, Lansing, IL and Hobart, IN.
Mike Simard, Simard Automotive, 4 locations, Fairbanks, AK.
Show Notes
The pace of change- OEM incentivized to make changes (autonomous alternative drive drains, connectivity, shared mobility) 

How do we participate today to be successful down the road? And what would that look like?

Mindset- the power of belief, the challenge of solving something difficult. 

When somebody gets stuck any time of the year and needs help, there are so many people, they can pick up the phone and call. Be fearless and be fearless together. 

Your resilience- your people need to see that you're there committed to succeeding. 

People are either running toward opportunity or running away from something. 

Serve people first.

Think outside the box, never give up.

Competitive advantage- USP unique selling proposition, UVP unique value proposition is embedded in all of that is the word unique. SWOT analysis.

Once you get to be a great journeyperson and you move into mastery, and you're solving all the problems that you and others couldn't solve before, what comes after that?

Once you achieve a high level of mastery, you start to think about how does this fit into the bigger picture and how do other things work? When you get to that level, now you start attracting high-performance cultures.

The competitive advantage is the experience that you have, and that comes from the people and the values that they share.

Core Values: 'Idea" – integrity, dependability, excellence, empathy, and attentiveness.

Your systems and processes should embody what you believe.

The best doctors at a doctor's office- explained the process, transparent about results, explained what is to come next and why it's needed, and asked if you had any questions.

If you truly care about people, you'll do the right thing, and the money will come .

We're not selling stuff, we're stewarding the investment of their vehicle, which is a depreciating asset.

Communicating with your employees regularly.

Goal alignment

Stop interviewing for yourself- get other team members involved. Where could you go? Where do you want to go? What are your personal goals and your career development path? How do they align with the company's purpose and goals?

Provide more opportunities for employees.

It's all about knowing each other and the more familiar we are. The less unknown there is, the easier it is for us to have an honest connection with each other. 
Thanks to our Partner, NAPA AUTO CARE
Learn more about NAPA AUTO CARE and the benefits of being part of the NAPA family by visiting www.NAPAAutoCare.com
Connect with the Podcast: