Technology, Network, Systems and Software: Understand the Why and How [RR 830]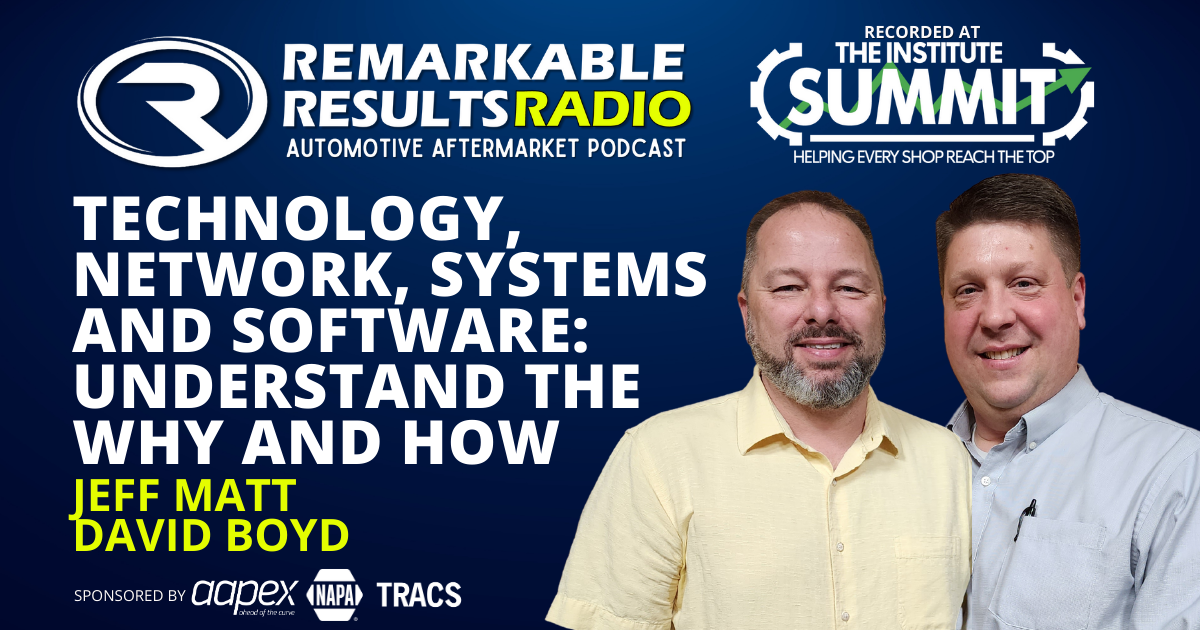 Servers, network, VOIP phones, and security, oh my! Recorded live at the 2023 Institute Summit, Jeff Matt and David Boyd discuss phone skills, IT support and identifying inefficiencies and technology risks with your business.
Jeff Matt, Victory Auto Service, 11 Locations, MN and FL.  Jeff's previous episodes HERE
David Boyd, Inbound INC. 
Show Notes
VOIP (voice over IP)- recording phone conversations, 'replay booth,' specific workspace with a  particular service advisor for incoming and outgoing, and time of phone calls for training purposes.  

The entire conversation with a customer happens over multiple phone calls.  

Phone skills- undervalued when it comes to your business' success.

Check with your State rules for recorded phone calls.

IT support- safety net, systems, network, firewalls, servers, cameras.

Identifying inefficiency and technology risks. 

Jeff Matt's security camera caught the burglar at his shop.

Your local IT person might not have the capabilities to handle what your business needs- talk to fellow shop owners/business owners. Search business management consulting, six sigma, engineering. 

Disrupter- moving away from cable and DSL providers.  

Identifying server issues with cables, job satisfaction continues to grow. 

Video phones- visual face to face conversations. 

Customized recording and limited access for employees (permissions).

Technology, network, systems, and software- understand the how and why
Thanks to our Partners, AAPEX and NAPA TRACS.
Set your sights on Las Vegas in 2023. Mark your calendar now … October 31 – Nov 2, 2023, AAPEX – Now more than ever. And don't miss the next free AAPEX webinar. Register now at AAPEXSHOW.COM
NAPA TRACS will move your shop into the SMS fast lane with onsite training and six days a week of support and local representation. Find NAPA TRACS on the Web at NAPATRACS.com
Connect with the Podcast:
-Join our Insider List: https://remarkableresults.biz/insider
-All books mentioned on our podcasts: https://remarkableresults.biz/books
-Our Classroom page for personal or team learning: https://remarkableresults.biz/classroom
-Buy Me a Coffee: https://www.buymeacoffee.com/carm
-The Aftermarket Radio Network: https://aftermarketradionetwork.com
-Special episode collections: https://remarkableresults.biz/collections