Retention: Keeping Top Employees [THA 327]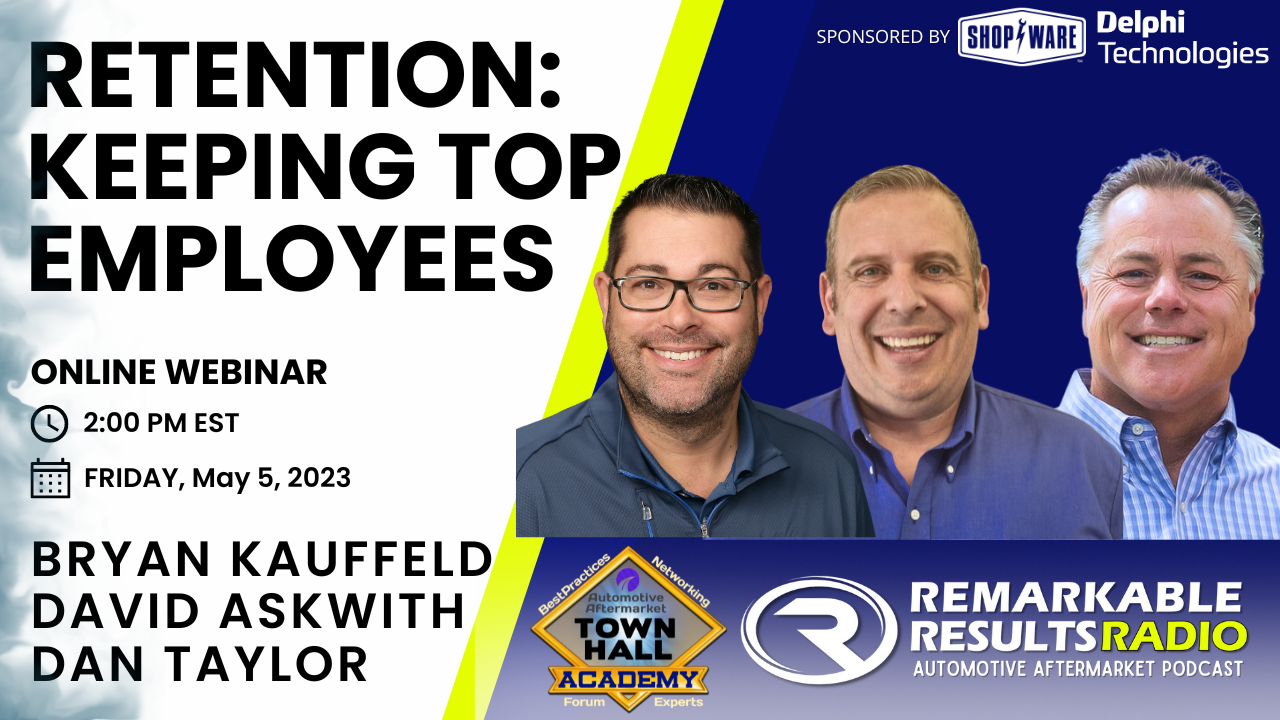 Are you struggling to retain top employees in the automotive aftermarket industry? Look no further than this episode featuring Dan Taylor, David Askwith, and Bryan Kauffeld, who share their experiences and strategies for hiring and keeping good teammates. They agree that employee retention is crucial for businesses of all sizes and starts with hiring. They discuss the importance of communication, accountability, surveys, referrals, training, and career pathing. They also stress the importance of creating a positive culture to retain top talent.
Bryan Kauffeld, Ulmer's Auto Care, Cincinnati, OH.
David Askwith,Managing Director, Auto Stream Car Care, MD. David's previous episodes HERE
Dan Taylor, Senior Business Advisor, Transformers Institute. Dan's previous episodes HERE
Show Notes:
Watch Video Episode HERE
(00:02:38) The importance of employee retention and having consistent teammates who meet expectations and standards can set businesses up for long-term success.
(00:04:08) The importance of hiring high-quality people who align with the company's core values and how one bad apple can severely damage a good team.
(00:05:05 – 00:05:50) The difficulty of finding good employees and the importance of retaining top employees.
(00:09:34) Retaining the right employees saves money in the long run, and the importance of investing in training, communication, accountability, surveys, referrals, and career pathing to improve retention.
(00:09:59 – 00:10:54) The importance of overcommunication and emotional intelligence in biweekly meetings with leaders and quarterly meetings with technicians to discuss pay issues, production, and individual needs.
(00:14:07 – 00:15:16) The use of Survey Monkey to conduct employee satisfaction surveys and the importance of communication in reducing fires and increasing employee engagement.
(00:16:12) The importance of accountability in a team and how it helps retain top employees.
(00:18:14) Soft skills and positive affirmations in retaining employees.
(00:20:03) Setting goals and KPIs for employees and holding them accountable.
(00:21:38) The importance of training in retaining employees
(00:24:42) The importance of electric vehicle training and the need to stay current with industry changes, including the rise of electric vehicles and the need for new diagnostic skills.
(00:26:21) Leadership sets a precedent for training
(00:28:18) The cost of training is worth it for retention, and there is a direct correlation between training and retention.
(00:29:54) Creating a career path for employees and showing them a long-term future with the organization can increase retention. Consider having one-on-one meetings with direct reports twice a year to discuss training plans and goals.
(00:31:48) The EOS process
(00:33:31) Dan Taylor emphasizes the importance of loving and caring for employees
Thanks to our Partners Shop-Ware and Delphi Technologies
Shop-Ware: More Time. More Profit. Shop-Ware Shop Management getshopware.com
Delphi Technologies: Keeping current on the latest vehicle systems and how to repair them is a must for today's technicians. DelphiAftermarket.com
Connect with the Podcast
-Join our Insider List: https://remarkableresults.biz/insider
-All books mentioned on our podcasts: https://remarkableresults.biz/books
-Our Classroom page for personal or team learning: https://remarkableresults.biz/classroom
-Buy Me a Coffee: https://www.buymeacoffee.com/carm
-The Aftermarket Radio Network: https://aftermarketradionetwork.com
-Special episode collections: https://remarkableresults.biz/collections