Turbo Tim's Garage: From Core Values to Cats, How to Build a Unique Brand [RR 848]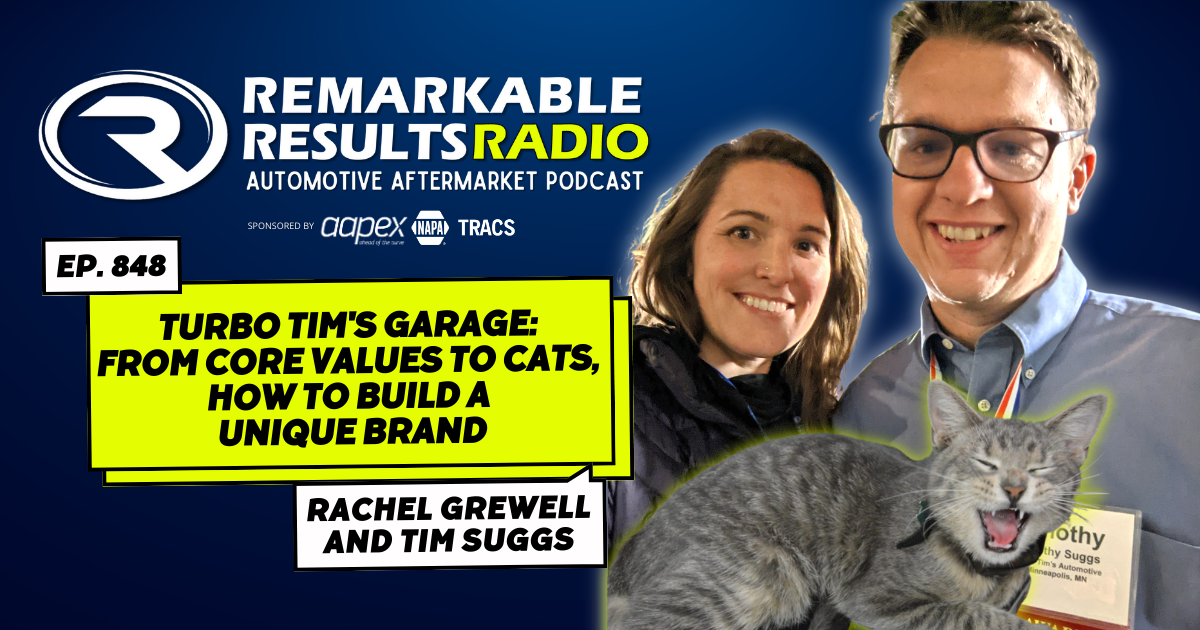 Are you looking for inspiration on how to have fun in your business while building a unique brand? In this episode, co-owners Tim Suggs and Rachel Grewell share their approach to core values and how they recently held a leadership retreat to refine those values. They also discuss the role of cats in their branding and marketing efforts, employee management and training, and community involvement. Tim says, "Being true to yourself and your team is the key to success." So, let's all take a page out of their book and strive to be different and true to ourselves in our businesses and lives.
Rachel Grewell and Tim Suggs, Co-Owners, Turbo Tim's Garage, Minneapolis and Saint Paul, MN.
Show Notes
Thanks to our Partners, AAPEX and NAPA TRACS.
Set your sights on Las Vegas in 2023. Mark your calendar now … October 31 – Nov 2, 2023, AAPEX – Now more than ever. And don't miss the next free AAPEX webinar. Register now at AAPEXSHOW.COM
NAPA TRACS will move your shop into the SMS fast lane with onsite training and six days a week of support and local representation. Find NAPA TRACS on the Web at NAPATRACS.com
Connect with the Podcast:
-Join our Insider List: https://remarkableresults.biz/insider
-All books mentioned on our podcasts: https://remarkableresults.biz/books
-Our Classroom page for personal or team learning: https://remarkableresults.biz/classroom
-Buy Me a Coffee: https://www.buymeacoffee.com/carm
-The Aftermarket Radio Network: https://aftermarketradionetwork.com
-Special episode collections: https://remarkableresults.biz/collections