Passing the Torch: A Father-Son Journey of Strengths and Learning [RR 847]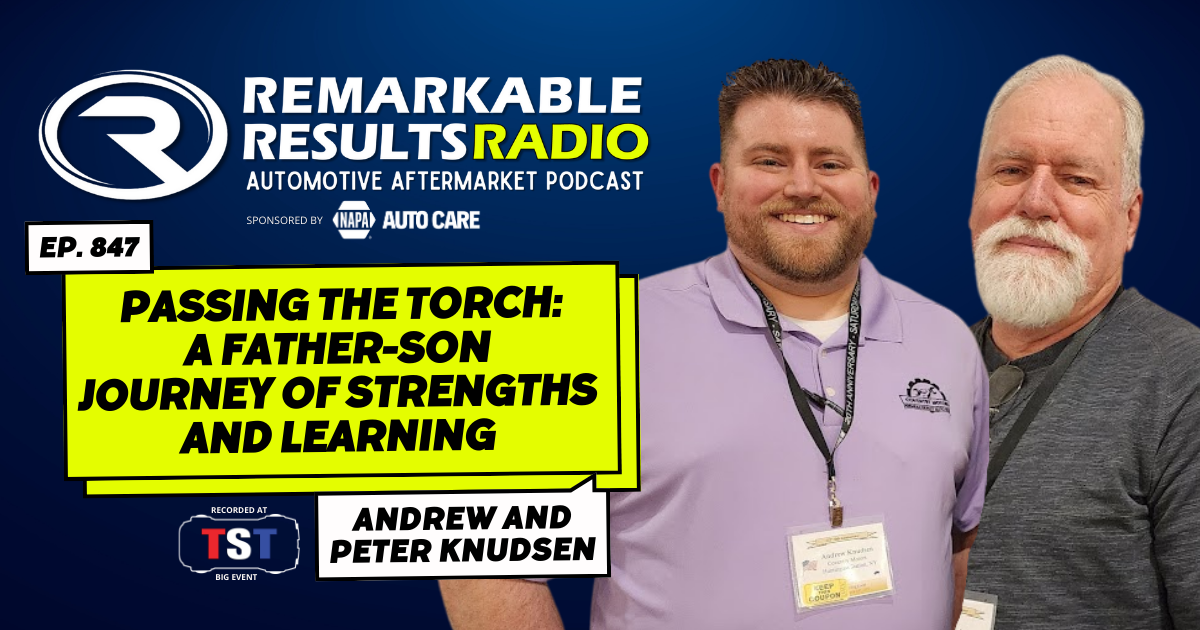 Recorded Live at the TST Big Event 2023 with Andrew and Peter Knudsen, father and son duo of Coventry Motors in Huntington Station, Long Island. They discuss their background in the car industry, their decision to start their own business, the types of cars they work on, and their succession plan. They also discuss the challenges of running a small business, including labor rates and finding new talent. The conversation provides insights into the rewards and challenges of running a successful auto repair business and the importance of continuous learning and adapting to changes in the industry.
Andrew and Peter Knudsen, Coventry Motors, Huntington Station, NY
Show Notes
Watch Full Video Episode HERE
(00:00:39) The high cost of living and labor rates in Long Island, with diagnostic labor rates starting at $225.
(00:02:00) Peter started Coventry Motors after leaving his job at a Jaguar dealership.
(00:06:41) Andrew will eventually buy the company's shares
(00:07:07) Peter and Andrew discuss Andrew's interest in the car industry from a young age and how he came to work at Coventry Motors.
(00:09:21) Hiring and training employees, including using training videos and on-the-job learning.
(00:10:16) Peter discusses his management style and how he improved productivity and morale at a Jaguar shop he had managed in the past.
(00:14:39) Peter talks about how he is one of the few people in the business who can fix cars and deal with customers, unlike most mechanics who only fix cars.
(00:19:57) Getting involved in coaching and how it helped them implement changes in their business.
(00:21:06) The importance of regularly reviewing and adjusting the parts matrix to account for inflation and maintain profitability.
(00:24:43) Peter and Andrew's biggest influencers in the car industry,
(00:26:30) The challenge of hiring young people who are distracted by their phones and lack basic skills.
(00:30:06) Peter's approach to failure helped Andrew become a problem solver and independent thinker.
(00:31:45) Peter talks about his son Andrew taking over the business and how he is better at selling and dealing with customers.
(00:32:35) The challenge of finding successors in the auto repair industry and the importance of having a passion for the work.
(00:33:57) Andrew talks about his unique relationship with his father and the importance of not fighting change in a family business.
Thanks to our Partner, NAPA AUTO CARE
Learn more about NAPA AUTO CARE and the benefits of being part of the NAPA family by visiting www.NAPAAutoCare.com
Connect with the Podcast:
-Join our Insider List: https://remarkableresults.biz/insider
-All books mentioned on our podcasts: https://remarkableresults.biz/books
-Our Classroom page for personal or team learning: https://remarkableresults.biz/classroom
-Buy Me a Coffee: https://www.buymeacoffee.com/carm
-The Aftermarket Radio Network: https://aftermarketradionetwork.com
-Special episode collections: https://remarkableresults.biz/collections