Creating Consistent Routines that Drive Success [THA 331]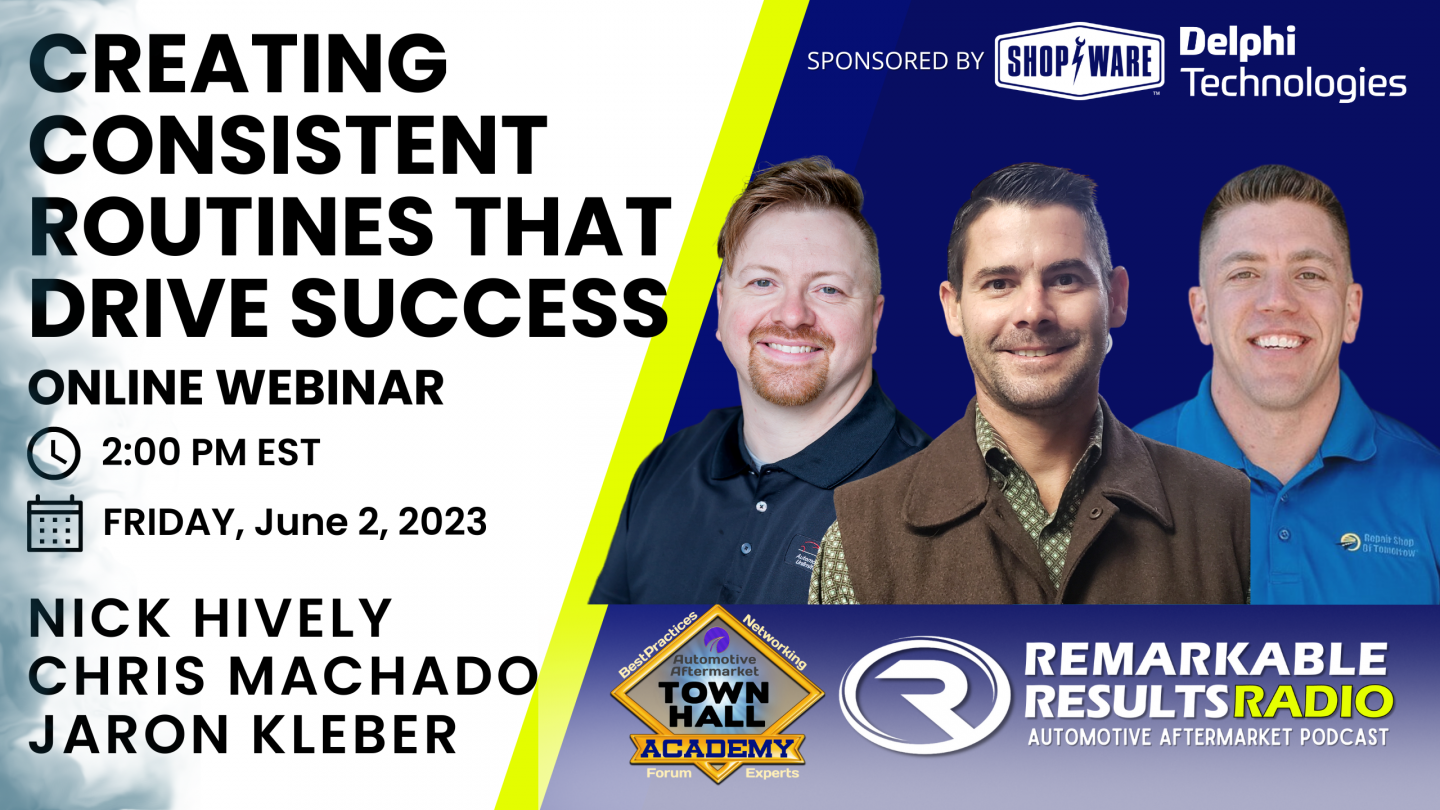 Do you find it hard to create consistent routines that drive success? This episode discusses the importance of standard operating procedures (SOPs) and how they can help businesses achieve their goals. Our guests, Jaron Kleber, Chris Machado, and Nick Hively, discuss the positive impact of SOPs on creating a positive culture and improving the consistency of the customer experience. They also discuss the importance of engaging team members and getting their input when creating SOPs.
"Success is not final, failure is not fatal: It is the courage to continue that counts." – Winston Churchill.
Chris Machado, Circle M Tire & Auto and Circle M Truck Repair Bakersfield, CA.
Nick Hively, Automotive Unlimited, Chanhassen, MN.
Jaron Kleber, Repair Shop of Tomorrow, National Sales Manager. Jaron's previous episodes HERE
Show Notes:
Watch Video Episode HERE
Creating Consistent Routines (00:00:01) The importance of consistent routines and how they can help businesses achieve their goals.
SOPs as a Roadmap (00:03:39)
Starting with the E-Myth (00:07:30) Jaron Kleber recommends the book "The E-Myth" as a starting point for those looking to implement SOPs in their businesses.
Updating SOPs (00:09:27 – 00:10:13) How often SOPs should be updated and how to implement amendments when necessary?
SOPs and Culture (00:14:21 – 00:15:49) How a business's culture and its team members' strengths and weaknesses can impact the creation and implementation of SOPs.
Engagement and Disengagement (00:18:18) The importance of engagement and how disengagement can affect businesses.
Implementing SOPs (00:21:29) How SOPs can help make decisions easier by providing data
Financial side of the business (00:31:51-00:33:48) The challenges of running the financial side of the business and the importance of having SOPs in place for financial management.
Expectations and SOPs (00:35:41) The importance of setting expectations and creating standard operating procedures (SOPs) for shops and new employees.
Dispatch SOPs (00:36:48)
Creating a Winning Culture (00:37:10)
Thanks to our Partners Shop-Ware and Delphi Technologies
Shop-Ware: More Time. More Profit. Shop-Ware Shop Management getshopware.com
Delphi Technologies: Keeping current on the latest vehicle systems and how to repair them is a must for today's technicians. DelphiAftermarket.com
Connect with the Podcast
-Join our Insider List: https://remarkableresults.biz/insider
-All books mentioned on our podcasts: https://remarkableresults.biz/books
-Our Classroom page for personal or team learning: https://remarkableresults.biz/classroom
-Buy Me a Coffee: https://www.buymeacoffee.com/carm
-The Aftermarket Radio Network: https://aftermarketradionetwork.com
-Special episode collections: https://remarkableresults.biz/collections