Leadership Principles from Coach Rod Olson [RR 855]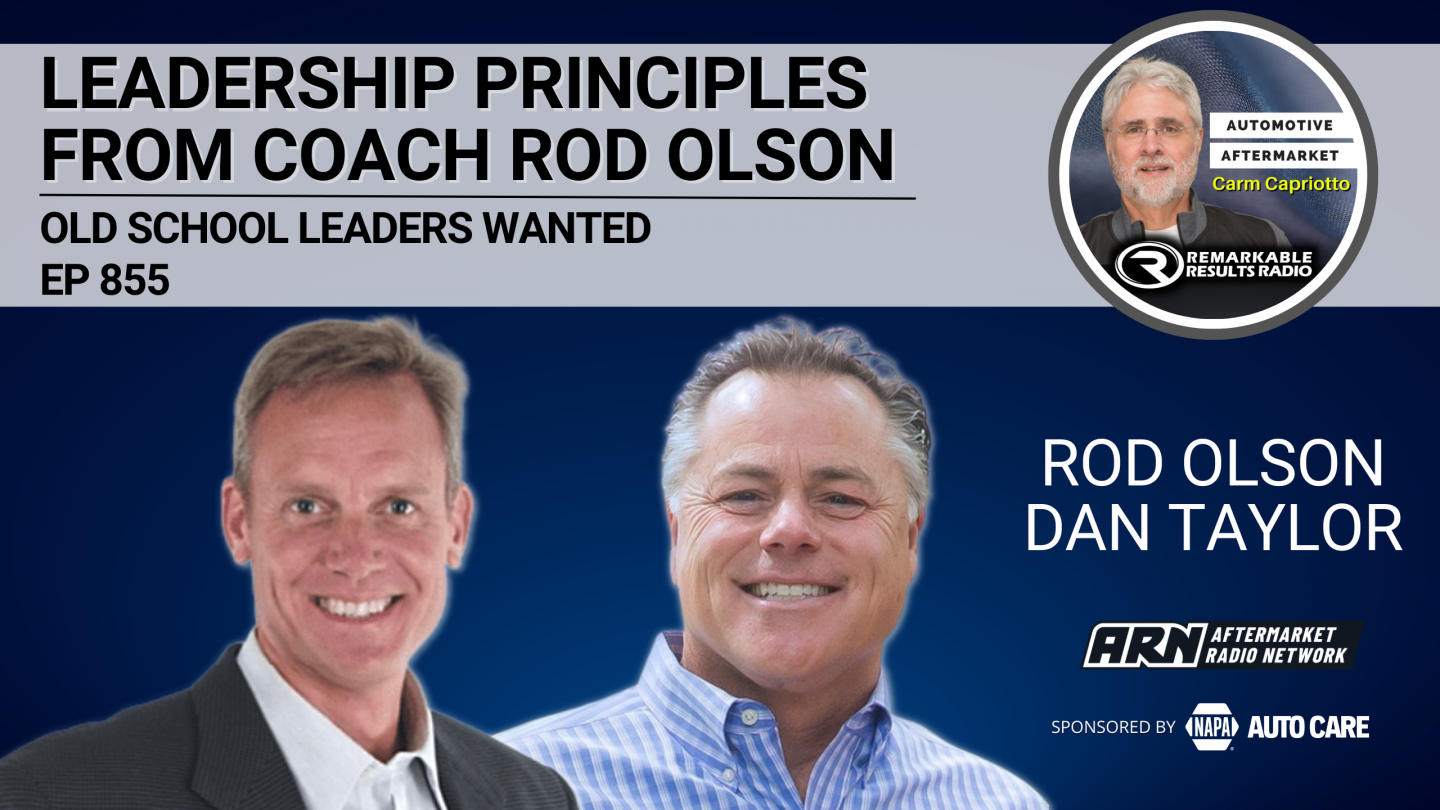 Building Strong Relationships: The Importance of Old School Values in Leadership Coaching
Leadership coaching has come a long way from the old school methods of intimidation and shaming to motivate people. Rod Olson, an author, speaker, and executive coach, discusses the importance of old school values, such as discipline, respect, honor, loyalty, and hard work, in leadership coaching, but combined with new school methods and approaches. Rod and Dan Taylor, a senior business advisor, stress the need for emotional intelligence, empathy, vulnerability, and creating a psychologically safe environment for employees to ask questions and give their opinions without fear of retribution.
Leadership coaching is an ongoing process that requires a mentality of continuous learning and development. It is about balancing discipline with relationship-building, empowering the next generation, and working oneself out of a job as a leader. As Rod and Dan emphasized, leadership coaching is about living life to the fullest and keeping the big picture in mind.
Rod Olson is a coach known for his ability to help high-performing leaders see things others don't see and find their 'sweet spot' as they lead and motivate others in the 21st century. He is the founder of the Coaches of Excellence Institute and the Coach O Consulting Group. Rod is also the author of three highly acclaimed leadership fables: The Legacy Builder, Wisdom Lunch Warrior and Greatest Motivational Tool.
After nearly 20 years as a college football coach, Rod has spent the last decade-plus, working with elite teams and organizations while teaching, coaching, and mentoring some of our country's top coaches and leaders. He is a nationally recognized speaker and leadership consultant specializing in high-level leadership coaching and culture development.
Rod has clients in the corporate sector, professional and collegiate sports, and our United States military special forces. Rod is a husband, father, and coach. If you want more information on Rod, how to purchase his books, executive coaching & team consulting, or have him speak to your leaders, he can be reached at coaches@coachesofexcellence.com or message him on Twitter @CoachOTip
Dan Taylor, Senior Business Advisor, Transformers Institute. Dan's previous episodes HERE
Show Notes
How Rod Olson and Dan Taylor met (00:00:50) Dan Taylor shares how he met Rod Olson and how they started working together in coaching and leadership.
The importance of old school values in leadership coaching (00:05:04) Rod Olson and Dan Taylor discuss the importance of old school values such as discipline, respect, honor, loyalty, and hard work in leadership coaching.
Old School Values with New School Methods (00:08:20) The importance of instilling teamwork and sacrifice without shaming or intimidating people, and the evolution of coaching and leadership styles.
Essential Skills for Leaders (00:11:23) The importance of emotional intelligence, empathy, and vulnerability as essential skills for leaders in today's world, and the ability to create a psychologically safe environment.
Sustainable Business and Teams (00:13:50) The need for sustainable businesses and teams, and the problem with the quick fix mentality in today's world.
Leadership Maturity (00:17:28) Rod Olson discusses the four phases of leadership development and the importance of knowing oneself before leading others.
Clarity and Performance (00:18:20) Rod Olson emphasizes the importance of high clarity for high performance and the need for leaders to possess discipline, punctuality, and caring before expecting it from others.
Repetition of Fundamentals (00:23:47) Dan Taylor and Rod Olson stress the importance of repetition and sticking to the fundamentals in leadership coaching and personal development.
Coin Collecting (00:30:30-00:31:17) The concept of coin collecting as a tool for connecting with people, and how to lead and coach in the in-between times.
Discipline and Accountability (00:36:39) Dan Taylor and Rod Olson discuss the importance of discipline and accountability in leadership, and how it can be balanced with having fun and building relationships.
Humility and Confession (00:37:56) Being able to admit mistakes and apologize in leadership.
Parenting and Leadership (00:40:46) Rod Olson shares his game day tips for parents and how parenting can relate to leadership. He emphasizes treating youth sports like a grandparent and empowering the next generation.
Coaching and Accountability (00:42:24) The importance of coaching and accountability is discussed, with the idea that everything is either coached or allowed to happen. The three buckets of energy and time are also introduced.
Living Life to the Fullest (00:44:57) Rod Olson shares a saying above his dry erase board, "live the life that these men were allowed to given the time to live."
Thanks to our Partner, NAPA AUTO CARE
Learn more about NAPA AUTO CARE and the benefits of being part of the NAPA family by visiting www.NAPAAutoCare.com
Connect with the Podcast:
-Join our Insider List: https://remarkableresults.biz/insider
-All books mentioned on our podcasts: https://remarkableresults.biz/books
-Our Classroom page for personal or team learning: https://remarkableresults.biz/classroom
-Buy Me a Coffee: https://www.buymeacoffee.com/carm
-The Aftermarket Radio Network: https://aftermarketradionetwork.com
-Special episode collections: https://remarkableresults.biz/collections