Using Slack as a Communication Tool [THA 332]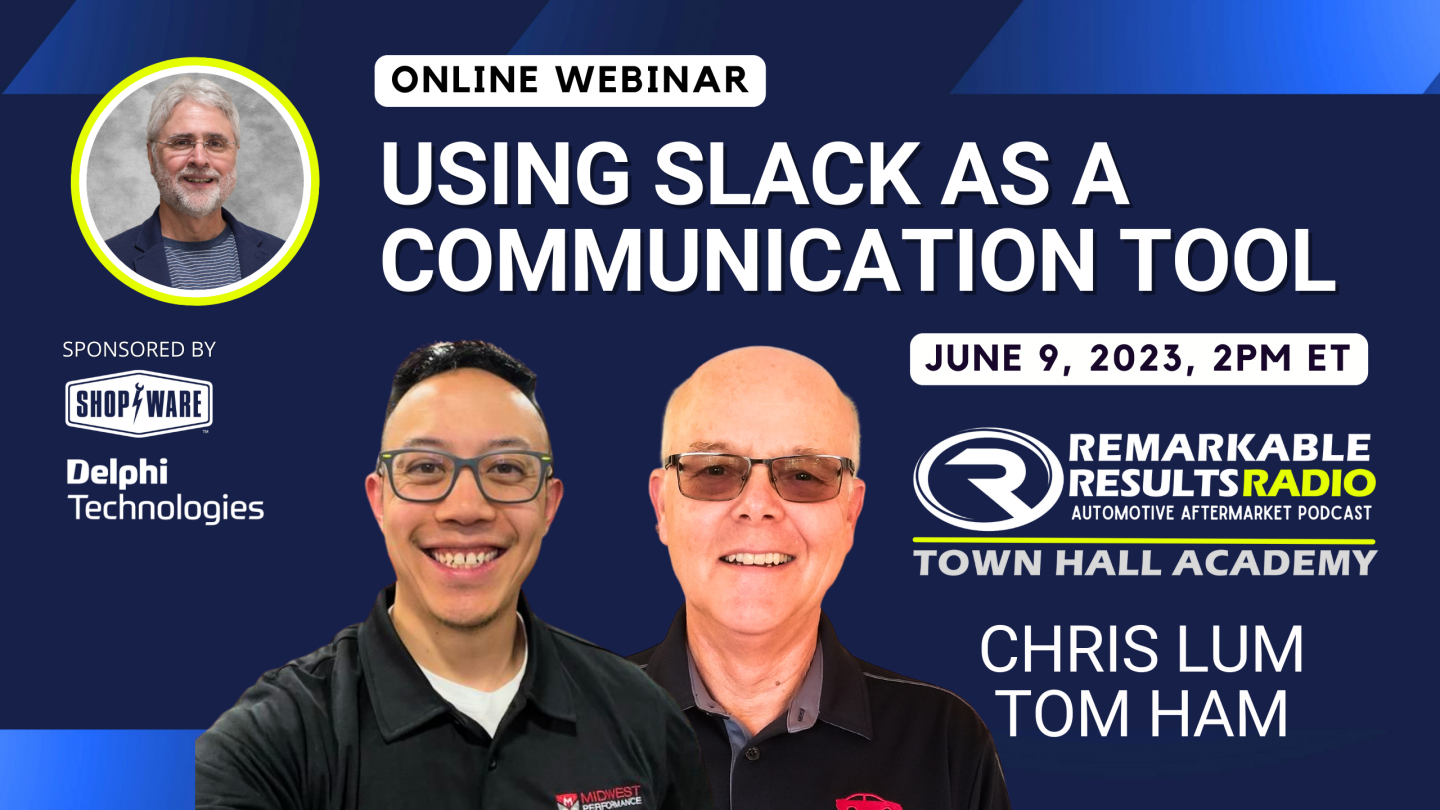 Chris Lum and Tom Ham discuss the benefits of using Slack as a productivity tool and how they use it in their businesses, including the ability to create different channels for different purposes, send attachments and documents, and customize notifications. Overall, Slack is seen as a valuable tool for improving communication and efficiency in the automotive industry.
Chris Lum, Service Manager, Midwest Performance Cars, Chicago and Northbrook, IL.
Tom Ham, Automotive Management Network. Tom's previous episodes HERE.
Show Notes:
Watch Video Episode HERE
Using Slack as a Productivity Tool (00:01:23)
History Feature in Slack (00:04:00)
Channels and Sound Alerts in Slack (00:05:13)
Using Slack for Multiple Locations (00:08:02)
Slack for Remote Work (00:09:52)
Slack as a Competitive Advantage (00:11:53)
Using Slack Channels (00:14:47)
Using Slack Reminders (00:22:13)
Slack as a Communication Tool (00:24:33) How Slack can be used for face-to-face communication, audio, pictures, and policy sharing, and how it can hold large files.
Eliminating Time Wastage with Slack (00:27:47) How Slack eliminates the need for physical meetings and time wastage in finding people for questions, and how it has eliminated certain frustrations in the automotive industry.
Thanks to our Partners Shop-Ware and Delphi Technologies
Shop-Ware: More Time. More Profit. Shop-Ware Shop Management getshopware.com
Delphi Technologies: Keeping current on the latest vehicle systems and how to repair them is a must for today's technicians. DelphiAftermarket.com
Connect with the Podcast
-Join our Insider List: https://remarkableresults.biz/insider
-All books mentioned on our podcasts: https://remarkableresults.biz/books
-Our Classroom page for personal or team learning: https://remarkableresults.biz/classroom
-Buy Me a Coffee: https://www.buymeacoffee.com/carm
-The Aftermarket Radio Network: https://aftermarketradionetwork.com
-Special episode collections: https://remarkableresults.biz/collections