Don't Be a Boss, Be a Leader: Tips for Building Strong Relationships with Your Employees [RR 858]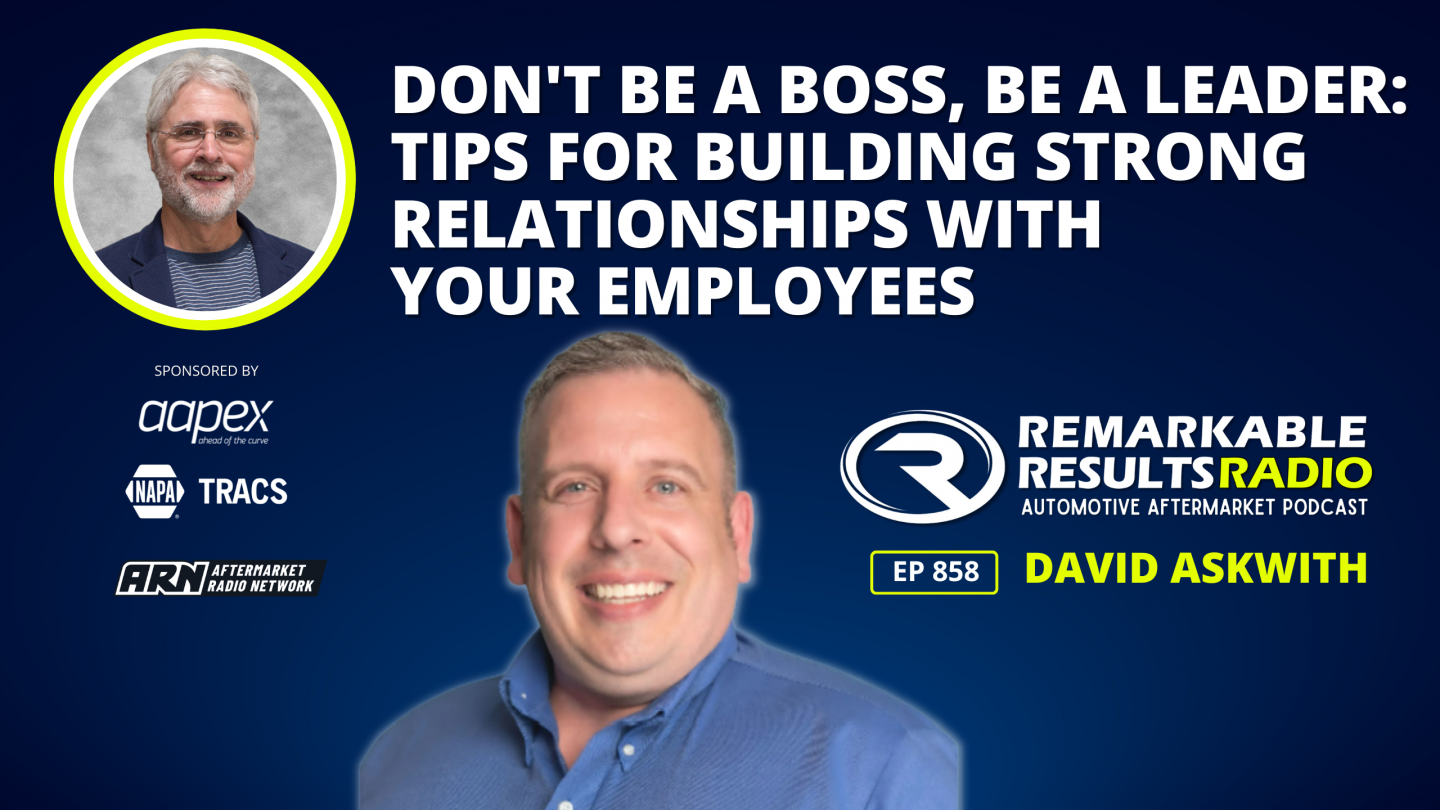 David Askwith, Managing Director of Auto Stream Car Care, discusses the importance of evolving and changing as a leader in the automotive industry. He shares personal experiences and offers advice to shop owners on how to improve their leadership skills and build better relationships with their employees. David stresses the importance of seeking guidance and advice from peers and mentors, holding employees accountable while also being part of their career development, and building trust within the team and the organization. He also emphasizes the need for leaders to constantly evaluate their culture and reputation.
David Askwith, Managing Director, Auto Stream Car Care, MD. David's previous episodes HERE
Show Notes
Evolution of Leadership (00:02:13) David Askwith and Carm Capriotto discuss the evolution of leadership and how it takes time and experience to become a great leader.
Importance of Feedback (00:07:30) David Askwith advises small shop owners to ask for honest feedback from their employees to become better leaders and build better relationships.
Learning from Mistakes (00:05:51) David Askwith shares his experience of losing his store due to a theft and how it helped him evolve as a leader and learn from his mistakes.
Embrace the Pain (00:08:29) Importance of embracing difficult conversations and seeking advice from peers and networks to improve leadership skills.
Self-Help and Time Management (00:09:35) The importance of seeking knowledge through self-help and time management to improve leadership skills.
Establishing Company Goals (00:15:42) The challenge of bridging company goals to employees and establishing a living culture within the organization.
Holding People Accountable (00:17:57) Importance of holding people accountable, meeting with employees regularly, and getting them to acknowledge mistakes and make changes.
Building Consensus (00:20:18) Importance of building consensus and starting with why when leading a team, and not being afraid to ask for solutions.
Tough Decisions (00:23:37) Making tough decisions as a leader, seeking to understand first, and coaching employees to change habits and perspectives.
Consistency in Leadership (00:25:58) David and Carm discuss the importance of being consistent in leadership, treating everyone as an individual while having the same rules for everybody.
Building Trust (00:26:55) David talks about the importance of building trust in yourself, your team, and your system, and how trust happens over time.
Reputation (00:30:40) David and Carm talk about the importance of reputation in the industry, and how it can cut both ways.
Thanks to our Partners, AAPEX and NAPA TRACS.
Set your sights on Las Vegas in 2023. Mark your calendar now … October 31 – Nov 2, 2023, AAPEX – Now more than ever. And don't miss the next free AAPEX webinar. Register now at AAPEXSHOW.COM
NAPA TRACS will move your shop into the SMS fast lane with onsite training and six days a week of support and local representation. Find NAPA TRACS on the Web at NAPATRACS.com
Connect with the Podcast:
-Join our Insider List: https://remarkableresults.biz/insider
-All books mentioned on our podcasts: https://remarkableresults.biz/books
-Our Classroom page for personal or team learning: https://remarkableresults.biz/classroom
-Buy Me a Coffee: https://www.buymeacoffee.com/carm
-The Aftermarket Radio Network: https://aftermarketradionetwork.com
-Special episode collections: https://remarkableresults.biz/collections