Counterfeit Parts [THA 336]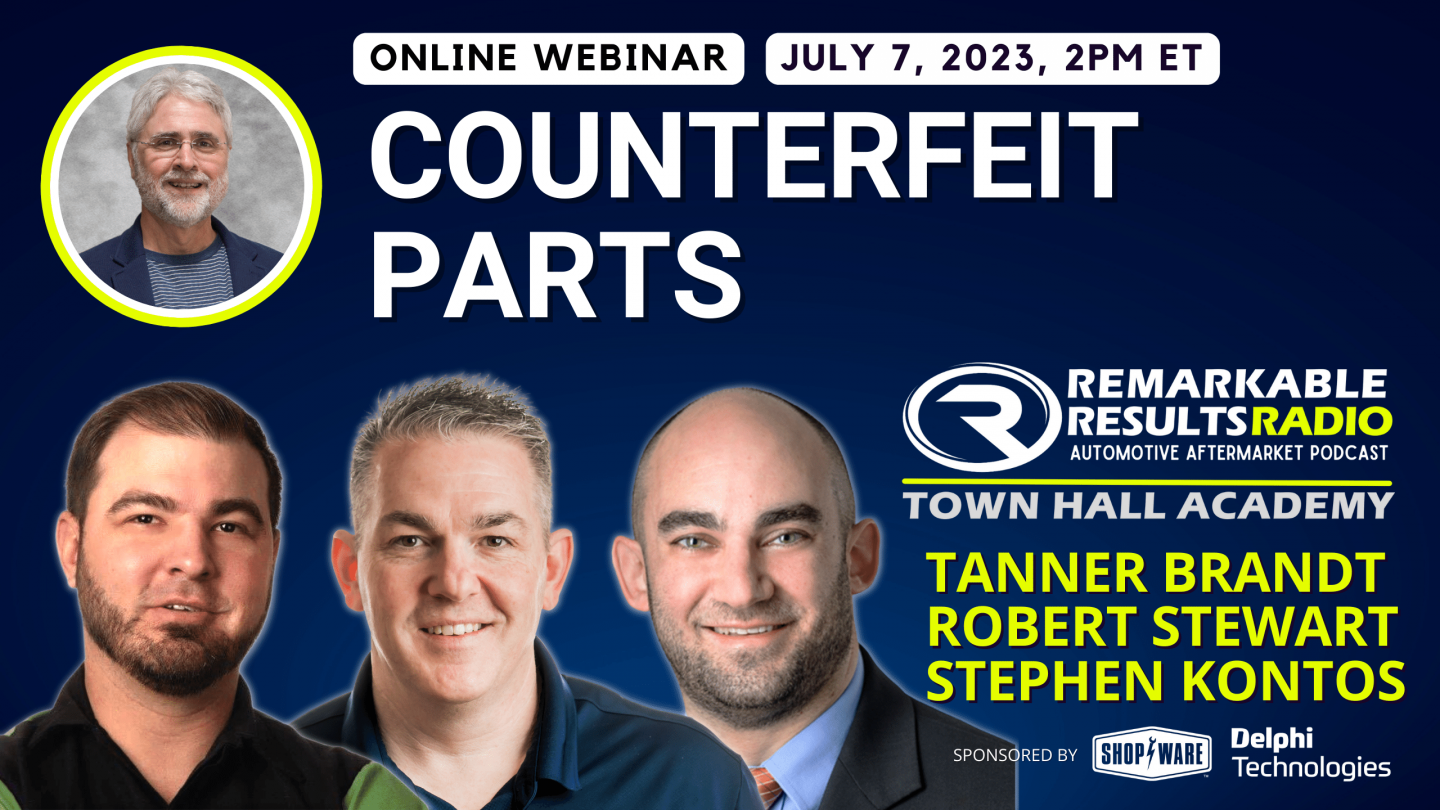 Get ready for an eye-opening episode as we dive deep into the world of counterfeit parts in the automotive industry. Tanner Brandt, a mobile diagnostician and trainer; Bob Stewart, the global brand protection manager for General Motors; and Stephen Kontos, a patent attorney counsel specializing in automotive engineering and software, discuss the implications of counterfeit parts for technicians, shop owners, and large companies. What is the difference between aftermarket parts and counterfeit parts? What are the legal and security risks from obtaining software from gray market or black market websites? It's clear that this is a complex issue that requires ongoing attention and discussion. Stay tuned for a potential part two of this episode where we'll continue to explore this topic.
Tanner Brandt, Autodiag Clinic. Tanner's previous episodes HERE.
Bob Stewart, Global Brand Protection Manager for General Motors.
Stephen Kontos, Patent Attorney/Counsel specializing in automotive engineering and software at Harrity & Harrity LLP.
Show Notes:
The Problem of Counterfeit Parts (00:02:35) Discussion on the issues and problems caused by counterfeit parts in the automotive industry.
Identifying Counterfeit Parts (00:04:00) The difficulty in distinguishing between counterfeit and genuine parts, and the challenges faced by technicians.
Gray Market Goods and Trademark Infringement (00:06:46) Explanation of gray market goods and how they relate to trademark infringement in the automotive industry.
The OEM and Parts Suppliers (00:08:17) Discussion about the relationship between OEMs and suppliers, including licensing and selling to other brands.
Legal Implications for Selling Counterfeit Goods (00:10:37) The legal liability for sellers of counterfeit goods, including patent infringement and strict liability tort.
Illegitimate Software and Security Risks (00:17:11) Discussion on the availability and risks of purchasing illegitimate or cracked software, including the embedding of malware and compromising of credentials.
Security Risks and Stolen Cars (00:20:01) Exploration of the security risks associated with stolen software, including the potential for theft of customer data and vehicles.
Security Issues in Automotive Technology (00:23:34) Highlighting the security challenges posed by the increasing use of technology in vehicles, including fraudulent data injection and the control of autonomous vehicles.
Verification of Technicians (00:24:54) Discussion on the trend of verifying technicians performing repairs and the issues with technicians being targets for their tools.
Remote Programming and Software Legitimacy (00:25:26) Exploration of the potential risks and problems associated with remote programming, including the use of illegitimate software and incorrect programming of vehicles.
Liability and Legal Risks (00:27:41) Discussion on the liability of individuals and companies involved in remote programming events, including the potential legal risks and the role of warranties in such cases.
Importance of using appropriate tools for software configuration (00:33:47) Story of a vehicle engineer losing control of the steering wheel due to incorrect software configuration, emphasizing the importance of using the right tools.
Safety concerns with remote programming in collision centers (00:35:35) Highlighting the potential safety risks and legal liabilities associated with remote programming in collision centers.
Trademark Law and Branding (00:42:51) Exploration of trademark law and its implications for using brand names, logos, and slogans in automotive businesses.
Risks of Associating with Companies (00:45:21) Explanation of the potential risks and legal issues that arise when associating oneself with a particular automotive company without proper authorization.
Thanks to our Partners Shop-Ware and Delphi Technologies
Shop-Ware: More Time. More Profit. Shop-Ware Shop Management https://getshopware.com/
Delphi Technologies: Keeping current on the latest vehicle systems and how to repair them is a must for today's technicians. http://DelphiAftermarket.com
Connect with the Podcast
-Join our Insider List: https://remarkableresults.biz/insider
-All books mentioned on our podcasts: https://remarkableresults.biz/books
-Our Classroom page for personal or team learning: https://remarkableresults.biz/classroom
-Buy Me a Coffee: https://www.buymeacoffee.com/carm
-The Aftermarket Radio Network: https://aftermarketradionetwork.com
-Special episode collections: https://remarkableresults.biz/collections