Hiring Process Explained [RR 865]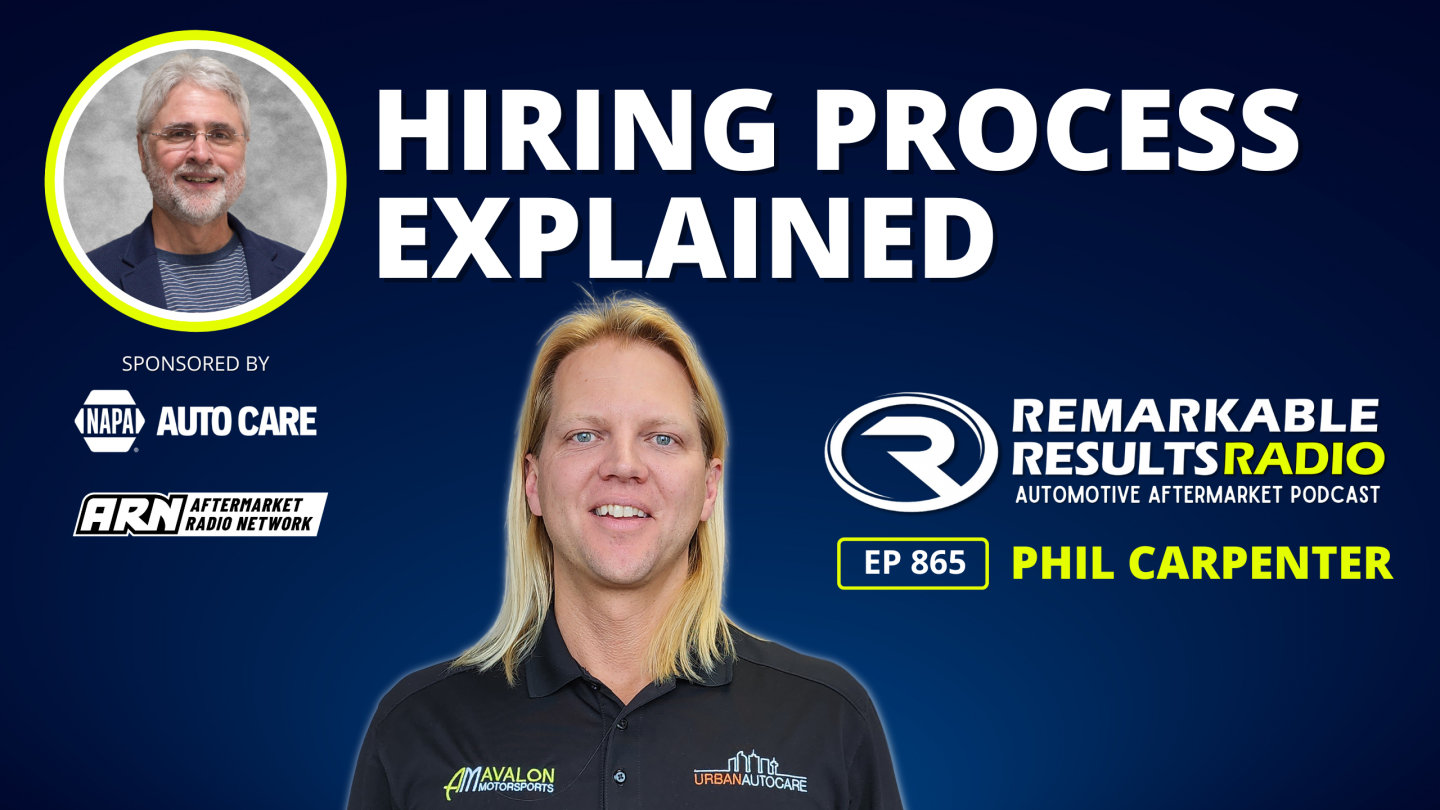 Phil Carpenter discusses the challenges of finding good technicians and the constant need for recruitment. He maps out the hiring process at Urban Auto Care and Avalon Motor Sports, which includes video interviews and in-person interviews. It's critical to a good fit for the long term and filtering out candidates who are not willing to go through their hiring process. He also explains the importance of maintaining a sense of urgency in hiring, employee turnover, and recognizing when it's time to let someone go.
Phil Carpenter, Director of Operations, Urban Auto Care and Avalon Motor Sports, Denver, CO. Listen to Phil's other episodes HERE.
Show Notes
Finding a Good Technician (00:01:01) Discussion on the average time it takes to find a good technician and the process of recruitment and advertising.
Interviewing Process (00:04:43) Explanation of the initial video interview and the reasons behind conducting it remotely, followed by the subsequent in-person interview process.
The interview process (00:08:33) Discussion about the interview process, including preface to team, narrowing down candidates, and making offers.
Making an offer (00:09:27) The timeline and process of making an offer, including visiting other locations and discussing assessments.
Pay discussions (00:15:16) The challenges of pay discussions and asking candidates if they are looking for a raise at their current job.
The interview follow-up (00:17:33) Discussion about reaching out to a candidate after an interview and the experience of being ghosted.
The effectiveness of text messages (00:18:51) Conversation about the preference for texting over email when contacting potential hires.
The orientation process (00:22:54) Explanation of the onboarding process, including providing the employee handbook and accompanying videos.
Sense of Urgency and Desperation (00:26:01) Discussion on the difference between sense of urgency and desperation when looking for new job opportunities.
Always Recruiting Technicians (00:26:28) Importance of constantly running ads and recruiting technicians due to the 3 to 4 month window it takes to advertise and recruit.
Challenges with Employee Retention (00:27:02) Exploration of reasons why employees leave, including burnout and finding better opportunities in different environments.
Thanks to our Partner, NAPA AUTO CARE
Learn more about NAPA AUTO CARE and the benefits of being part of the NAPA family by visiting https://www.napaonline.com/en/auto-care
Connect with the Podcast:
-Join our Insider List: https://remarkableresults.biz/insider
-All books mentioned on our podcasts: https://remarkableresults.biz/books
-Our Classroom page for personal or team learning: https://remarkableresults.biz/classroom
-Buy Me a Coffee: https://www.buymeacoffee.com/carm
-The Aftermarket Radio Network: https://aftermarketradionetwork.com
-Special episode collections: https://remarkableresults.biz/collections