Is Your Shop Butcher Clean? [RR 866]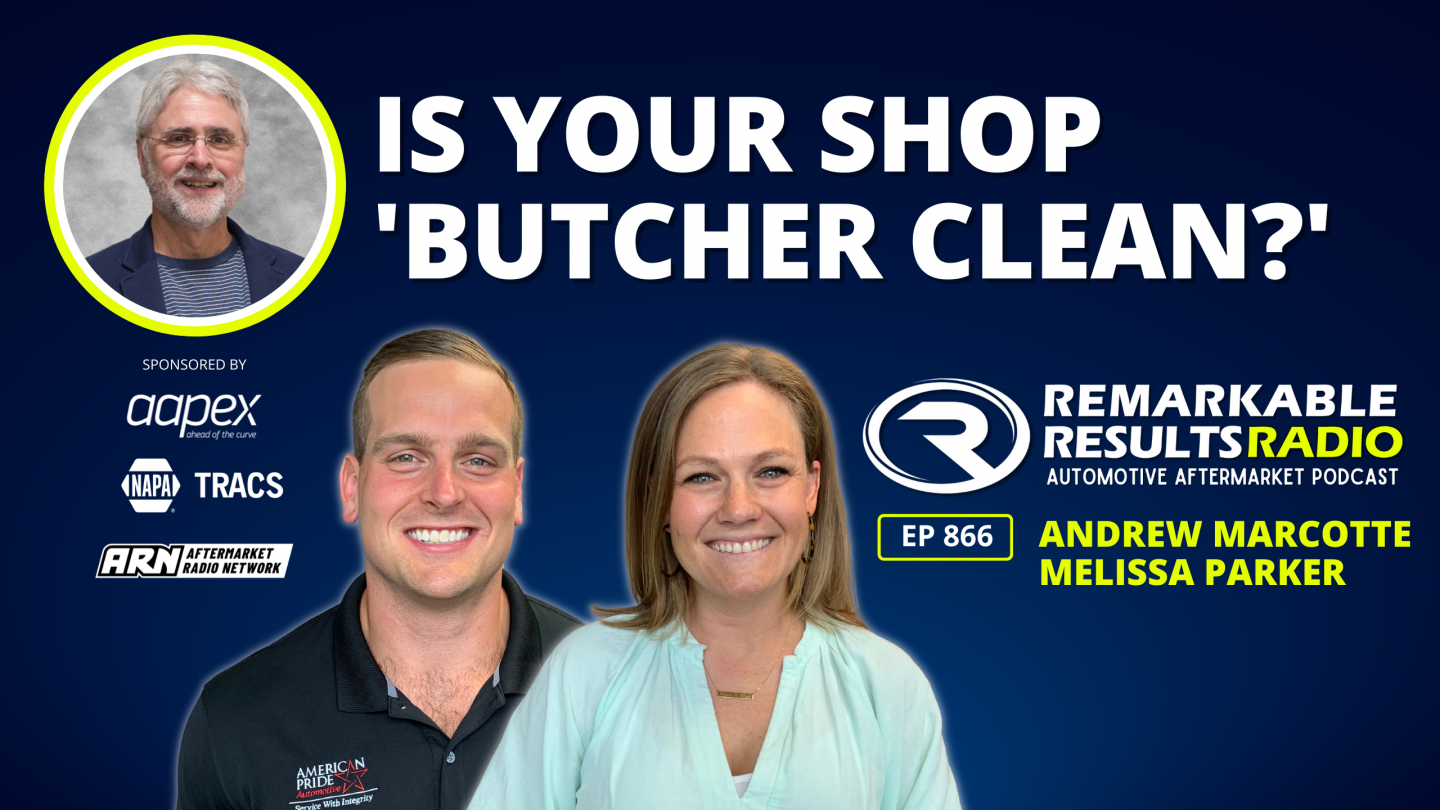 COO'S Andrew Marcotte and Melissa Parker discuss growth and succession in the industry, emphasizing the importance of having a sellable business. They share their experiences with acquiring and managing new shops, highlighting the value of cultural fit over work experience. Andrew and Melissa also encourage others to build relationships within the industry, learn from other operations and have a 'butcher clean' shop!
Andrew Marcotte, American Pride Automotive, 5 locations, Virginia.
Melissa Parker, Harrell's Tire and Auto, 6 locations, North Carolina.
Show Notes
The Peer Review and Transformers Group (00:00:01) Discussion about being at Scruggs Automotive for a peer review with the Transformers group.
Growing and Expanding the Business (00:02:25) Conversation about the excitement and challenges of expanding the number of locations and the mindset required for growth.
The importance of retaining high-quality people (00:07:52) Discussion on the goal of retaining high-quality employees and the challenges faced when trying to change the mode of operation in a shop.
The impact of owner involvement on business value (00:08:28) Exploration of how the level of owner involvement can affect the value of a business and the importance of prioritizing a sellable business.
The significance of cultural fit in acquisitions (00:09:28) Conversation about the importance of cultural fit when acquiring a new location and the potential consequences of not considering it during the due diligence process.
The importance of addressing toxic employees (00:16:40) Discusses the negative impact of having a toxic employee in a store and the importance of addressing the issue promptly.
Hiring for cultural fit and potential (00:17:53) Talks about the shift in hiring philosophy to focus on cultural fit and potential rather than solely valuing work experience.
Observations and recommendations from store visits (00:20:23) Discusses the process of observing store operations and sharing findings, including the need for consistency across locations and focusing on growth opportunities.
The virtual service advisor (00:24:48) Discussion about the possibility of hiring a virtual service advisor for a multi-store operation.
Butcher clean (00:25:43) Explanation of the term "butcher clean" and its relation to having clean books in a business.
The role of a CXO (00:26:51) Exploration of the concept of a Client Experience Officer (CXO) and the importance of building a consistent customer experience.
Building relationships and gaining insights (00:33:59) Andrew encourages listeners to build relationships within the industry and learn from other operations to find success.
Thanks to our Partners, AAPEX and NAPA TRACS.
Set your sights on Las Vegas in 2023. Mark your calendar now … October 31 – Nov 2, 2023, AAPEX – Now more than ever. And don't miss the next free AAPEX webinar. Register now at http://AAPEXSHOW.COM/WEBINAR
NAPA TRACS will move your shop into the SMS fast lane with onsite training and six days a week of support and local representation. Find NAPA TRACS on the Web at http://napatracs.com/
Connect with the Podcast:
-Join our Insider List: https://remarkableresults.biz/insider
-All books mentioned on our podcasts: https://remarkableresults.biz/books
-Our Classroom page for personal or team learning: https://remarkableresults.biz/classroom
-Buy Me a Coffee: https://www.buymeacoffee.com/carm
-The Aftermarket Radio Network: https://aftermarketradionetwork.com
-Special episode collections: https://remarkableresults.biz/collections