Redefining Business Bravery: Stories of Courage [THA 341]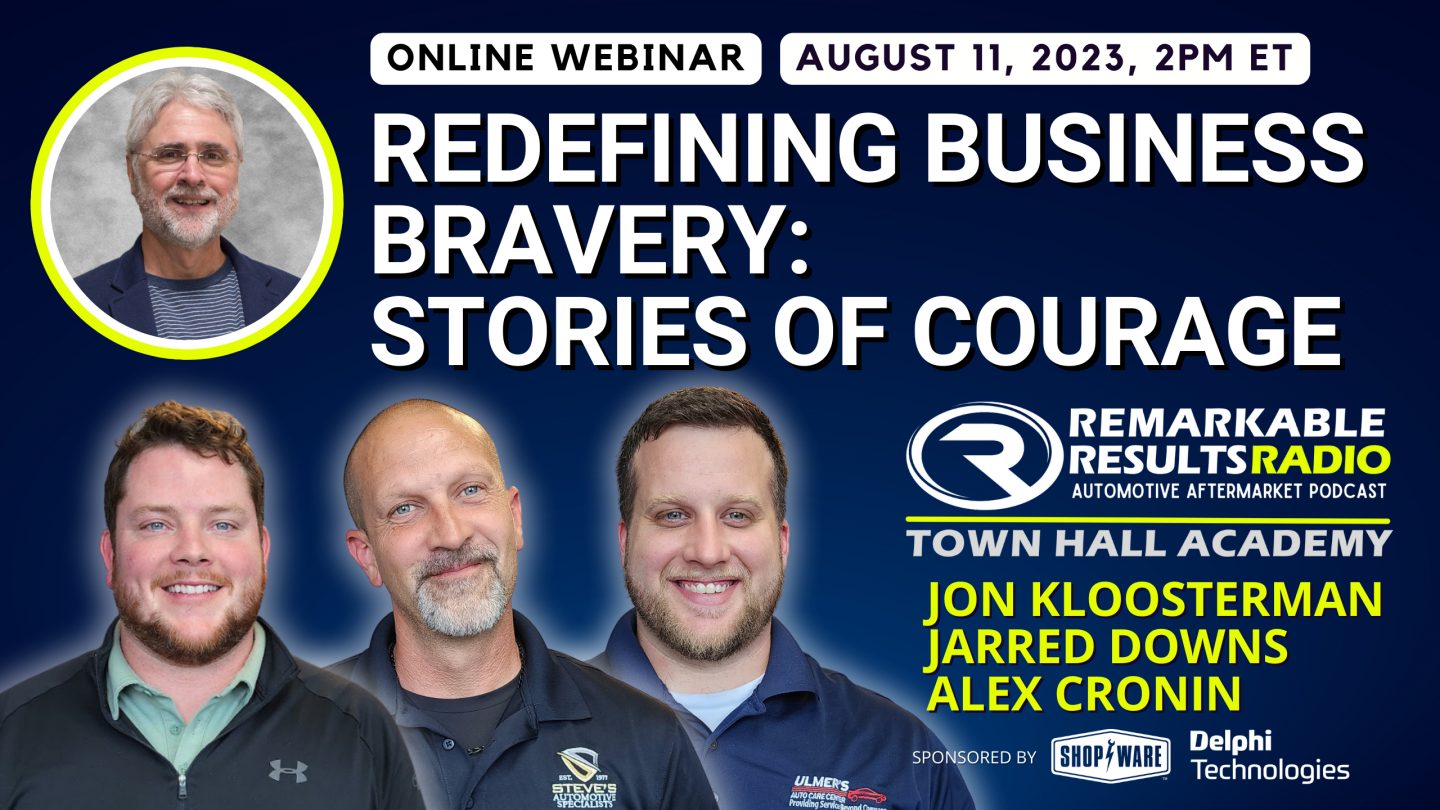 Join our panel as they share insights on the importance of courage, different leadership styles, the need for tough conversations, and the role of coaching and mentoring in developing courage in teams. The panelists emphasize the importance of effective communication, training, and providing individuals with the tools and confidence to make courageous decisions. They also discuss the need for leaders to make tough decisions even when uncomfortable.
Jon Kloosterman, Director of Operations, WestSide Service, Zeeland, MI. Jon's previous episodes HERE
Jarred Downs, Steve's Automotive Specialists, Salt Lake City, UT.
Alex Cronin, Ulmer's Auto Care, Cincinnati, OH.
Show Notes:
Courage in Leadership (00:00:01) Discussion on the importance of courage in leadership and the different styles of leadership.
Teaching Courage (00:04:19) Exploration of how to teach and develop courage in teams and the role of coaching and mentoring.
Tough Conversations (00:06:33) Importance of having tough conversations as a leader and the need for transparency and clear expectations.
Courage in Communication (00:08:59) The importance of checking if messaging got through and the need for leaders to visit stores and have conversations.
Building Courage through Training (00:09:52) The impact of having proper procedures and training in place on an individual's ability to make courageous decisions.
Confidence and Ownership (00:13:08) The relationship between confidence, ownership, and courage in making courageous decisions.
Courage in Leadership (00:18:20) Discussion on building courage in service managers through coaching and empowering them to make decisions within company boundaries.
Customer Experience Strategy (00:19:16) Exploration of the discretion given to service advisors to make decisions that prioritize customer satisfaction, with post-situation analysis for improvement.
Tough Calls and Courage (00:20:21) Highlighting the importance of having the courage to make tough decisions for the benefit of the company, team members, and individuals, rather than relying solely on self-confidence.
Thanks to our Partners Shop-Ware and Delphi Technologies
Shop-Ware: More Time. More Profit. Shop-Ware Shop Management https://getshopware.com/
Delphi Technologies: Keeping current on the latest vehicle systems and how to repair them is a must for today's technicians. http://DelphiAftermarket.com
Connect with the Podcast
-Join our Insider List: https://remarkableresults.biz/insider
-All books mentioned on our podcasts: https://remarkableresults.biz/books
-Our Classroom page for personal or team learning: https://remarkableresults.biz/classroom
-Buy Me a Coffee: https://www.buymeacoffee.com/carm
-The Aftermarket Radio Network: https://aftermarketradionetwork.com
-Special episode collections: https://remarkableresults.biz/collections