S.O.B: Son of Boss [THA 344]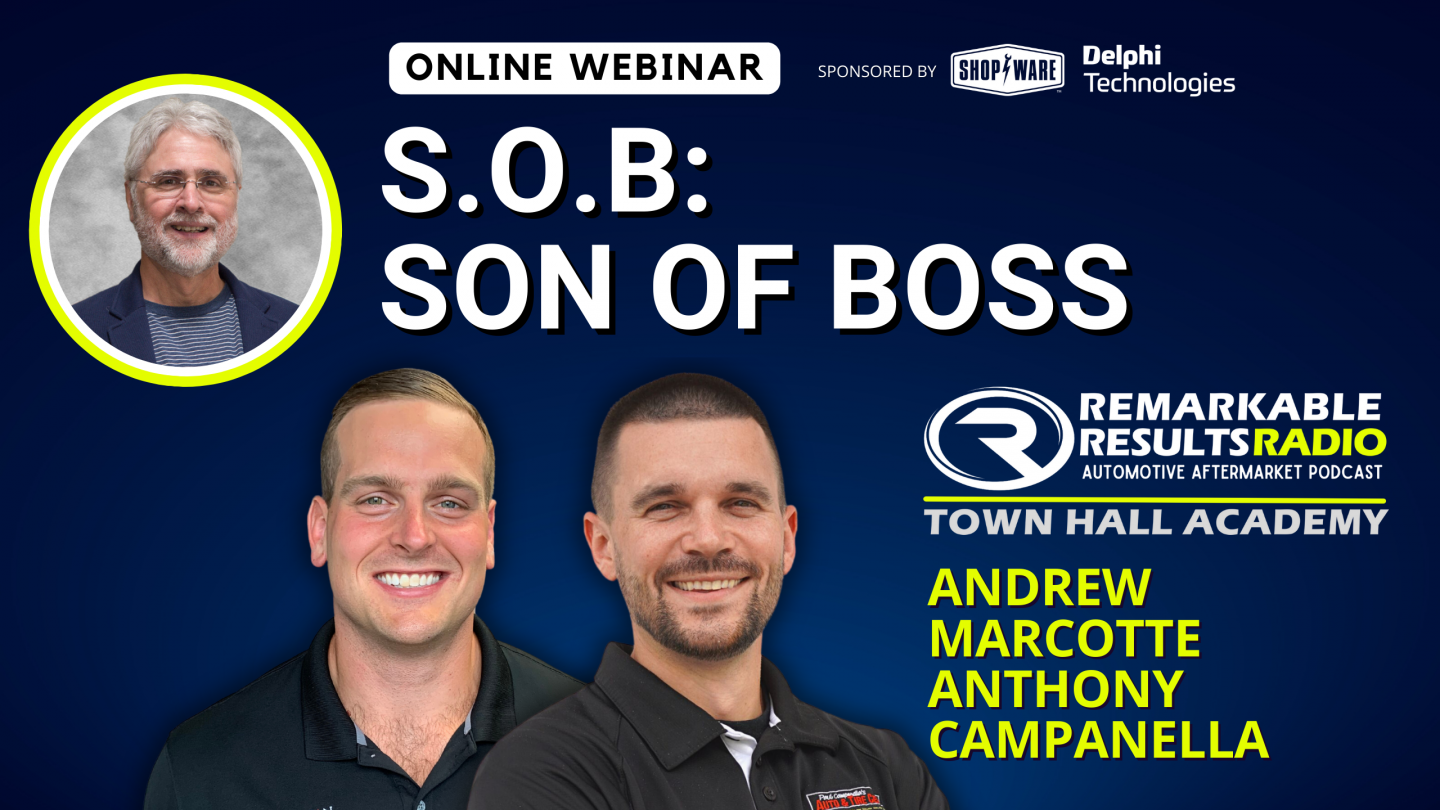 Carm Capriotto hosts a panel discussion on family businesses, specifically focusing on the challenges faced by sons of bosses (SOBs). Andrew Marcotte and Anthony Campanella share their experiences of working in their family businesses and the unique dynamics that come with it. They discuss the perception of nepotism and the importance of earning respect and value in their own right. They also discuss leadership development, work-life balance, communication, and succession planning in family businesses.
Andrew Marcotte, American Pride Automotive, 5 locations, Virginia. Andrew's previous episodes HERE
Anthony Campanella, Paul Campanella's Auto and Tire Center, 5 locations, Delaware and Pennsylvania
Show Notes:
The challenges of being in a family business (00:01:04) Discussion on the unique dynamics and challenges of working in a family business, including the pressure to succeed and the need to earn one's position.
Nepotism in family businesses (00:02:19) Exploration of the negative connotations and perceptions associated with nepotism in family businesses, and the importance of earning respect and value independently.
Learning to be a leader in a family business (00:06:39) Conversation about the innate qualities and acquired skills necessary to become an effective leader.
Positive affirmations and leadership development (00:08:16) Discussion on the effectiveness of positive affirmations in leadership development and the importance of focusing on minor wins.
Work-life balance in a family business (00:09:22) Exploration of how to draw the line between work and personal life in a family business and the realization of not letting work interfere with personal time.
High expectations in a family business (00:14:20) Being expected to handle various issues and tasks in the family business due to their upbringing and the trust built over the years.
The importance of communication (00:16:42) The significance of effective communication in their businesses and how it helps in avoiding misunderstandings and aligning perspectives.
Transitioning to a visionary role (00:18:00) Andrew talks about his plan to become the visionary for the company and the importance of having a support staff in place for a smooth transition.
Complementing each other's strengths (00:20:37) Anthony and Andrew highlight how their different approaches to decision-making, one being data-driven and the other relying on gut feel, complement each other and contribute to the success of their businesses.
The importance of transparency and trust in growing a small business (00:24:02) Being transparent and trustworthy in order to grow a small business and change the negative perception of the automotive industry.
The value of networking and community involvement in the automotive field (00:24:57) Anthony shares how his father taught him the value of networking and being involved in the community to build a positive reputation in the automotive industry.
The impact of peer mentorship and learning from others in the industry (00:27:49) The profound effect of being part of a coaching group like Transformers, where they have been able to learn from and be inspired by other successful operators in the industry.
Thanks to our Partners Shop-Ware and Delphi Technologies
Shop-Ware: More Time. More Profit. Shop-Ware Shop Management https://getshopware.com/
Delphi Technologies: Keeping current on the latest vehicle systems and how to repair them is a must for today's technicians. http://DelphiAftermarket.com
Connect with the Podcast
-Join our Insider List: https://remarkableresults.biz/insider
-All books mentioned on our podcasts: https://remarkableresults.biz/books
-Our Classroom page for personal or team learning: https://remarkableresults.biz/classroom
-Buy Me a Coffee: https://www.buymeacoffee.com/carm
-The Aftermarket Radio Network: https://aftermarketradionetwork.com
-Special episode collections: https://remarkableresults.biz/collections