Selling Batteries with Tom Sciortino and John Armstead [CC 092]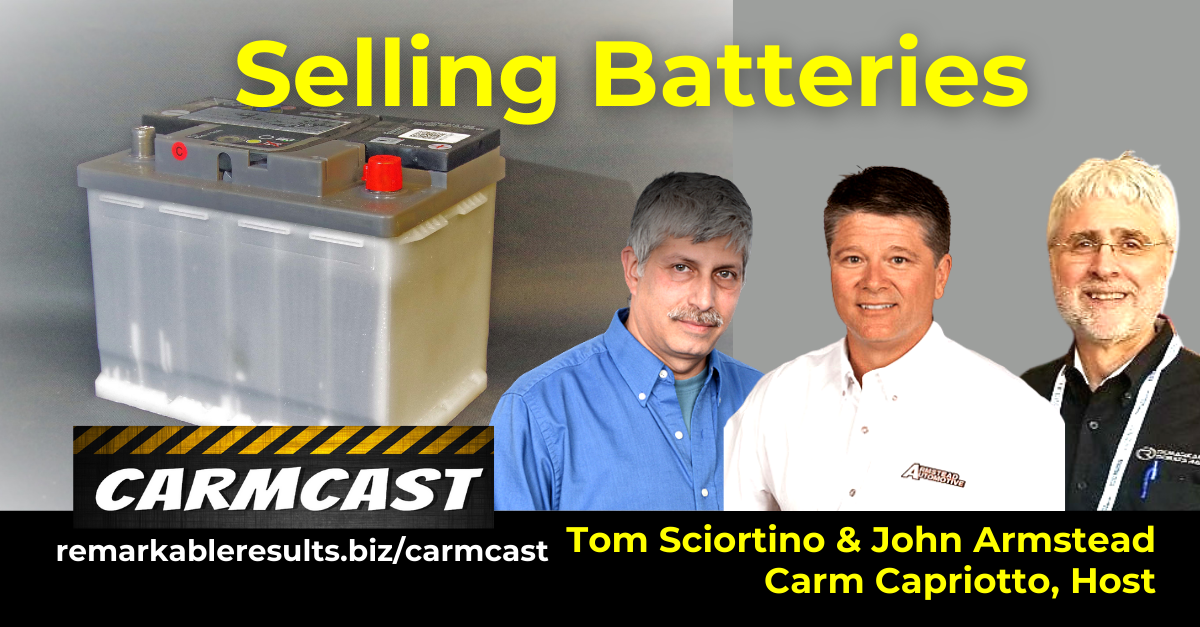 Tom Sciortino, Total Automotive, Tonawanda, NY. Graduated 1983 ECC with an associate degree in Automotive technology. Worked from 1981-1986 (broad Elm, Tire man, and Goodyear) and opened Total Automotive June 1st, 1986 (just celebrated 35 years in business. Purchased his current location in 2016 after renting for 30 years. Tom has 3 techs, 1 service writer and is an ASE Master Tech
John Armstead opened up Armstead Automotive Repair in 1986, out of a two-bay garage, in downtown Holly. In 1992, Armstead Automotive moved to the existing location on Fish Lake Rd. At this location, Armstead Automotive was able to expand and tailor to our customer's needs. In 2004 we added a heavy-duty 4 bay addition, that can hold vehicles as large as school buses, RVs, and bucket trucks. On the west side of the building, John built a custom railroad track for all hy-rail needs. Armstead Automotive is willing to adapt to what our customers need…challenge accepted.
Now, Armstead Automotive is a fully-fledged auto repair shop complete with nine bays and a family of Armsteads, working tirelessly to deliver an experience that goes unrivaled in Holly, Saginaw, and the surrounding communities.
For an auto repair shop in Holly or Saginaw that looks out for you and your vehicle, no matter what, through the complex transmission repairs, to a simple oil change, look no further than Armstead Automotive Repair.
Key Talking Points
Waiting customer- demand purchase, if needs battery customers would rather have it done right away. Offer print out and keep a history of batteries. Be consistent.
Battery testing- DVI process/inspection
Both John and Tom sell around 150 batteries per year- 3 per week
Rotate stock batteries every 90 days
Hotter climates batteries often need changing after 48 months
Some cars won't start/stop of battery is weak
Batteries dying- lights staying on (map lights).
COVID 19- cars sitting for a long period of time and won't start
If you're not selling batteries then you're not checking/testing
Profitability- 25-35%, labor and sale like tires.
AAA won't change on road for certain cars with batteries in the trunk or under seat etc
Thanks to Tom Sciortino and John Armstead for their contribution to the aftermarket
Link to the 'BOOKS' page, highlighting all books discussed in the podcast library HERE. Leaders are readers.
Listen for free on Apple Podcasts, Google Podcasts, Spreaker, iHeart Radio, Spotify, Podchaser, and many more. Mobile Listening APP's HERE
Find every podcast episode HERE.
Every episode is segmented by Series HERE.
Key Word Search HERE.
Be socially involved and in touch with the show:
Facebook Twitter Linked In Email
Join the Ecosystem – Subscribe to the INSIDER NEWSLETTER HERE.

Are you seeing auto shops in your area get hundreds of 5-star Google reviews and are you feeling left behind because your shop only has a few?
Hey look, Broadly is your answer to getting more online reviews. With more reviews, your business will rank higher in search results — and that means more customers coming into your shop every day.
Broadly helps you automatically request reviews so that your customers can promote your business with just one click.
When you immediately ask for a review after service, when the experience is still fresh in their mind, you're more likely to get a 5-star positive review.
Plus, asking for feedback makes your customer feel valued and more connected to your business. Isn't that what you want a connected customer? See how Broadly can help grow your auto shop. Visit www.getbroadly.com/carm to learn more.