Satellite Location with Tom Grady [RR 649]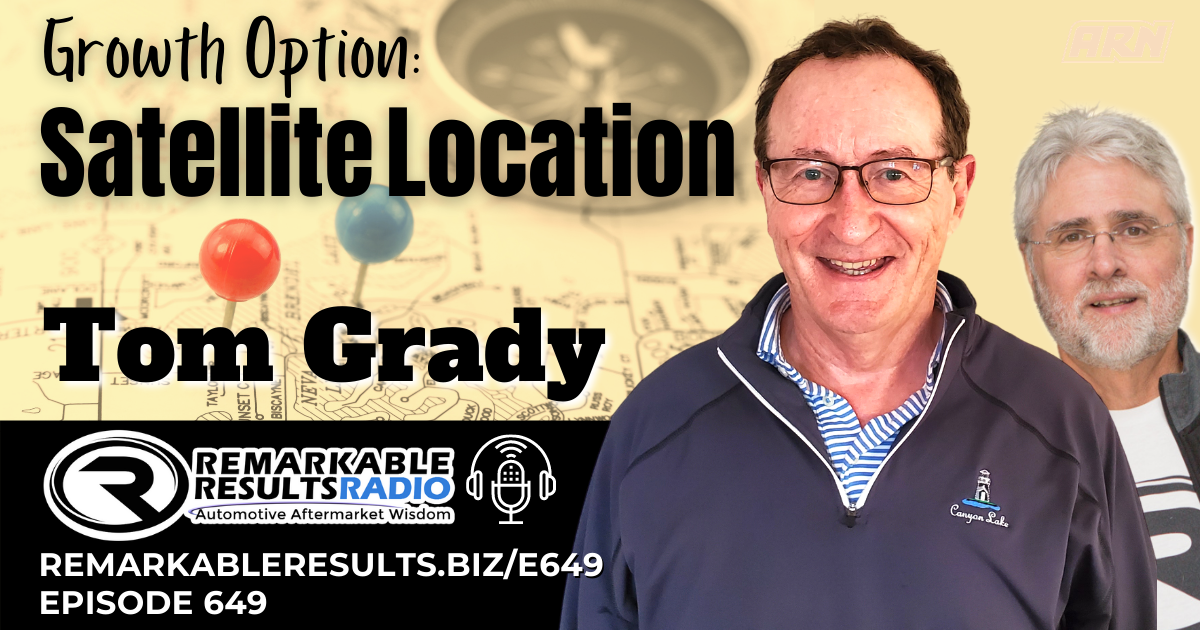 Tom Grady founded Redhawk Auto Service in 2005 with the goal of providing the Temecula Valley with high-quality automotive service that emphasizes excellence, value, and convenience. Tom Grady has over 35 years of automotive industry experience as a former executive with Ford Motor Company and Nissan. He was also an automotive dealer in Orange County and New York. Mr. Grady has an M.B.A. degree and a B.A. in Economics.
The Grady's also own full-service hand car washes and founded Redhawk Hand Car Wash in 2003. Mr. Grady has been actively involved in the community through the Rotary Club and as the past Chairman of the Lake Elsinore Chamber of Commerce.
Key Talking Points
6 bays in 2,000 square feet- 6 technicians, 15-year business. Last three years the business did 1.5-2 million per year.
Satelite location- needed more space but didn't want to expand and purchase another business for a second location. Started looking at flex condos during the pandemic, found one that was available for purchase. It was a call center and part of it is offices for rent plus has offices for businesses for the first time. Tom equipt it with 6 lifts. 5 minutes away from first location. Service advisors will stay at first location.
Goal increase business but cut back expense to achieve efficiency
First location will be used for quick work, satellite location will be used for work and repair that take longer
Challenges- logistics, communications between both shops, AAA towing drop-offs (no parked cars overnight at satellite), and computer systems
Marketing- saying "yes" to the customer. Tom loves the sizzle of "selling and marketing."
Tom is the visionary of the business and in the CEO ATI Program and his second in command is in COO program.
Thanks to Tom Grady for his contribution to the aftermarket's premier podcast.
Link to the 'BOOKS' page, highlighting all books discussed in the podcast library HERE. Leaders are readers.
Listen for free on Apple Podcasts, Google Podcasts, Spreaker, iHeart Radio, Spotify, Podchaser, and many more. Mobile Listening APP's HERE
Find every podcast episode HERE.
Every episode is segmented by Series HERE.
Key Word Search HERE.
Be socially involved and in touch with the show:
Facebook Twitter LinkedIn Instagram Youtube Email
Join the Ecosystem – Subscribe to the INSIDER NEWSLETTER HERE.

Gold Certification recognizes top tier NAPA AutoCares with a high level of participation in the AutoCare program. The program was built by AutoCare Centers for AutoCare Centers to provide a consistent consumer experience, maximize technology leverage, and reward NAPA's most committed partners. In other words, Gold Certified AutoCare Centers are the standard bearers for the AutoCare brand nationwide. Simply put, the Gold Certified NAPA AutoCare program, powered by your local shop brand, will separate you from the rest helping you boost your bay counts and your average repair orders.
Learn more about NAPA AutoCare, Gold Certification, and the hundreds of other benefits the NAPA family has to offer by talking with your servicing NAPA store or visiting www.NAPAAutoCare.com.