Make Price Irrelevant [THA 228]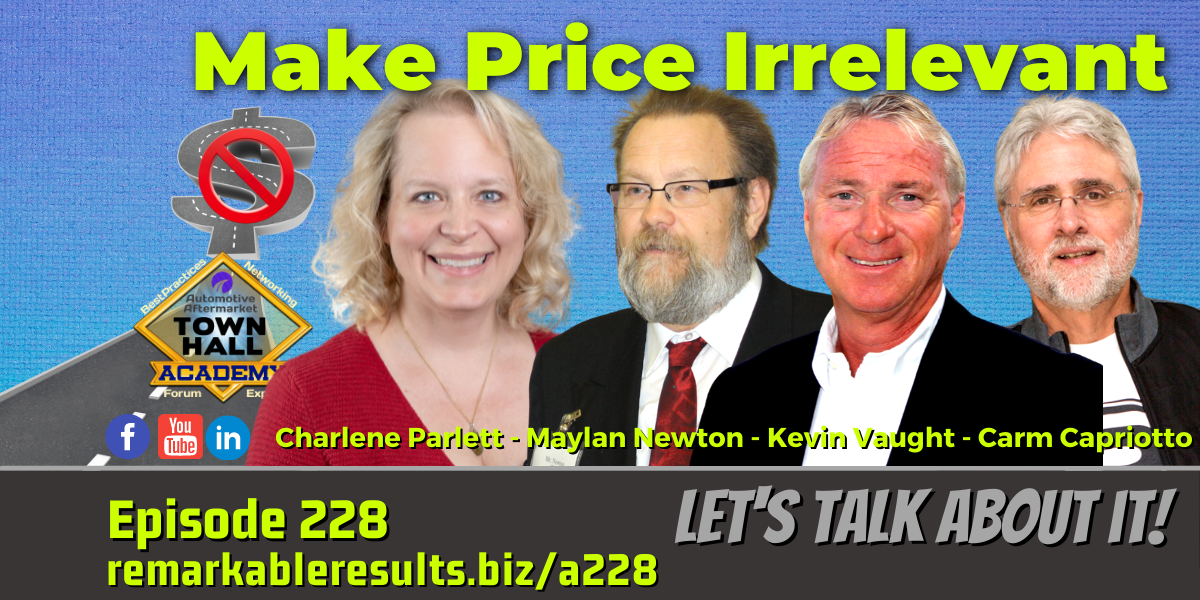 Charlene Parlett, AMAM, CEC, ATI Executive Coach
Charlene is an Executive Coach at ATI, is a former shop owner, and has been a coach for 6 years. Charlene helps clients find the right solutions to their challenges and encourages them to make the changes that result in having the life they dreamed about when they got into business ownership. Find Charlene's previous episodes HERE
Maylan Newton from ESI – Educational Seminars Institute is a business coach, trainer and industry speaker. Maylan is no stranger to the podcast having paid it forward many times. He is a much sought our speaker at industry events in the US. Find Maylan's previous episodes HERE.
"He is 'just a car guy' with lots of knowledge and is brave enough to talk about it". Maylan's purpose is to educate leaders to be a better owner or service writer.
Kevin Vaught, Elite Worldwide Business Development Coach, former multi-shop owner. Find Kevin's previous episodes HERE
Key Talking Points
Developing customer experience- the customer is more willing to pay more if the experience meets the criteria to warrant the price. Customer service is different than the experience. Big things are expected (fix the car and have some complimentary amenities), what about the little things (using first name basis, water bottles with logo in the cup holder when ready). You need to have the entire team involved. Treating internal (employees) and external (customers) with high value. You don't need money to be kind and nice to others. How does the building look? What is the smell when walking in? How are employees dressed? Do they have nametags?
When organizations were asked to rate their quality of Customer Experience, 80% believe they are delivering a superior experience. This is compared to only 8% of customers who believe they are receiving a great Customer Experience
GLUE- giving little unexpected extras
Number one priority is to treat customers like kings and queens- they are the most important person that day.
Relationship business- want customers to keep coming back the rest of their lives, they are not an interruption in your day
You're being compared to a customer's last great experience (inside and outside the industry). What is a good experience for them? Ask them!
Technical knowledge means nothing to customers- they don't know and want to know when the car will be done. Technology won't replace the experience a customer gets, it is a tool.
Overpromise and under deliver- customers remember that more than the price of services
What's your favorite restaurant? Is it based on price or comfort and service?
Every customer will talk about a good or bad experience to others
You make sales with conversation, not email or texts
Don't chase money, money will follow with exceptional service
"We don't fix cars, we take care of people"
Raise your standards and communicate them to your team, doesn't happen overnight. Have a plan and procedure until it is engrained. Make everyone accountable with clear expectations.
A special thanks to Charlene Parlett, Maylan Newton and Kevin Vaught for their contribution to the aftermarket.
Books Page HERE
Listen to all Remarkable Results Radio, For The Record and Town Hall Academy episodes.
Facebook   Twitter  LinkedIn   Instagram  Youtube   Email  
Join the Ecosystem – Subscribe to the INSIDER NEWSLETTER HERE.

This episode is brought to you by Shop-Ware Shop Management. It's time to run your business at its fullest potential with the industry's leading technology. Shop-Ware Shop Management will increase your efficiency with lightning-fast workflows, help your staff capture more sales every day, and create very happy customers who promote your business. Shops running Shop-Ware have More Time and generate More Profit—join them! Schedule a free live demonstration and find out how 30 minutes can transform your shop at getshopware.com

This episode is brought to you by Shop Marketing Pros. Your guides are Kim and Brian Walker with a rich history as shop owners and industry veterans. When someone searches for a shop, who are they finding? Your competitors? It should be you! The good people over at Shop Marketing Pros know how to drive website traffic and make Google work for you! www.shopmarketingpros.com