Hitting Rock Bottom and Climbing out [RR 650]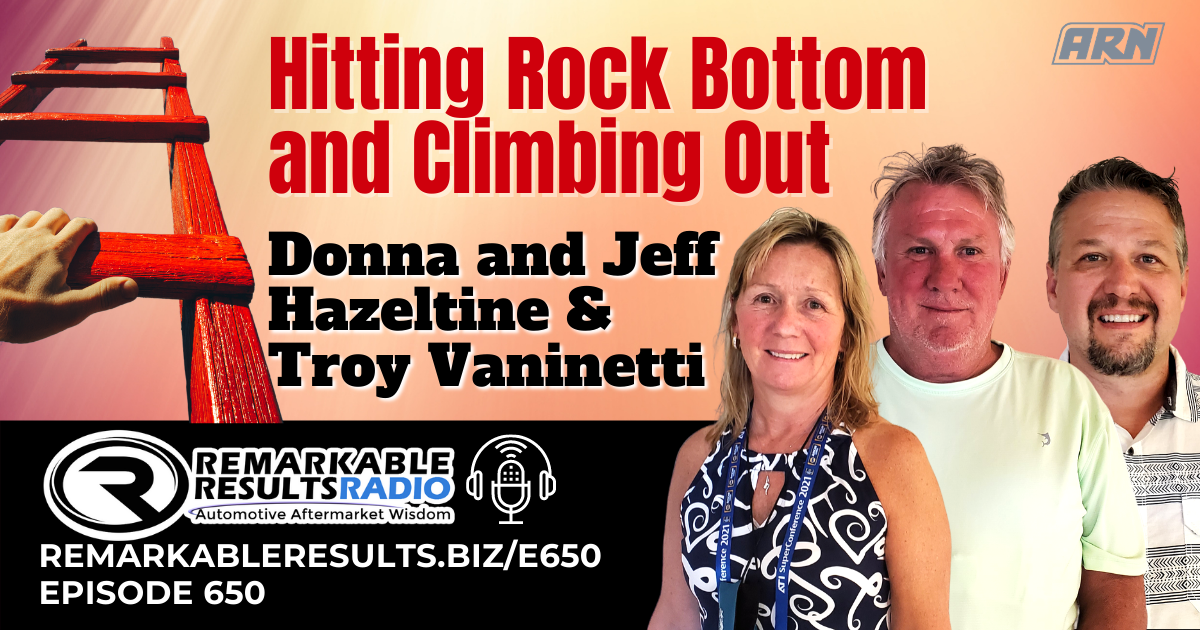 Jeff and Donna Hazeltine– Owners of American Import Auto, Venice FL
Troy Vaninetti– Troy has been married to wife Kori for 27 years and has four children with one still living at home with one 15-month-old granddaughter. Troy started working in a Texaco full-service station at age 17 and progressed through the following: from service attendant, tire attendant, apprentice technician, lead technician, shop manager, to purchasing Graham Auto Repair in 2006. Troy knew the importance of having coaching he joined ATI in 2012 and increased his business revenue every since. Troy leased a six-bay building in Graham for ten years before being forced to build his own 7 bay building due to losing His lease in 2016. In his first full year in the new building, Troy doubled his annual revenue. Since then Troy has won the National Top 12 ATI awards in 2018,2019, and 2020. Capturing the number one National Top Shop Award in 2020. Now Troy is working on His second location in Yelm Washington. Listen to Troy's previous episode HERE
Key Talking Points
Losing 14-year employee-store had plateaued with the technician. It was difficult leaving the comfort zone to get to the next level. Had employee go through 2-year leadership class and join 20 group with no results.
Are you ready to go backward to move forward?
Started to build a team- hired shop manager and another advisor to buffer losing employee. The 14-year technician put his two weeks notice in to see if they would make him stay, but Jeff and Donna gladly accepted it.
Also lost A tech to retirement at the same time- things felt like it was falling apart
Donna saw the struggle the shop and Jeff were enduring and reached out for support from 20 group- Troy called Jeff and told him he was at the bottom but it was a turning point to restart the shop. Jeff had seen Troy go through twice as difficult issues with his shop and rise above. Jeff felt encouraged and revitalized. Started getting wins.
Jeff had to let employees go that was not accepting of the change. Has all new employees.
Jeff was the center of the business and was never able to take a vacation until now
Biggest takeaways- get yourself in a 20 group and start building relationships with other shop owners. Own your dirt instead of leasing for business.
Thanks to Donna and Jeff Hazeltine and Troy Vaninetti for their contribution to the aftermarket's premier podcast.
Link to the 'BOOKS' page, highlighting all books discussed in the podcast library HERE. Leaders are readers.
Listen for free on Apple Podcasts, Google Podcasts, Spreaker, iHeart Radio, Spotify, Podchaser, and many more. Mobile Listening APP's HERE
Find every podcast episode HERE.
Every episode is segmented by Series HERE.
Key Word Search HERE.
Be socially involved and in touch with the show:
Facebook Twitter Linked In Email
Join the Ecosystem – Subscribe to the INSIDER NEWSLETTER HERE.

This episode is brought to you by AAPEX, the Automotive Aftermarket Products Expo. AAPEX represents the $740 billion global automotive aftermarket industry and has everything you need to stay ahead of the curve. The Virtual AAPEX Experience 2020 is in the record books. Virtual AAPEX lived up to presenting leading-technical and business management training from some of the industry's best and brightest. Now set your sights on the homecoming in Las Vegas in 2021. Mark your calendar now … November 2-4, 2021, AAPEX // Now more than ever.

This episode is brought to you by Shop-Ware Shop Management. It's time to run your business at its fullest potential with the industry's leading technology. Shop-Ware Shop Management will increase your efficiency with lightning-fast workflows, help your staff capture more sales every day, and create very happy customers who promote your business. Shops running Shop-Ware have More Time and generate More Profit—join them! Schedule a free live demonstration and find out how 30 minutes can transform your shop at getshopware.com/carm