RR 046 Greg Skolnik from Motor Works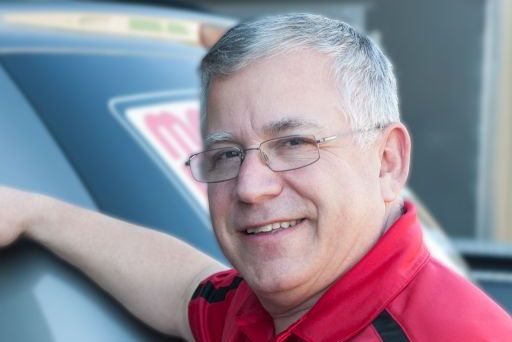 Greg Skolnik from Motor Works in Rockville, MD is a 40 year industry veteran and a  shop owner for 37 years. Greg has a 3,000 SQ FT facility with 6 bay/lifts plus an alignment bay. The shop team is made up of  2 techs, one apprentice, one service adviser, one ops manager and a shuttle driver and is open 200 days per year. The operation is on track to do $1.3 M this year.
Greg is certified as a Master Automobile Technician and holds the L-1 certification and in November of '04. He also received the Accredited Automotive Management (AAM) degree from the Automotive Management Institute.
As the owner of a very innovative Honda/Toyota repair facilitiy in the Washington DC metropolitan area, Greg has built his business on a solid foundation of core values and common sense. "Putting people before money" is Greg's purpose,  as is evidenced by his decision to change the shop to a four-day only schedule in 1990.
He limits his work to Honda, Acura, Toyota, Lexus and Scion vehicles and is open four ten hour days. We discuss this as it relates to customer convenience and what he does to make it work and have a solid business. He talks about his 360 degree customer retention cycle with an e-minder system and a program calls 'Care enough to share'.
He also has a great comment on the recent rash of dealer recalls.
Greg's wife Carol is his confidant, they have two grown sons (one in the business) and they are enjoy spoiling their grand kids.  He does some coaching with Elite Worldwide because he loves helping people. He is writing a book on the industry and how to treat people.
---
I promised to include the information on Greg's phone system. This is right from Greg. Here you go:
The software is called "FreePBX" and like the name, the software is open source but it is not without some fiddling, according to technical guru and son, Aaron. He tweaks it periodically and is still finding new coolness and holes at the same time. It IS run by a computer with software and is subject to the same "Mercury is in retrograde" bizarre weirdness that all of our PCs experience. Back when we had copper and push button dial phones, those strange functions rarely occurred. Remember actually dialing a phone?
The phones themselves are made by Yealink and overall we've been thrilled with their function. The downside seems to be that when the internet provider goes down (ours is currently Comcast) and they seem to at the most inopportune times, the phones go as well. We're still working on an automatic transfer to cell phones strategy. It's not perfected yet but we're getting better.
Like I said, we were very worried about VoIP with hearing all the horror stories from other owners but our transfer (at least from this shop owner's perspective) went really well. I'm very blessed to have my own built-in technical geek!