RR 073: Charitable Initiatives in the Automotive Aftermarket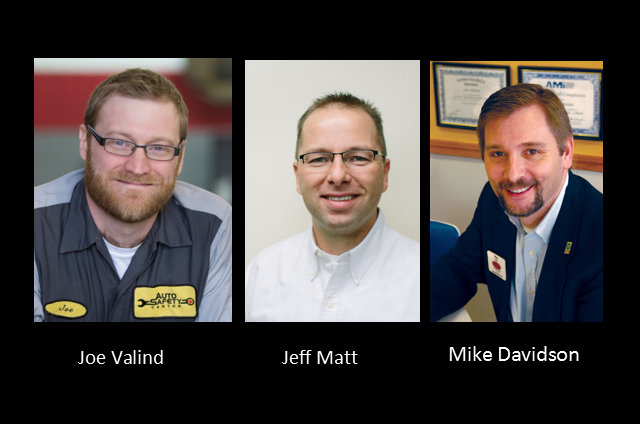 Watch the replay below or listen to the audio only podcast when you are traveling, commuting or when you can't be in front of a screen. The podcast is available on iTunes, Stitcher Radio and of course listen below.
Charity starts at home. Automotive Aftermarket Charitable Initiatives peer discussion.
Here's what's in store:

How Joe, Jeff and Mike's charitable  efforts provide hope for so many tough situations
That you must lead with your heart
That giving, for these entrepreneurs, is what stands out at the end of the day that gives them the most reward
Compare your efforts, pick up a new idea or start your philanthropic program today.
There is a lot of community support by service professional entrepreneurs in this great industry and I congratulate and commend you for your efforts.  Carm
Guest Bio's:
Joe Valind
In May 2005 Joe and wife Jessica became the proprietors of the Auto Safety Center in West Bend, Wisconsin. Joe is a 20 year industry veteran that employs 3 technicians has 5 lifts and 9 bays. He specializes in Honda/Acura, Toyota/Lexus but services most makes and models with a focus on tires. Joe Valind is not only an ASE Certified tech but also a certified Service Consultant. Joe's philanthropy includes support of 'See Of Hope- crisis pregnancy center'.
Listen to a great interview with Joe on episode 67.
Jeff Matt
Jeff Matt owner and founder of Victory Auto Service & Glass, a family-owned, award-winning auto repair and auto glass business with six locations in Minnesota and Florida. Jeff in business since 1997 in a suburb of Minneapolis has now expanded to six with more than 40 employees.
Jeff knew from the beginning he wanted to use his skills to be a blessing to those in his community by providing free and low-cost repairs to those in need. In 2003, Victory Auto began to partner with Minnesota non-profit Free to Be, Inc.(which was recently re-named Cars For Neighbors) to provide free and discounted auto services to individuals and families suffering from financial hardships in Anoka County. Since then, Victory Auto has donated in kind more than $500,000. Jeff has also donated dozens of cars and thousands of dollars in repairs over the years to individuals in need in his community who were brought to his attention.
In 2011, Jeff received an Eleven Who Care award from local Minnesota TV station KARE 11 for his charitable work with Free to Be. Victory was named a 2014 Top Shop by Motor Age magazine, and they just received the 2015 Minnesota Business Ethics Award.  Catch a very in-depth interview with Jeff Matt in episode 48.
Mike Davidson
Mike Davidson is from Parkway Automotive in Little Rock, Arkansas and been in the industry for 31 years and a business owner for 18. His team includes 6 techs who support eight lifts and 7 bays with a shop foreman two service advisors and an estimator.
Mike is an AMI graduate, an ASE Master Technician. Mike tells all about his great business in episode 52, really worth the listen! This episode is chock full of great take-a-ways including his hiring program called 'hiring for keeps'. Learn how it made a huge impact on his hiring methods and practice.   Mike works with the Crisis Pregnancy Center of Arkansas. Listen to Mike in his own entrepreneur interview in episode 52.