RR 222: Dwayne Myers from Dynamic Automotive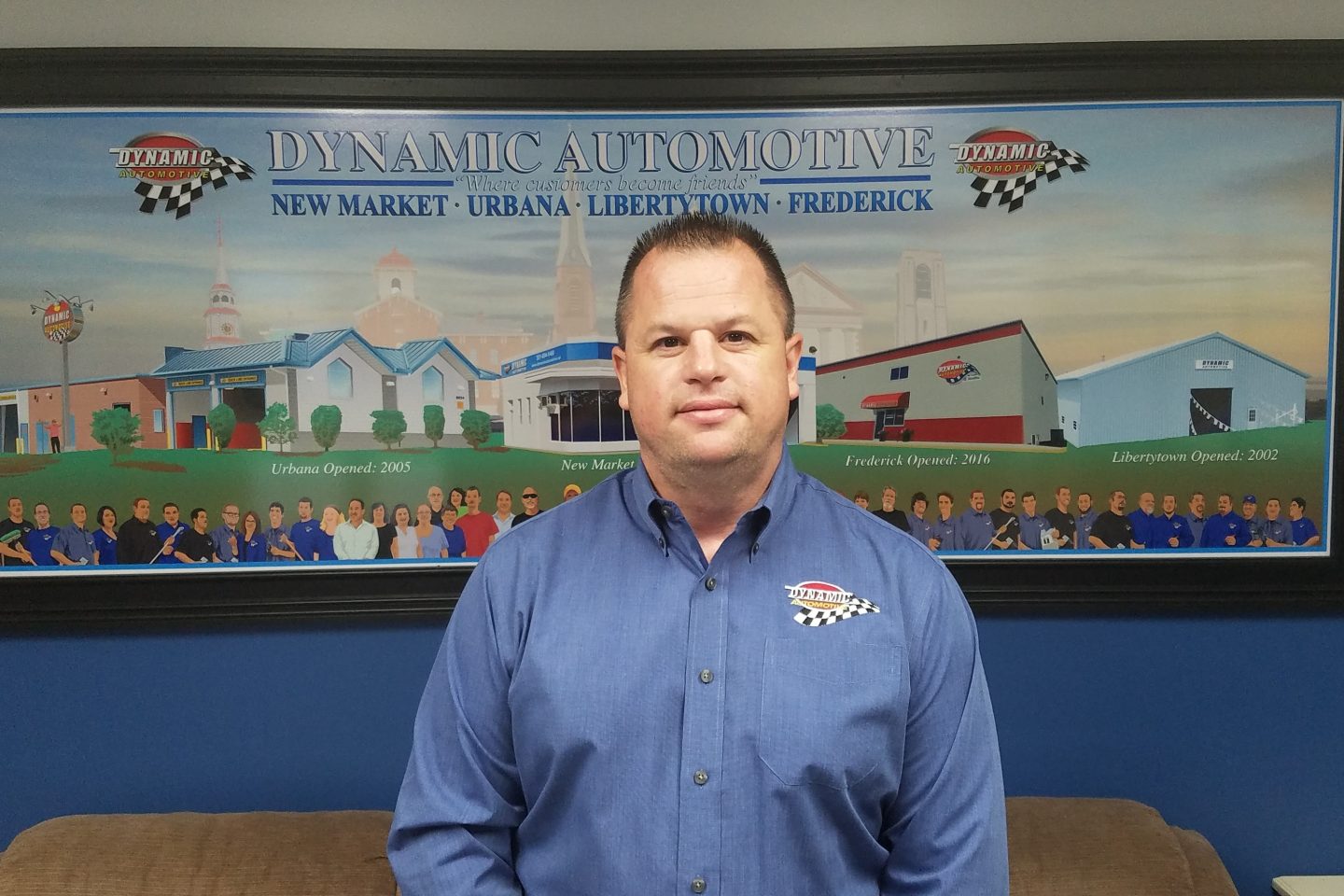 Dwayne Myers is co-owner of Dynamic Automotive in Frederick County, MD, along with his partners Jose Bueso and Lee Foreman. This management team has graced the podcast in the earlier days. They shared their partnership story in episode 2, 3 and 4.
Dwayne was one of 17 outstanding individuals who received the World Class Technician recognition in 2017 from the Auto Care Association and ASE. Bill Hanvey, president and CEO of Auto Care Association said, "Passing 22 ASE tests is a monumental achievement requiring exceptional knowledge and skills."
Dwayne's Story.
Dwayne became a mechanic while serving in the Army 89-92 as a Tank Mechanic in the 2nd Armor and 1st Cav.  While in the Service he went to Diesel Mechanics training at Central Texas College where he took and passed his 1st ASE test n 1992;  T-6 Electrical.
After the Army, Dwayne started working for a trucking company and went to night school at Catonsville Community College for AA in Automotive Technology. This is where he met his partner, Jose's Bueso's, boss. He was his Electronics teacher. It is a small world.
Dynamic Automotive opened their 1st shop 1995 – Dwayne started in 1997. He went to college part-time; nights and weekends. In 2002 Dynamic opened their second location and he came on full time. At that time  Dwayne was certified as an ASE Master Technician in Automotive and Medium/Heavy Duty Truck.
Growth plans for Dynamic brought them their 3rd store in 2005. They purchased property on Urbana Road in Frederick, MD to build a Repair shop, Quick Lube and Car Wash. Dwayne took over management of the other locations while Lee and Jose worked on the new location.
2007 was a tough year. The three partners rotated and Dwayne landed in Urbana. The large facility needed Dwayne's team building skills.
In 2008, Dwayne became an equity partner and in 2009 he went back to college for an associates degree in Business. And then in 2011 went back to college for his bachelors in Business and graduated in 2015
In 2011 Dwayne attended Leadership 2.0. He also joined the Auto Plus Advisory Board that really opened his eyes to the industry. He started to figure out that Dynamic needed to do more for their people so they invested in training like AAPEX, Vision, Automechanika, and the R&W Conference among others. The training is very good for the business and an important training tool that created employee loyalty.
In 2016 they open their 4th location and Dwayne took the final 4 collision ASE tests and was honored as a World Class Technician in 2017 with a total of 27 ASE Master Auto, Truck, Collision & L1,L2,L3,G1,X1,C1,A9.
Dwayne is also a Dale Carnegie graduate. He says, "It really changed me." He liked it so much he volunteer's twice a year for 9 weeks to be a coach. Dwayne has started to send their team to Carnegie training. He says it is expensive but well worth it.
Dwayne and his partners are involved in the community and industry. Among their support programs:
CCPN (Car Care Professional Network) Vice Chair
Education Committee – Auto Care
Frederick County Career and Technology Center Advisory Board Member.
Frederick County Business and Industry Committee.
Frederick County Work Force Development Board
ACPAC – Pac Dog for CCPN
Talking Points:
Dwayne hires team members who are committed to continual education for the industry, for Dynamic Automotive and for themselves.
Dwayne was going to own a business and his bosses saw he wanted more out of life and offered an equity stake in the business.
'Never Talk Mad is great advice that Dwayne gives his managers.
Dynamics technicians get a raise when they get their ASE certifications.
The more you invest in an individual the more you will get out of them.
They put equal effort in soft skills training as they do technical training for their people.

He wants to improve their soft skills because the critical importance in dealing with each other and customers.

"You will not be able to work on tomorrows car with today's knowledge." You must keep up with technology.
The people part of the business is key. The customer experience is very important to business growth.
Dynamic Automotive works on Hybrids.
He has developed personal disciplines to get all his work done.
He loves the finance side of the business but relished the task to develop and build great leaders in his team.
He does not like the word manager and prefers 'Team Leader'
"Don't be afraid to give up the good to go after the great."
Being positive is contagious. Attitude is a choice.
Dynamic Automotive Website

Be socially involved and in touch with the show:
Facebook   Twitter   Linked In   Email
---
This episode is brought to you by Federal-Mogul


Motorparts and Garage Gurus. With brands like Moog, Felpro, Wagner Brake, Champion, Sealed Power, FP Diesel and more, they're the parts techs trust.  For serious technical training and support – online, onsite and on-demand – Garage Gurus is everything you need to know. Find out more at fmmotorparts.com  and fmgaragegurus.com