RR 267: Brian Bates from Eagle Automotive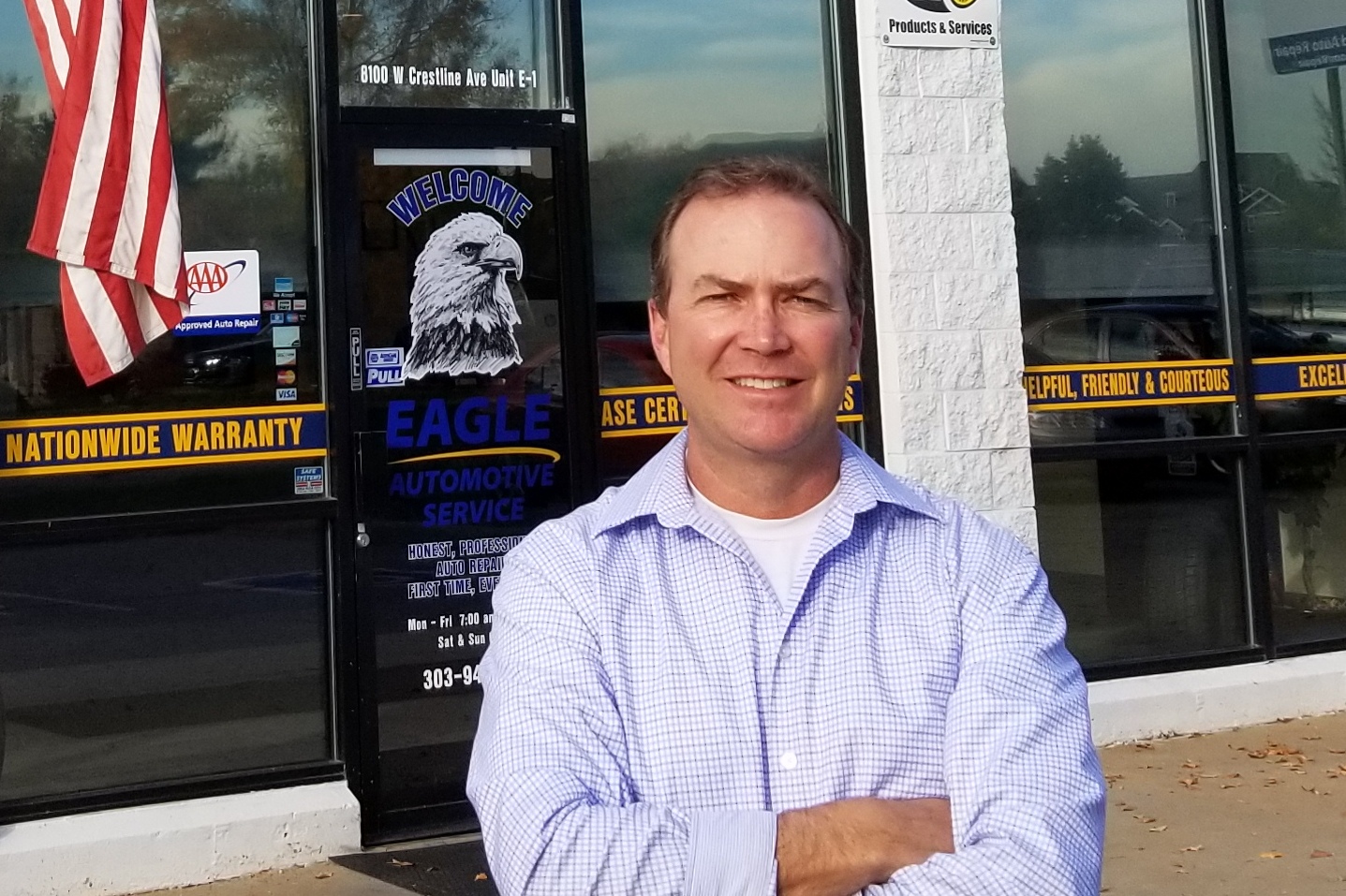 Brian Bates bought the neighborhood shop in Columbine Hills in 2004. It was his way to serve the community by providing quality repairs and service while also living out his dream of running his own business.
After serving 4 years in the Army, Brian returned home to earn his business degree in the search of ultimately running his own business.  While working at a Honda dealership for an average of 60 hours per week, Brian attended Metro State University of Denver at night, full-time, with the support of his wife Rhondi who was a full-time mother of Adam and Kiersten. Five years of hard work and studying paid off in 2000 when Brian earned a 4-year Business Management degree becoming the first generation in his family to attend college.
One year after opening his first shop, Brian had an opportunity for a partnership through the NAPA Autocare program. Mike Train, a NAPA representative, asked Brian how he could help grow Eagle Automotive Service. A life-long relationship was established.  No other parts supplier had asked that question and Brian realized that NAPA understood that if Eagle Automotive grew, the NAPA store would also.
Brian has served as President of the local NAPA Autocare Business Development group. He served on the national Autocare council with the president and directors of NAPA Auto Parts. He is proud of his team's achievements in becoming AAA auto repair certified and holding a BBB A+ rating since the inception of the grading system in 2007.
Many respected experts and professionals in the automotive repair industry have recognized Brian for his contribution to the improvement of the industry and community where he lives and operates his shops.
There are many ongoing projects that Brian is supporting and working on.  A federally recognized automotive apprentice program, helping single mothers afford car repairs, mentoring fellow shop owners, and developing leaders take up much of Brian's free time.  And family is where Brian focuses his attention when he isn't working on his business.
Brian just celebrated 25 years of marriage in August 2017 with Rhondi.  Brian's immensely proud of his son, Adam, who currently works as a service advisor at his newest store.  His daughter, Kiersten, is newly engaged to be married in June 2018.
Talking Points:
The strength of Brian's business is based on firm values, integrity and leadership.
Your business model needs to be fluid and flexible.
Leaders are not born, yet they have natural tendencies to be a leader. You need to learn how to be a great leader.

You must be a constant student of leadership.

The military was a good experience for him.

He admired leaders that put his team above himself.

Authors for leadership

Zig Ziglar, John Maxwell, Sheldon Bowles, Dave Ramsey, Brian Tracy

Brian is growing leaders in his company.
You need someone to challenge you and also pat you on the back. To ask the questions if you are living up to your potential. A few reasons why Brian has had a business coach since 2008.
An early adaptor of Digital Vehicle Inspections.

The power to increase customer trust and communication with the service advisor.
His ARO is $550

Nothing he would do over growing his business. He learned a lot but that is what growth is all about.
"It is always darkest when it is pitch black." by Ben Horowitz.
"There are only two emotions: Total euphoria or absolute despair. A lack of sleep enhances both." by Ben Horowitz
Installed a VOIP phone system. He says it was a smart move to pull his branches together.
The biggest opportunity you have to distinguish yourself in the marketplace is in the relationship you have with your team and how you function as an organization. Customers can feel that.
He wants to create an opportunity for his son and daughter to own the business.
Brian heard Lou Holtz speak at a Dave Ramsey event.

Lou Holtz: Trust the people in your life, you have to know that they are 100% committed to excellence and you have to know that they care about people.
TLC: Trust – Love – Commitment
YouTube Video from 2015 NAPA Convention on 'The Shop of Tomorrow"
Shop Profile

| | |
| --- | --- |
| Number of locations: | 3 |
| Years in industry: | 22 |
| Years business ownership: | 13 |
| Partner: | Rhondi Bates |
| Number of technicians: | 13 |
| Number of service advisers: | 8 |
| Number of lifts: | 18 |
| Number of bays: | 19 |
| Days open: | Mon-Fri |
| Annual estimated volume: | $4M |
| Percent Repair vs Maintenance vs Other: | 30/60/10 |
| Technician training hours per year: | 40 |
| Service adviser training hours per year: | 30 |
| Specialty: | American, Asian, Some European |
| Association memberships: | ASA, AAA, NAPA BDG |
| ASE Certifications: | ASE Master Technician, L1, Service Consultant |
| Industry accreditations: | AAM |
| SMS: | RO Writer |
| Paperless: | No |
| DVI: | Autovitals |
| Website Provider: | Kukui |
| Marketing Software: | My Shop Manager |
| Primary supplier: | NAPA, Worldpac |
| Supplier marketing program: | NAPA Car Care |
| Supplier advisory council: | Yes |
| Performing hybrid repairs: | Yes |
| Business coach | RLO Training, John Wafler |
| Mastermind group: | Yes |
| Succession plan: | Yes working on one |
| Biggest challenges: | Technician shortage, profitability, marketing |
| Philanthropy: | Hands on Carpenter |
Be socially involved and in touch with the show:
Facebook   Twitter   Linked In   Email
---
This episode is brought to you by 


Federal-Mogul Motorparts and Garage Gurus. With brands like Moog, Felpro, Wagner Brake, Champion, Sealed Power, FP Diesel and more, they're the parts techs trust.  For serious technical training and support – online, onsite and on-demand – Garage Gurus is everything you need to know. Find out more at fmmotorparts.com  and fmgaragegurus.com