THA 037: Multiple Labor Rates & Matrix Parts Margins in your SMS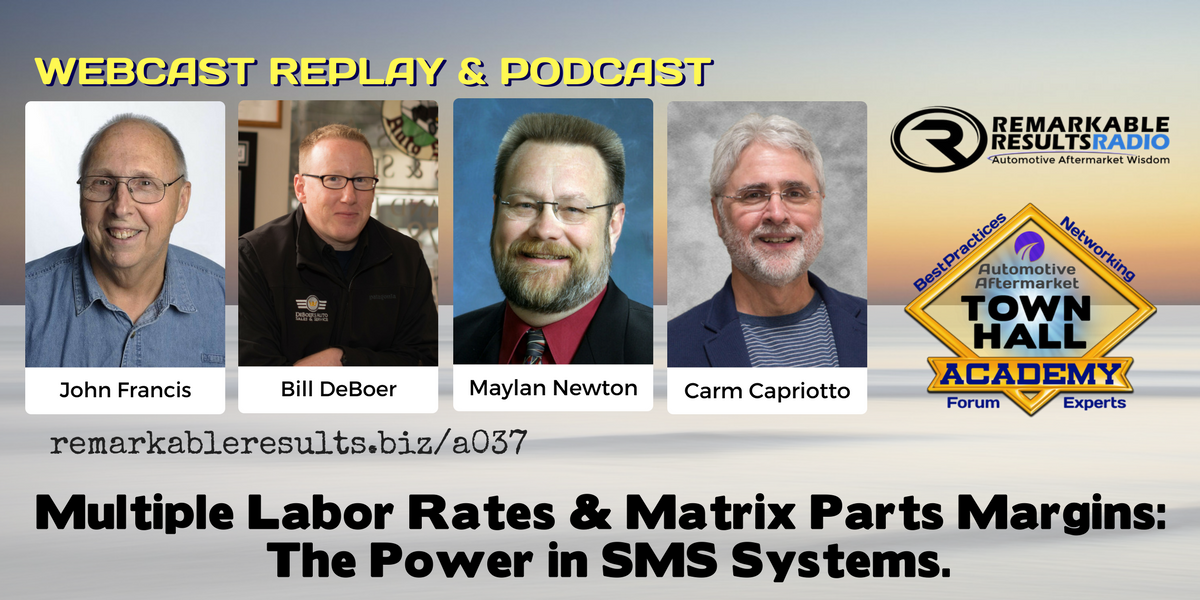 Learn from your industry peers in a round-table forum. Get new ideas, perspectives, trends, insights, best-practices and expertise from aftermarket professionals.
Watch like a DOCUMENTARY … Learn like a SEMINAR.
Helping automotive aftermarket professionals improve; one lesson at a time.
Maylan Newton from ESI – Educational Seminars Institute is a business coach and trainer. Maylan is no stranger to the power of the customer as he speaks and trains on Professional Business Development, Service Writers School of America and In Shop Training and Support.  He is an approved AMI Trainer.
He is a much sought our speaker at industry events. Maylan is no stranger to the podcast having paid it forward in episodes … 108 and 140 and on Town Hall Academy's 14 on Customer Retention and in Academy 25  on Disaster Planning and in Academy 30 on Why Labor Rates Need To Increase.
John Francis has over 50 years of industry experience and has owned and operated Francis Automotive Services Inc. in West Chester, PA,  for more than 35 years. John's most important business philosophy as a shop owner is to "be honest, speak from your heart, and always be authentic", so it's no mystery why he's been so successful.
John is a past National Chairman of the Automotive Management Institute. He has served as the Chairman of ASA CARS. John also served on the ASE Board of Directors for 8 years and served as an AMi trustee for many years as well. He's been featured in AutoInc magazine and is a two-time runner up for NAPA Tech of the Year. John is a recipient of the AMi Alpha Award. Not only is John an extraordinary business professional, but his commitment to the industry and his peers is second to none. Listen to John in Episode 258
William J. DeBoer (Bill Jr.) is Co-owner and Vice President at DeBoer's Auto Sales & Service.Bill has been responsible for bringing innovations in daily operations to the full-service, high-tech auto repair facility for 20+ years. Bill was able to fuse his passions for technology and cars with a Certificate in Automotive Technology, followed by a B.S. in Business Management from Penn State.
He joined his family business, founded by his father three decades ago, shortly after. Today, Bill runs business development, sales, customer services, process improvement, human resources, and technician education programs.
Bill is an Accredited Automotive Manager from the Automotive Management Institute as well as a CERTIFIED MASTER DEALER® from the National Independent Automobile Dealers Association. His National Institute for Automotive Service Excellence (ASE) credentials include: Master Technician, L1 Advanced Engine Performance, P2 Parts Specialist, and X1 Undercar Specialist. Listen to Bill in Episode 185.
Talking Points:
These are opinions not rule for setting labor rates or parts margins.
Multiple Labor Rates can make a shop competitive depending on jobs. A base brake job would have a different rate than diag work.

Fleet work can have special rate or discount so SMS manages
Discounts can have a discount based on specific customer
Diagnostic rate. Your most expensive technician using the most expensive tools with the most training.

Knowing your effective labor rate lends your true labor rate.

Jobs creates in SMS can reflect different labor charges by job

Once size pricing may not work anymore.
Key to understanding your current margins is you must have your actual cost of labor and parts reflected accurately in your Shop Management System.
You set you hourly rate on your cost of doing business. Never set it based on your competitor.
If the industry stopped quoting over the phone and quoting labor hour price we would be better off. You never ask your cardiologist what his labor rate is.
Every car is different. Some have rust. We should consider the condition of the car. Every vehicle should be charged what time is invested in it. Yet the Flat Rate labor program is the standard bearer. You must add a cushion when you are dealing with a northern vehicle that has rust.
Panel believes that on third of shop owners are using their SMS to its fullest capabilities.
If an average shop 0owner billed a 1/1oth of an hour it would bring a big number to the company. Use your SMS correctly, estimating properly and mark-up book time. Many ways to improve.
Bill DeBoer is quoting a complete job.
It is easy to set up parts matrixes.

Find article from Bill Haas from Ratchet and Wrench to explain the proper use of the parts matrixes.

Power of SMS are not being valued because information and training is not strong enough. This is not saying the entire industry or companies, but it is a problem why SMS's are not being utilized in a more comprehensive way.
Parts Matrix's can vary depending on where you acquire the part. Ideas can be:

WD/Jobber
Dealer
First Call

A big fear in our industry is we fear someone questioning our price. We need to be proud of why and what we do.
Become the CEO of your company and you'll start to see the differences in your sales, costs and profits when you pay attention to what the CEO must do for the company.
Parts margins may change in the future.

We may have to lower our margins on parts and increase on labor because of the changing business models and transparency of pricing.

Total ticket margin is important because of the market changes.
You must know your effective labor rate. Know your numbers
Your SMS is a huge partner in your margins and profit of your company.
Implement what you learn so you can move your business forward.
We must understand the value we do for our customer.
Transparent pricing can be a pushback because it so easy to find the cost of the part that was installed on a vehicle.
Never seen a shop go out of business if his labor price was too high. A quote from Cecil Bullard.
The foundation of our businesses must be on relationships and trust.
We must be paid for the knowledge we have.

Many in our industry are underpaid for what we do. Everyone.

We must add value to every transaction and relationship.

Get paid for what you know and what you do.
Link to Go Fund Me Page for Shop Owners Who Lost Their Business in the California Fires in October 2017
Be socially involved and in touch with the show:
Facebook   Twitter   Linked In   Email
---
This episode is brought to you by Jasper Engines & Transmissions. When a car's engine or transmission fails, it's

not the end of the road. A remanufactured drivetrain product from Jasper Engines & Transmissions will give your car a new lease on life. JASPER has over 2000 Associates, three manufacturing facilities, two distribution centers and 45 branch offices across the country. They're all working to produce, transport and deliver the perfect product. That's what they do best… keep customers happy. Visit jasperengines.com