RR 309: The Shop of the Future – Are You Prepared? Vision 2018 Town Hall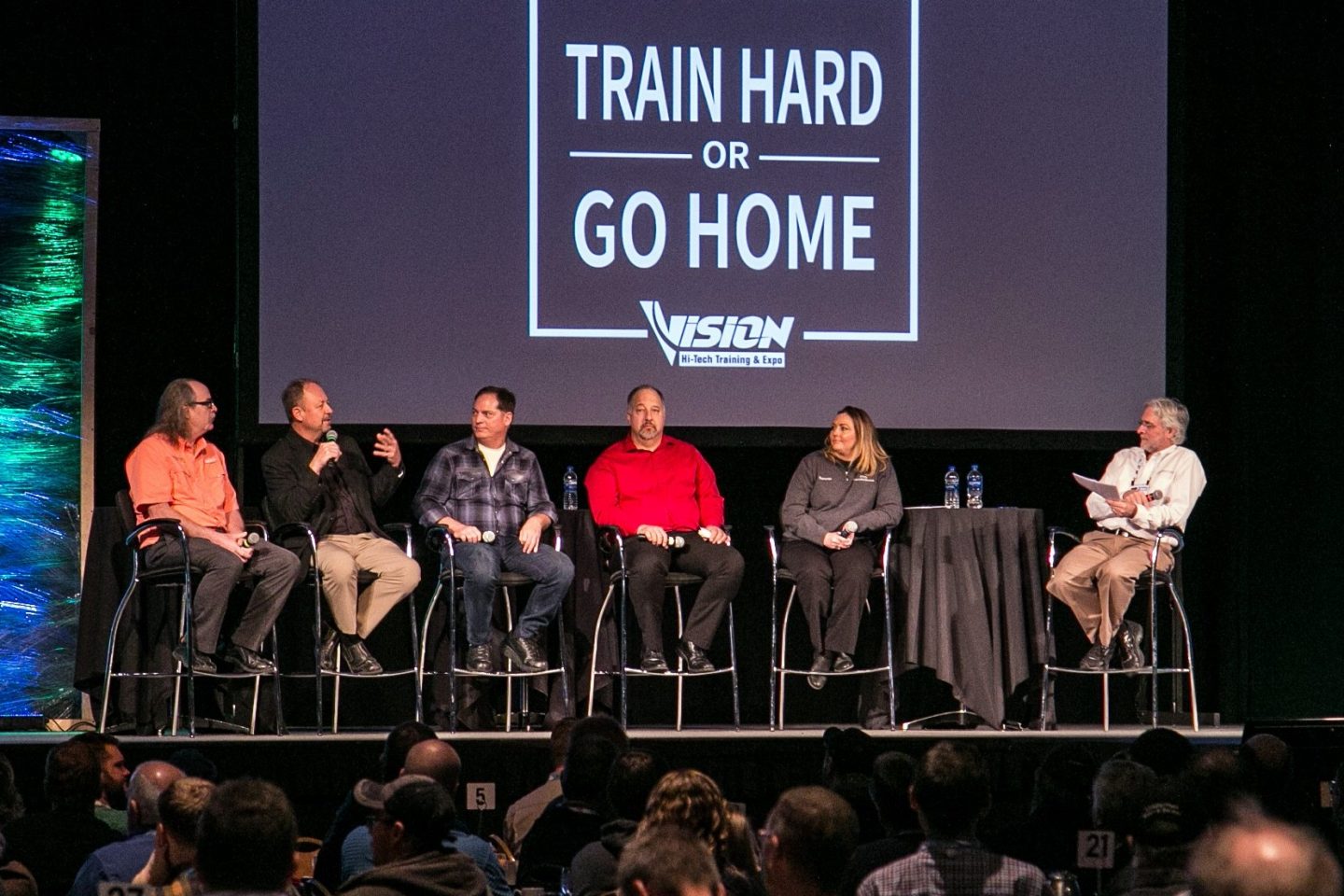 [Pictured above Eric Ziegler, Chris Chesney, Donny Seyfer, Keith Williamson, Summer Guerrero, Carm Capriotto. Photo courtesy of Howard Pitkow]
Have you thought about how you will do business in the future? Well the mission of this panel was to stretch the boundaries and serve up plenty of thoughts,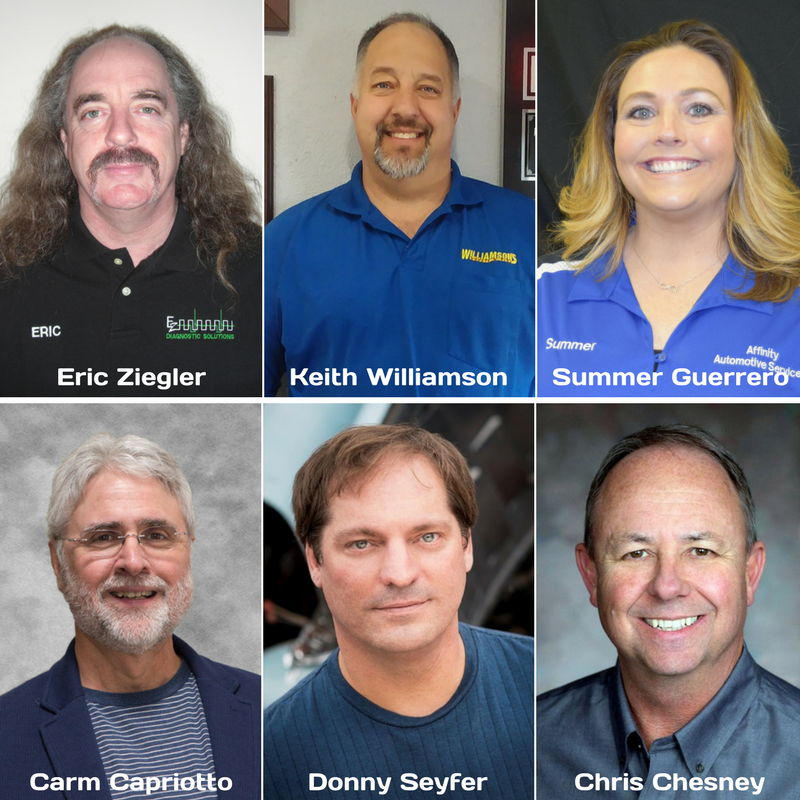 concepts and changes coming that you need to be fundamentally prepared for. Many great thoughts in this town hall that will help shape your future. There are many important action steps discussed that need your support and engagement. Listen carefully for those cues.
The team:
Summer Guerrero, and her husband Mark have been together since they were 16 yrs old, and opening a shop was Mark's dream as a teenager. Summer was a female firefighter. On her days off she would attend small business classes to prepare for opening a shop. As a female firefighter, Summer worked with public and media throughout her 15 year career and saw the passion and gift Mark had to give to their community and his dream quickly became hers.  Summer is responsible for the Marketing, Management, and Public relations of the company. Their goal is be a leader in the industry for their customers, and other independent shop owners to help raise the standards of professionalism in the automotive industry. Their shop Affinity Automotive Services is in Wichita, KS. Listen to Summer's previous episodes HERE.
Keith Williamson is the owner of Williamson's Repair and Tire in Bondurant, IA for over 20 years. He is a member of ASA Midwest where he leads the Shop Owner Support Group (an amazing group of shops) in Iowa. He and his team focus on the customer experience, as well as Hybrid, Electric and emerging vehicle Technologies. He recently added a solar array to his building and uses a Toyota Prius and Chevrolet Volt as shuttle vehicles and plans to add more hybrid and electric vehicles as they continually update their loaner fleet. He is a member of RLO Training's Bottom line impact group for 4 years. Listen to Keith's previous episodes HERE.
Eric Ziegler owns and operates EZ Diagnostic Solutions Inc in Peoria, IL. Eric specializes in module programming, drivability, electrical and network systems diagnostics. Eric has over 30 years of experience as a technician with an extensive diagnostics background. Eric is an accomplished automotive trainer working for Automotive Seminars and the Drivability Guy. Eric Ziegler is an ASE Certified Master Tech • L1 Advanced Level Diagnostic Specialist • L2 Electronic Diesel Engine Diagnostic Specialist • L3 Light Duty Hybrid & Electric Vehicle Specialist • ASE Certified Medium Duty Truck Technician. Listen to Eric's previous episodes HERE.
Donny Seyfer, AMAM,  is co-owner of Seyfer Automotive, in Wheat Ridge, CO and the Executive Officer of the National Automotive Service Task Force (NASTF). Donny Seyfer, a 3rd generation owner, has over 30 years of automotive experience as a technician, manager and service consultant. His Dad started in 1961 and his grandfather was building race cars before that. Seyfer Automotive provides general repair, and maintenance with a special focus on diagnostic. Donny is past chairman of ASA and serves on many industry boards and committees. Listen to Donny's previous episodes HERE.
Chris Chesney is the Senior Director, Customer Training at the CARQUEST Technical Institute. Chris has held every position from tire buster to master technician, from service adviser to shop owner. He has been training technicians and shop owners for 30 years. Chris started his training business, DTEC, in Denver in 1994 where he trained over a thousand techs in the art of transient emissions diagnostics.
Chris believes what all successful technicians and shop owners know …. that you must be committed to be a lifelong learner …. If not … you're in the wrong profession. Chris was honored at Vision 2018 with the President's award. Listen to Chris's previous episodes HERE.
Talking points:
Are work mix changes important considerations as we look to the future?
When the self driving car pulls into your shop, someday in the future, will you know what to do?
Will shops become specialists or excell in certain disciplines?
How will shops communicate with their customers in the future?
What type of training will techs need to have:  Leader led vs online or other?
Are we doing enough to develop our people who will probably leave us?
How will changing business models have an impact on the Shop of the Future?
How do we extend to our customer the opportunity to service vehicles while it is not 'in-duty'? Stats show that vehicles are 'in-service' only five percent of the time. Can you engage with the other 95%?
Will digital inspections impact the industry?
How should shop owners start to grow their own A techs?
You've got to pay to retain and hire top technicians because they are going to be network specialist that will diagnose machines that will have 100 million lines of code that run them.
Getting involved with high-school and college advisory councils will help the industry and your business.
There is a technician defection rate of college graduates out of the industry. The number is 65% within two years. We need to get involved with the young people and show them a great lifelong career and pay them well and provide the benefits that set up a quality career. Technicians need to make a six-figure salary. Shops need to run a profitable shop, so they can pay top talent.
NASTF is working to create a career path framework so we can provide a direction and career path to our youth.

You need to give them challenging work.
Our youth need to see a career path and see an opportunity to own their own shop someday. Help them, partner with them. Show the opportunity for a bright future.

We will be learning about cars you may decide to not work on.
Be socially involved and in touch with the show:
Facebook   Twitter   Linked In   Email    Events    Speaking
This episode is brought to you by Federal-Mogul

Motorparts and Garage Gurus. With brands like Moog, Felpro, Wagner Brake, Champion, Sealed Power, FP Diesel and more, they're the parts techs trust.  For serious technical training and support – online, onsite and on-demand – Garage Gurus is everything you need to know. Find out more at fmmotorparts.com  and fmgaragegurus.com
---
Download the Remarkable Results Radio listening APP for your smart device: