THA 058: How to Become the Employer of Choice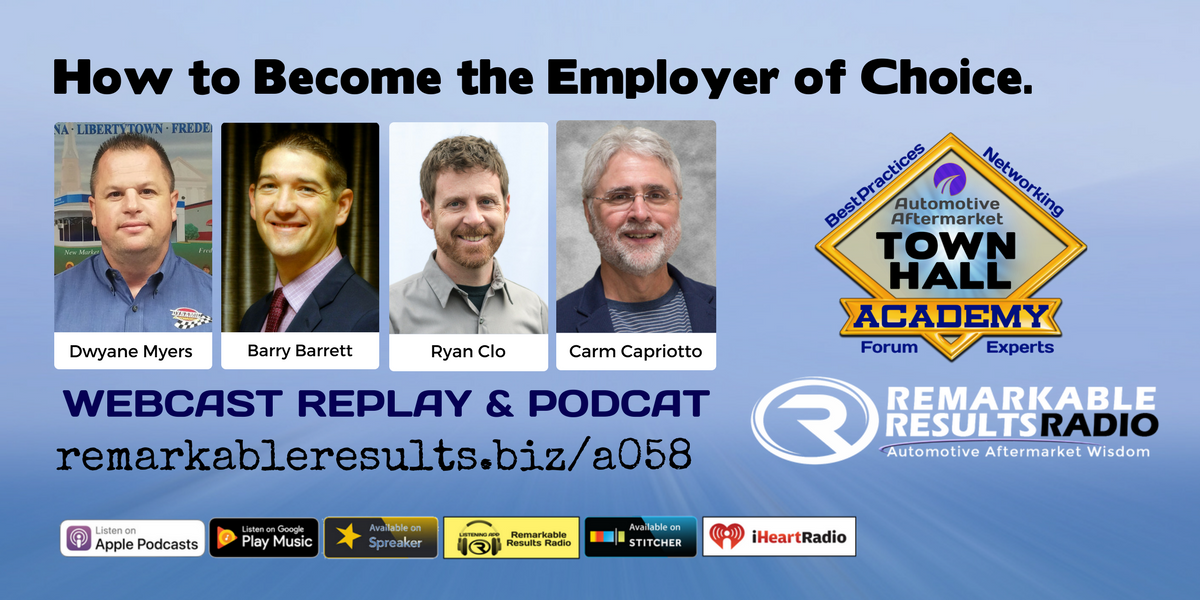 Your Learning Curve Never Sounded So Good!
Helping automotive aftermarket professionals improve; one lesson at a time.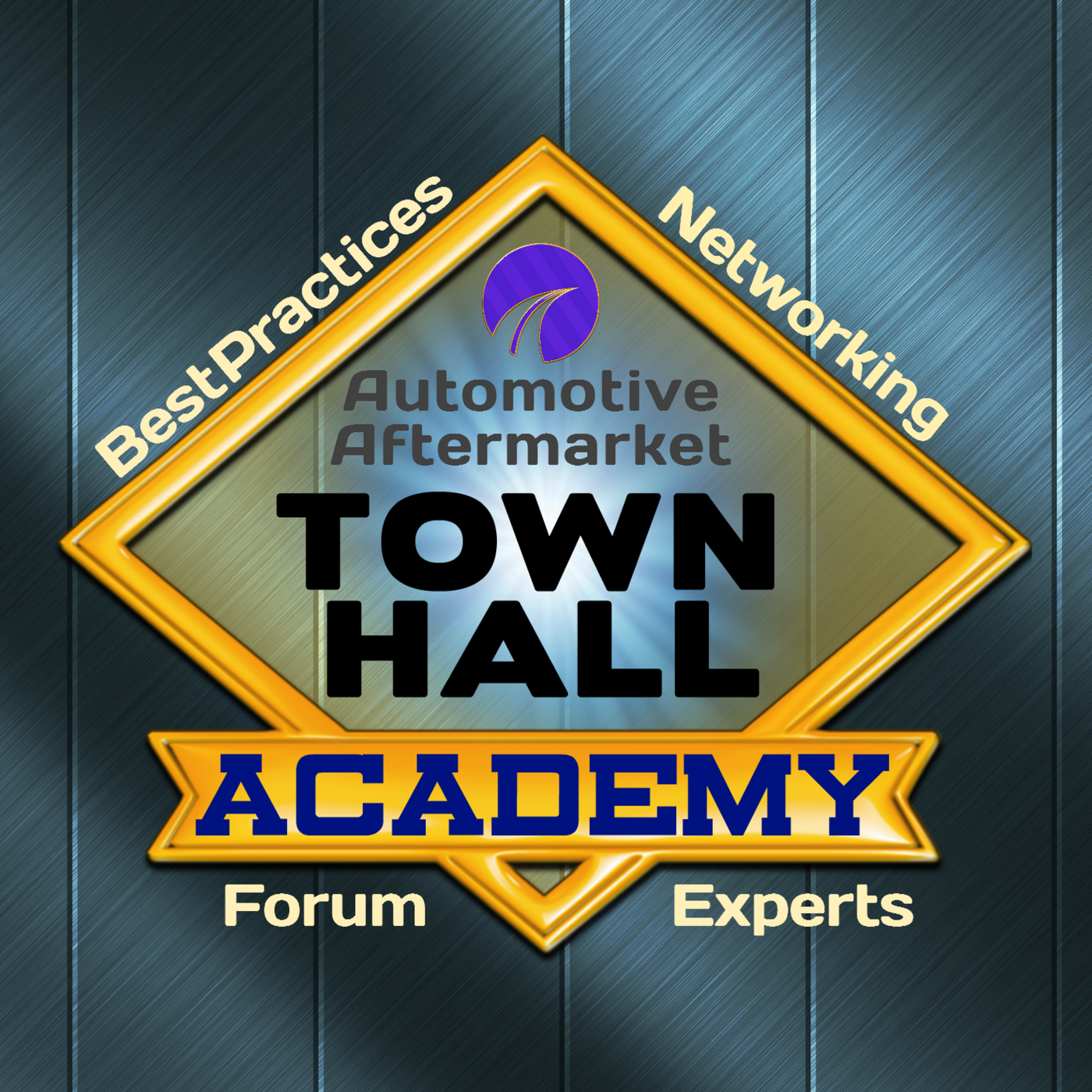 Learn from your industry peers in a round-table forum. Get new ideas, 
perspectives, trends, insights, best-practices and expertise from aftermarket professionals.
Ryan Clo is a nineteen-year veteran of the Automotive Service industry. He currently owns two specialized Automotive Service businesses located in Cincinnati, OH. Both businesses have systems and processes in place so that his presence is not required on a daily basis. Ryan's first business, Dubwerx, has a 99% customer satisfaction rate while maintaining profitability and growth.
Ryan currently consults for the Institute of Automotive Business Excellence providing guidance to automotive businesses including on-site evaluations, off-site coaching, business plan development, and one-on-one coaching with owners and staff. He is known as the "Systems and Processes guy." Ryan teaches several business management classes for the Automotive industry.
Ryan is also involved in the growing startup community in Cincinnati, OH meeting with other entrepreneurs regularly to discuss best practices and the future of business. Ryan volunteers his time serving on the editorial board for an industry magazine and two community non-profits in Cincinnati, OH. Listen to Ryan's previous episodes HERE.
Dwayne Myers is a partner in Dynamic Automotive in the greater Maryland area. Dwayne invests time in the industry with the Auto Care Association and serves on the education committee with CCPN (Car Care Professional Network). Dwayne was recently honored as one of only 17 outstanding individuals that qualified for the prestigious 2017 World Class Technician Award presented by The Auto Care Association and ASE. He is very passionate about hiring and sustaining a strong and engaged team. Listen to Dwayne's previous episodes HERE.
Barry Barrett is an authority on sales and selling. He is the Director of Training for RLO. Barry's sales and training capabilities operate at full capacity in his dual roles as the lead salesperson and service manager trainer.
During Barry's career as a Service Manager and top sales person, he honed his talents in communicating with people.
Barry is tireless in his pursuit of excellence in the automotive industry and in all that he does. His passion for providing tools to train owners and their teams to the next level is unlimited. Barry is a Ziglar Legacy Certified Coach. Listen to Barry's previous episodes HERE.
Talking points:
How to become an employer of choice.

Less turn-over
Many shops that have the best or lowest price don't necessarily have the best people.
Create and perpetuate a strong business culture and live your core values.

If trust is a core value, then tell a story about how it works in your company to every new
It is not an overnight happening. It takes time. Listen to episodes on business culture

HERE.

Create a family atmosphere where you people come first. Take care of your people, they will take care of your customers.
Your reputation as a top place to works travels from the inside out.

Recommended book:

Traction: Get a Grip on Your Business by Gino Wickman

How to get A players to beat a path to your door:

"A" players want to work with other "A" players.

Our industry needs more help with HR.

Better interviewing skills.
Vetting candidates.
Assessments.
Orientation.

The right people want a career path.
As a shop owner, think of your job in the industry as an incubator to grow technicians, service advisors and the next group of shop owners.

Keep in mind your shop could be a ladder in the career of your people.

Your people need to have quarterly goals and you need to help them reach them. What do your people aspire to do within the business and in their personal life? You need to develop your people and give them a roadmap. Look out for their future.
Your people want to feel safe, understood, accepted and secure in their role and in your culture. Treat your people like owners and family.
The pay package is part and parcel to the package. Time off, health care, retirement, room for growth. Organizing events with the team like paintball, lasertron, bowling. Family events, picnics, amusement parks. What are your intangibles; flexibility in work schedule.
You need to pay your people well, but you may not pay more than others. Your entire pay, benefits and culture package will attract great talent.
Create a vision so your new hire can see how they fit.
The only thing worse than having no sight is having no vision. Helen Keller
Most men live a life of quiet desperation and they die with a dream in their heart. Henry David Thoreau
Always identify what is important to a new team member.
A smaller shop may not have the budget to hire an A tech from a dealership. They've got to have the money to afford the right pay and benefit program.
You must listen to your candidate and truly hear what they are saying. Be a good listener.
Grow a great reputation.

Customer reviews
Constant recruiting.
Give tours to customer and potential recruits.
The network talks.
Do what you say. Follow through. Listen. Your word means more than you think.
Integrity and trust.

An onboarding process sets the stage.

Barry uses a dream planner and at the end of the 3rd month he reviews it with his new hire.
The quarterly review is all about the team member.
Some millennials want more reviews than quarterly.

Workplace environment is more important than you may know.

Windows, Lighting, HVAC, Locker-room, lunch room, training room, good equipment, dual monitors to make information flow easier.

Apprentice programs will show the industry that you care about growing your own and show career paths to young people.
---
This episode is brought to you by Jasper Engines & Transmissions. When a car's engine or transmission fails, it's

not the end of the road. A remanufactured drivetrain product from Jasper Engines & Transmissions will give your car a new lease on life. JASPER has over 2000 Associates, three manufacturing facilities, two distribution centers and 45 branch offices across the country. They're all working to produce, transport and deliver the perfect product. That's what they do best… keep customers happy. Visit jasperengines.com